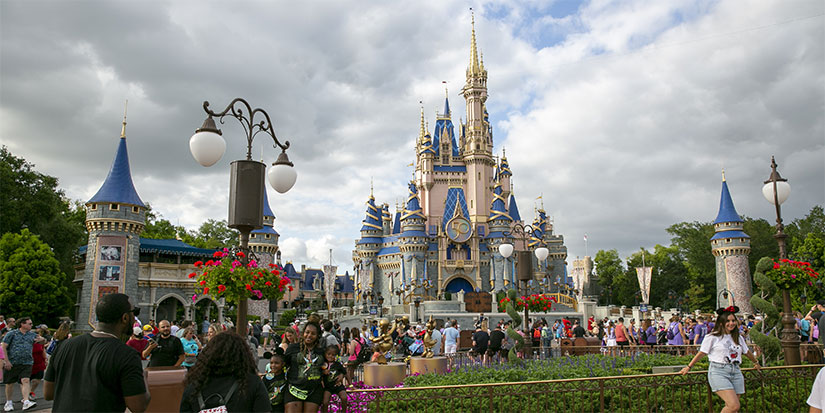 Disney's Dividend Magic Is Stuck in Never Never Land
---
People love to ask me about Disney.
I live less than two hours from the Magic Kingdom in central Florida.
So, of course, I own a half dozen pairs of Minnie ears, a designated park backpack, and a resident annual pass. You'll find me wandering around the parks once or twice a month.
People who know me ask for my "insider" tips and tricks for experiencing the park.
And since I've been studying the dividend market for over a decade, I get asked my opinion on Disney (DIS) stock.
That's happening more now that Bob Iger is back at the helm. And then on Disney's earnings call last week, a possible reinstatement of a dividend by the end of the year was mentioned.
So now I gotta ask: Is it time to get in? Let's take a look.
The World's Greatest Storyteller
Disney was founded in 1923 and is arguably one of the most iconic brands EVER.
Why?
It's one of the most effective storytellers of all time.
The company's latest success can be attributed to Bob Iger's first tenure as CEO from 2005–2020.
His keen eye for great brands and franchises led to the purchase of Pixar, Marvel, and Lucasfilm. And in 2016, the foundation for Disney+ was launched when it bought several assets from 21st Century Fox.
He left Disney just before the pandemic lockdowns. The company's theme park, resort, cruise line, live sports, and movie businesses were hit hard.
But Iger is back, with a strategic reorganization plan to get the company back on track.
Disney shares popped 4% last Thursday following the previous day's earnings call. But shares are still trading well below their 2021 high and pre-Covid levels.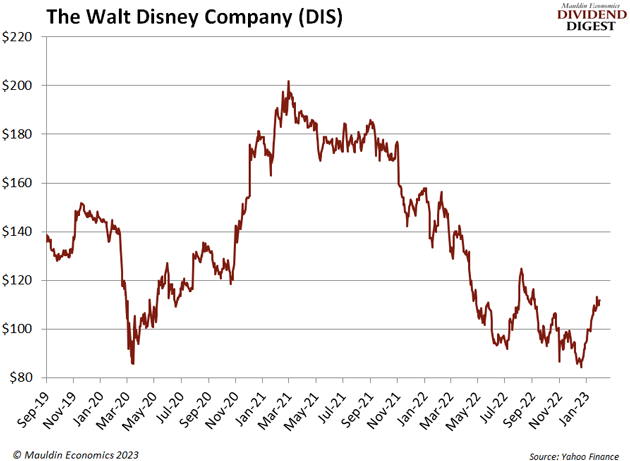 Based on those comparisons, shares look cheap. And Bob Iger said all the right things last week to get investors excited about the company's future.
Is that enough to polish the stock into an attractive dividend play?
Should You Get In Now?
Investors are attracted to Disney because it's a big company with a global brand and a century of success under its belt… and because of its history as a dividend stock.
Reputation aside, the question is whether Disney has the two traits we need to see in a bedrock dividend play:
A history of dividend increases, or at least longevity without cuts

A yield worth your time and money
The record shows that Disney lacks a proven history of dividend endurance.
It paid a dividend from 1993–1998 but didn't pay another one until 2000. From 2010–2019, investors finally saw some momentum as the total yearly payout increased every year.
We know that 25 and 50 straight years of dividend hikes are the benchmarks to join the ranks of a Dividend Aristocrat or a Dividend King. And Disney has yet to show us 10 consecutive years.
A stock has to pay me a worthy yield on my money before I'll own it.
I generally set my yield bar at 3.5%. With banks now offering 3% on a short-term CD, a stock has to pay at least that to get my attention. Stocks come with risk, so why settle for anything less?
Disney does not currently pay a dividend. To make a plausible guess at what a future dividend might be, we must look at its dividend history.
Before the 2020 dividend suspension, Disney paid a semiannual dividend of 88 cents.
The last dividend was paid December 13, 2019. Shares closed that day at $146.38. Quick math gives us a dividend yield of 1.2%.
At its current share price, an 88-cent semiannual dividend still yields just 1.6%.
The worst part is the outlook for a future dividend probably won't be anywhere near that meager yield.
The exact language CFO Christine McCarthy used on the earnings call was:
We believe we will be on track to declare a modest dividend by the end of this calendar year. The amount will likely be a small fraction of our pre-COVID dividend with the intention to increase it over time as our earnings power grows.
I can't make an argument for a 1.6% dividend yield when a CD pays nearly twice that. Especially when there are seven bedrock plays or long-term holders labeled "active buys" in the Yield Shark portfolio right now.
In that group, the lowest one yields 4%, while the highest yielder pays out 7.2%.
I'll keep watching the new shows on Disney+ and hanging out at the parks. But I won't be adding Disney to my portfolio. This stock is definitely a pass for me for the foreseeable future.
For more income, now and in the future,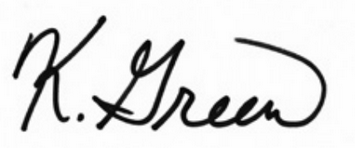 Kelly Green
Tags
Suggested Reading...