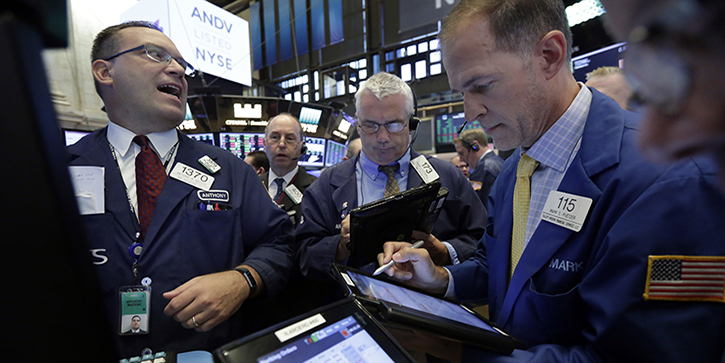 3 Massive Market Shifts Every Investor Should Have On Their Radar
Stephen McBride
|
|
August 25, 2017
This article appears courtesy of RiskHedge.
---
With volatility at all-time lows and bullishness at all-time highs, markets seem calm on the surface. However, there are massive shifts happening underneath which have wide-ranging implications for investors.
Here are three market shifts every investor should be paying attention to right now.
Active Funds See Their Largest Inflows Since 2014
Over the past decade, $1 trillion has flowed from actively managed funds like hedge funds into passive funds like ETF's.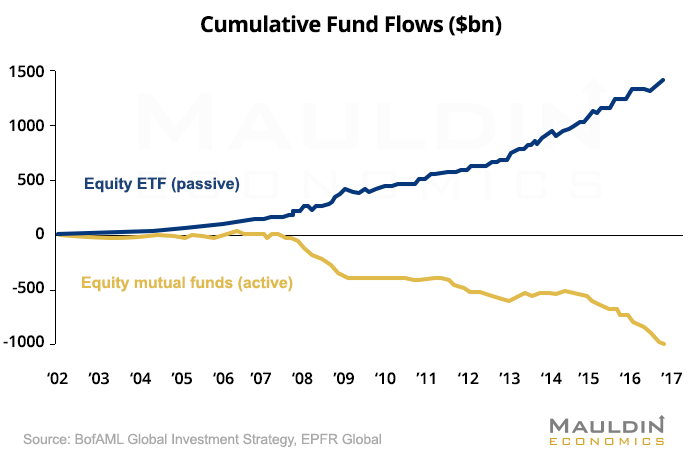 It's no wonder given that passive funds have outperformed their active counterparts for the past 7 years straight. At the rate money is flowing into passive funds—$358 billion in the last 12-months—it seems investors think this trend will continue forever.
Although passive is currently on a hot streak, the tide may be about to turn. In their latest Global Fund Managers Survey, BoAML found that active funds are experiencing their largest inflows since 2014.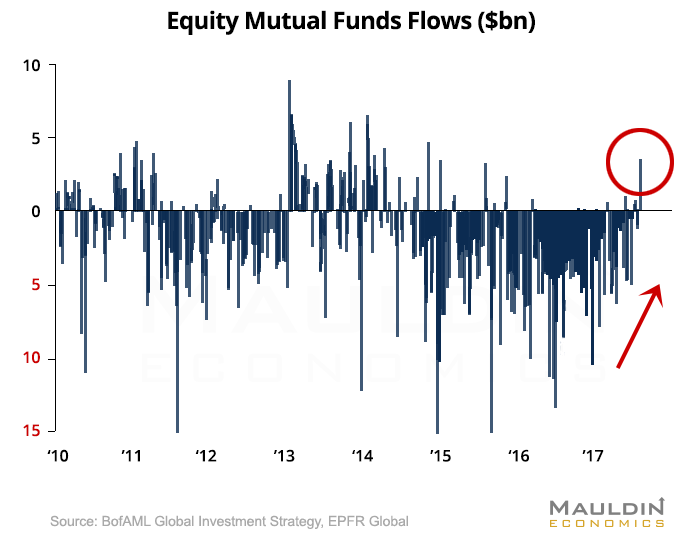 Findings from Morningstar show that the active/passive tradeoff is highly cyclical. Over the past 30-years, active has outperformed 14 times and passive 16 times. As such, active funds look set to challenge for that top spot once again.
The Trump Trades Reverse
Following the US election, the ''Trump-Trades'' began. On the back of higher growth and inflation expectations, cyclical stocks like financials rose 17%, the Dollar was up 4.4% and Treasury yields spiked 30% between election day and year-end.
While these moves caught investor's attention, they have now completely reversed. Cyclical sectors like financials and energy are now some of the worst performers this year.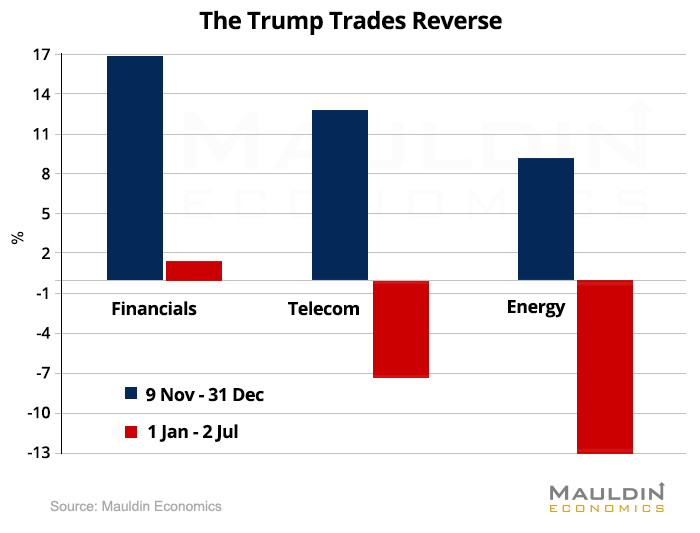 In contrast, the ''laggards'' like IT and healthcare are the best performers in 2017.
But it's not only stocks which have had a role reversal, the Dollar has handed back all its post-election gains and now sits at its lowest level in over a year.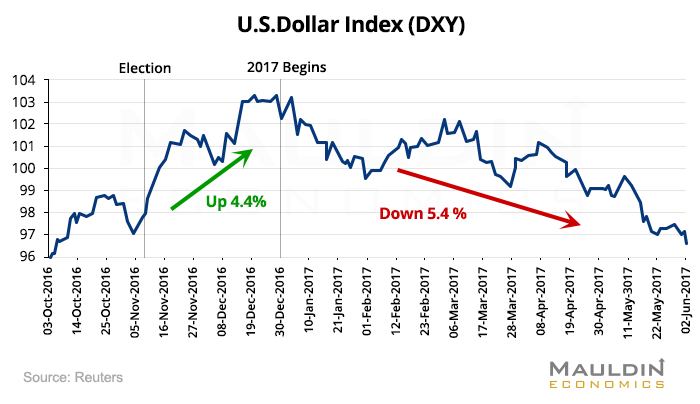 US Markets Fall Out of Favor
Over the past nine-years, US equities have outperformed their European counterparts by a massive 105%. However, with valuations now at record highs for US markets, money has started to flow back across the Atlantic.
Some $100 billion has been taken out of US markets so far in 2017. Meanwhile $30 billion has poured into Europe.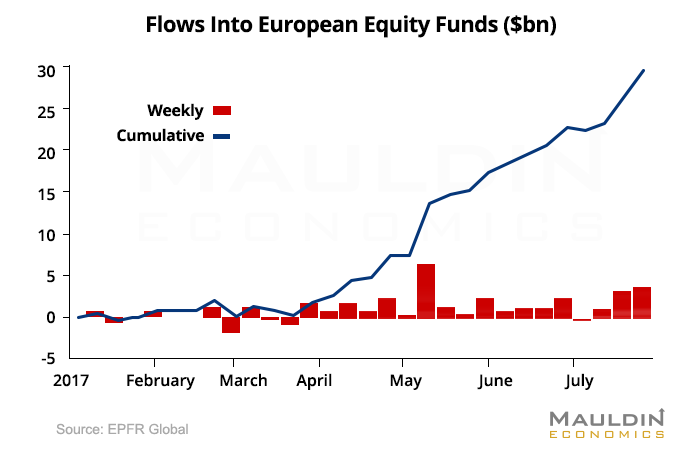 With record inflows, it's no wonder European stocks are up 21% year-to-date - double the performance of the S&P 500.
While Europe has gained from investors pulling funds out of the US, emerging markets have been even bigger winners. The consensus at the beginning of 2017 was that a rising Dollar would hurt emerging markets, condemning them to yet another year of underperformance.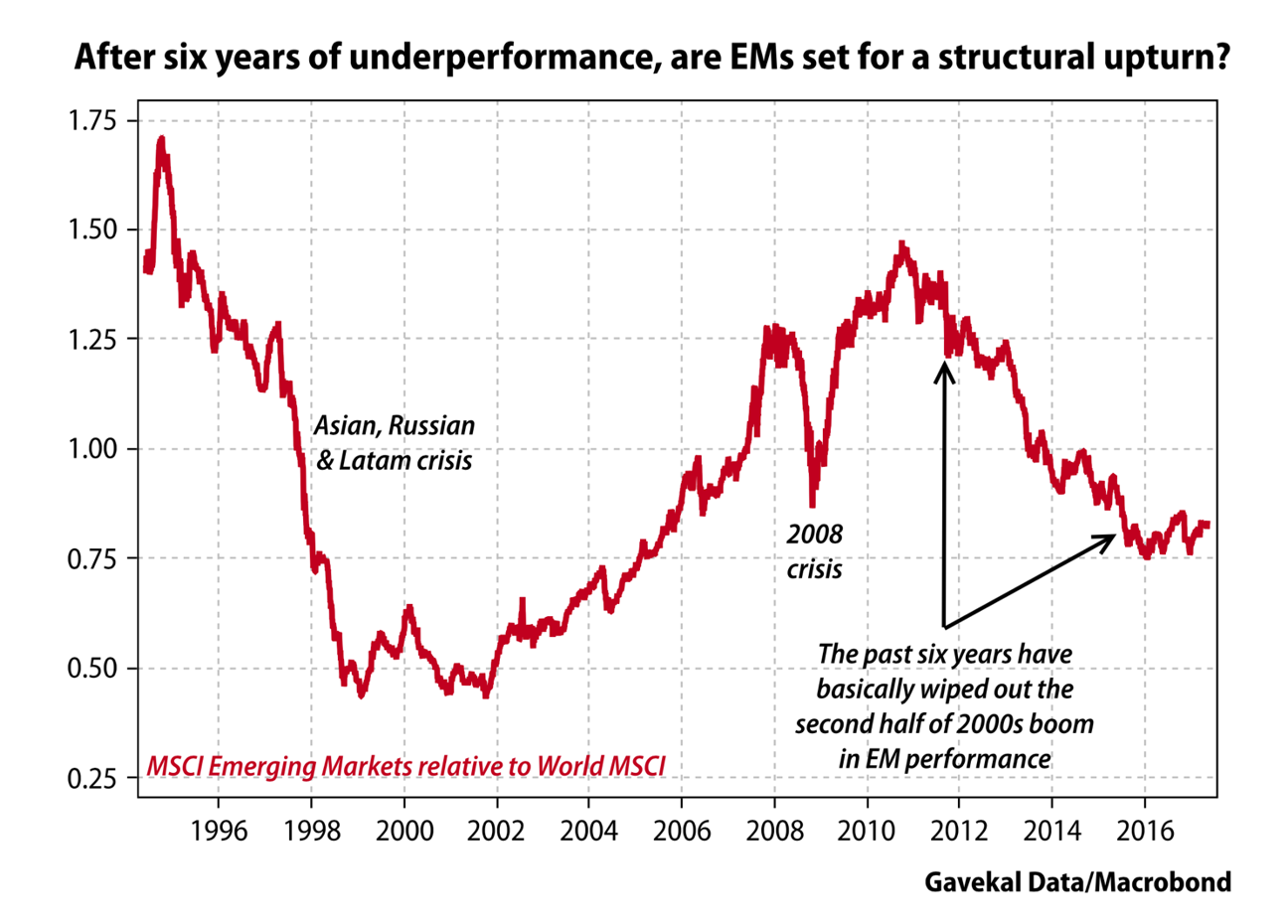 However, eight months into the year, the exact opposite has occurred.
An extremely positive economic outlook and low equity valuations are the reason emerging market funds have seen their largest inflows since 2010. As such, emerging market equities are up over 26% this year.
How to Take Advantage of the $36 Billion Trend Helping Investors Earn Market-Beating Returns?
In the last decade, over $35 billion has been invested in Peer-to-Peer (P2P) loans, and for good reason. In 2016, P2P investors earned annual returns north of 7%, with low correlation to stocks and bonds.
If you're interested in earning 7% returns in a 2.5% world, click the link below to download your free copy of our special report, The New Asset Class That Helps Investors Earn 7% Yields in A 2.5% World.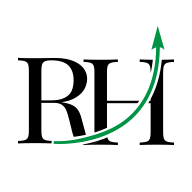 This article appears courtesy of RH Research LLC. RiskHedge publishes investment research and is independent of Mauldin Economics. Mauldin Economics may earn an affiliate commission from purchases you make at RiskHedge.com