3 Ways to Profit from the Stressed-Out American Consumer
Tony Sagami
|
|
August 25, 2016
---
BY TONY SAGAMI
Retail sales are a pretty good proxy for consumer spending. So to me, any nationwide drop in retail sales is a warning flag about our consumption-based economy.

The Wall Street crowd was pretty surprised when the Commerce Department reported that Americans pulled back on spending in July. Retail sales numbers for July came in at a disappointing 0.0%. That was well below the 0.4% Wall Street had expected.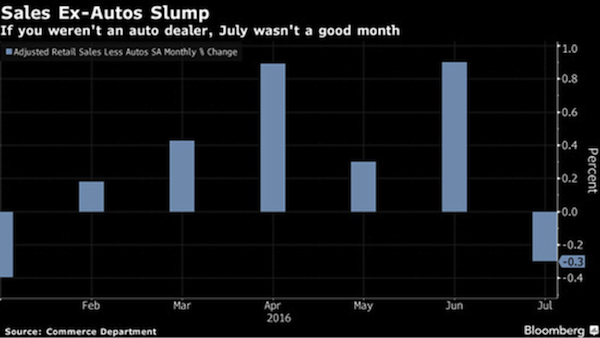 Even that 0% number is misleading. After backing out auto sales, retail sales actually declined by 0.3% in July.
Don't forget, this consumer-spending slowdown is happening against a backdrop of much lower gas prices and (supposedly) an improving job market. So what's the problem?
Americans are taking on too much debt
American consumers are simply running into a brick wall of too much debt. Take a look at the chart below:

For households with all four types of debt, that's a combined average of $263,259. That translates into an average of $6,658 a year in interest payments! That's especially hard when you think about the median household income, which is $75,591.
That means American households are spending 9% of their gross income just on interest payments alone.
That debt translates into big-time financial stress. In fact, 14% of Americans have more debts than assets, which puts their net worth in negative territory.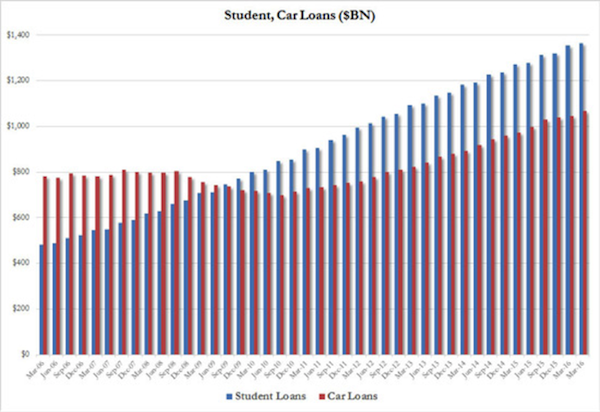 People are piling up huge amounts of new debt in two areas: auto and student loans.
Outstanding car loans and student loans have climbed to $1.1 trillion and $1.4 trillion, respectively. And both are record highs.
Here's how to profit from the current trend in debt growth
Those debt-growth numbers are troubling.
But, there's a silver lining for investors. Here are three areas to invest in right now:
Lenders: The flipside of that explosive debt growth is to be a lender. Nobody likes to make loan payments, but I don't know anybody who doesn't like to receive them. Companies that are doing a lot of the lending are:
SLM Corporation (SLM) also known as Sallie Mae

Santander Consumer USA Holdings (SC), one of the largest auto lenders in the US

Capital One Financial Corp. (COF), one of the largest credit card issuers in the US
Discount Retailers: Cash-strapped consumers may not be spending as much as they used to… but when they do, they spend their dollars where they get the most bang for their bucks. I'm talking about discount retailers like:
Wal-Mart Stores Inc. (WMT)

Dollar General Corp. (DG)

Costco Wholesale Corp. (COST)
Debt Collection: Debt collectors may rank up there with used-car salesmen and IRS agents, but the business of debt collection is very lucrative. There are three publicly traded companies that get the bulk of their revenue from debt collection:
Asta Funding (ASFI)

Encore Capital Group (ECPG)

Portfolio Recovery Associates (PRAA)
I'm not saying to rush out and buy any of these stocks tomorrow morning. As always, timing is everything. But, the companies listed above should prosper from financially stressed-out consumers.
Subscribe to Tony's Actionable Investment Advice
Markets rise or fall each day, but when reporting the reasons, the financial media rarely provides investors with a complete picture. Tony Sagami shows you the real story behind the week's market news in his free weekly newsletter, Connecting the Dots.