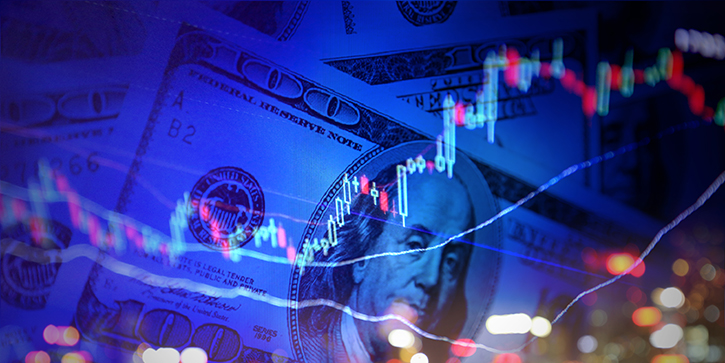 Don't Buy Another Growth Stock Until You've Seen This
Olivier Garret
|
|
February 7, 2018
---
Investing has been all about growth over the past year. Investors are obsessed with the 'G' word.
In contrast, the art of uncovering value has been largely forgotten. Value stocks are massively out of favor. Concepts such as "margin of safety" and "book value" are being completely ignored.
Investors that have shunned financials, utilities, and energy stocks to load up on fast-growing tech stocks have been rewarded up to now. The gains have been impressive.
However, if you're considering adding more growth to your portfolio, I'd urge you to stop and look at the bigger picture.
The divergence in the performance between growth stocks and value stocks has reached a dangerous level.
Eventually, we are going to see a reversion. And I think that could happen sooner, rather than later.
Here's why it's time to cash out of growth and start buying value.
A Decade of Growth
In 2017, growth stocks outperformed value stocks by a huge margin.
The S&P 500 Value index returned 12.6%, while the S&P 500 Growth index returned 25.4%.
Growth gains were driven by investors' insatiable demand for the FAANGs, which powered higher. I don't need to remind you how overpriced some of these stocks are. Investors have forgotten about risk.
Yet it's not just the last year in which growth has crushed value.
It's been happening for a decade now.
Over the last 10 years, the S&P 500 Value index has returned an annualized 6.8% per year. In contrast, the S&P 500 Growth index has returned 10%. That's a significant difference.
The result is that growth stocks now look massively overvalued relative to value stocks. Look at the chart below. The last time growth outperformed value like this was the dot-com boom. And we all know how that ended.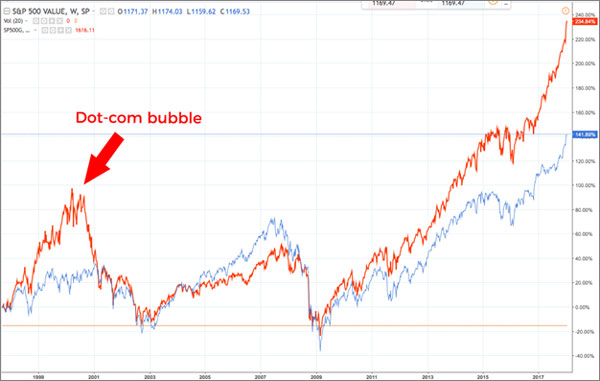 Source: tradingview.com
Indeed, one prominent fund manager recently declared that the performance differential between growth stocks and value stocks is now greater than at any time in history.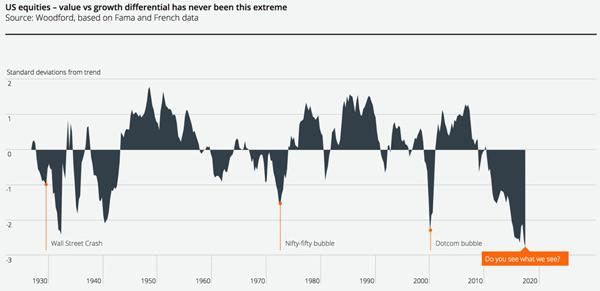 Source: woodfordfunds.com
This can't keep going on forever.
"Is Value Dead?" Nonsense
Value investing is so out of favor right now that a recent Goldman Sachs report actually asked whether it was dead. Can you believe it?
The report stated that value investors are seeing the longest dry spell since the Great Depression. It also said that future returns from value stocks will likely be lower than the historical average.
Call me a contrarian, but that kind of sentiment piques my interest.
I remember similar sentiment toward stocks in general at the height of the Global Financial Crisis. By early 2009, stocks had been trending down for over a year. The S&P 500 was hovering around the 700-point mark.
It was at this stage that investors began questioning whether stock market investing was dead. The "buy and hold" strategy was over they said.
Look at the near 300% rebound since.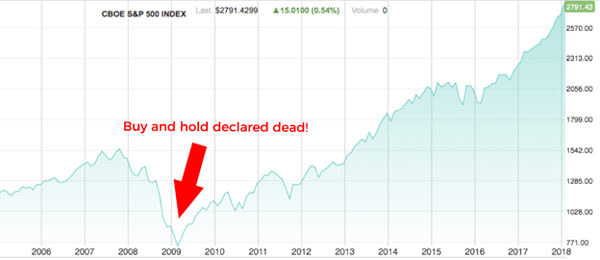 Source: Nasdaq.com
Similarly, the same thing happened with gold during the dot-com boom. Investors wanted nothing to do with the precious metal. Its price languished under $300 per ounce. The UK government sold its reserves.
Over the next decade, however, gold generated gains of nearly 300%.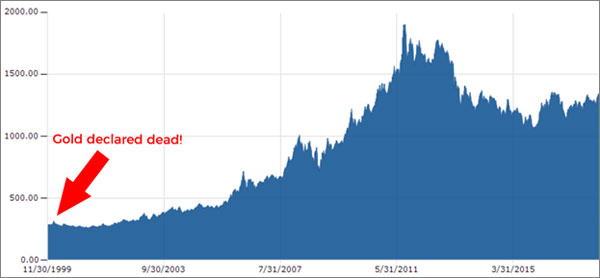 Source: Business Insider
The bottom line is that when investors write off an asset class—it's often the best time to be buying.
And that's where we are right now with value stocks.
History Shows That Value Trumps Growth
Value investing is not dead.
And the lack of interest in value stocks will not last forever.
While growth has dominated over the last decade, a look back further reveals that value has been the clear winner over the long term.
For the 90-year period between 1926 and 2016, value stocks returned 17% per year vs. 12.6% for growth stocks, according to Bank of America. Value stocks outperformed growth stocks 60% of the time during that period. You can see in the chart below that value has clearly been the better investment strategy in the long run.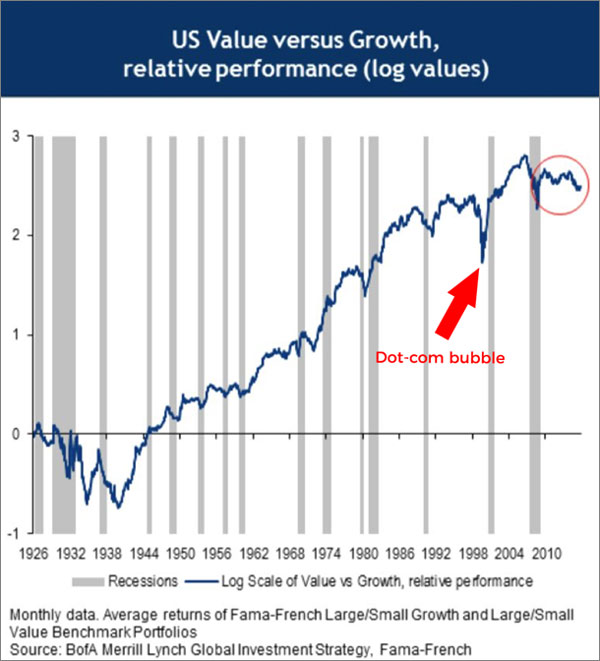 This leads me to believe that at some stage there will be a reversion, because the gap between growth and value is now extreme.
Now is the time to prepare your portfolio.
Don't be that investor who gets crushed when the market suddenly realizes just how insanely overvalued growth stocks have become.
Rotate to Value Before It's Too Late
If you act quickly, you can position your portfolio before the growth/value gap begins to unwind.
Investors' obsession with growth has resulted in some compelling opportunities.
There are pockets of value, easily accessible via niche ETFs, to be found everywhere.
For example, I like the Vanguard Mid-Cap Value ETF (VOE). It's a boring value ETF that's stacked with attractively valued banks and energy companies. You won't find the FAANGs making up the top holdings here. Technology is under 10% of the fund.
There are also plenty of international value-focused ETFs. For example, the iShares Edge MSCI Europe Value ETF invests in European stocks that look undervalued relative to their fundamentals. To give you an idea of how to pick an ETF that fits your portfolio, I'll give you a link to a special report about ETFs from my colleague and a former ETF trading head of Lehman Brothers Jared Dillian.
But remember, the key is to position your portfolio appropriately now. I believe we are very close to a turning point.
Free Report: 5 Key ETF Trading Strategies Every Investor Should Know About
From Jared Dillian, former head of ETF trading at Lehman Brothers and renowned contrarian analyst, comes this exclusive special report. If you're invested in ETFs, or thinking about taking the plunge into the investment vehicle everyone's talking about, then this report is a clever—and necessary—first step. Get it now.