George Friedman: Putin's Ukraine Strategy Could Lay the Groundwork for War
Meredith Friedman
|
|
September 15, 2016
---
BY GEORGE FRIEDMAN
Tensions between Russia and Ukraine are growing. According to the Russians, a special operations team from Ukraine attacked Crimea in August. The Ukrainians denied the claim. The Russians appeared to be moving forces around in Crimea and increasing their number and posture.
There have been reports of Russian troop buildups east of their border with Ukraine. There is also an unconfirmed report of Russian troops deploying in pro-Russian, rebel-held territory inside Ukraine. The Russians have done nothing to tamp down tensions.
Whatever the truth, the Russians are establishing a justification for taking action against Ukraine. I have predicted that the Russians will eventually move to change the situation in Ukraine, militarily if necessary.
Ukraine is too key to them strategically to accept anything less than a neutral government in Kiev. Therefore, I expect the Russians to take some notable action.
My view is that the military option is likely off the table. Ukraine is a large country. To occupy it against minimal resistance would require a force that Russia didn't have a year ago. Thus, I think the informal truce will hold to at least the end of 2016.
So, an increased tension will likely lead nowhere. But the Russians are talking war, and we must consider why.
Russia's Need to Show Strength
The Russian economy has declined sharply. This hurts President Vladimir Putin's political position, especially among senior officials and oligarchs who make up the Russian elite. Putin has been increasing his power lately, replacing some governors with his former bodyguards. But actions like that don't make him appear powerful. They make him seem worried.
The other force that is undermining Putin's position is his mishandling of Ukraine. While Westerners think of Putin as the aggressor, at the end of the day, Ukraine's Russian-friendly government was replaced by a pro-Western government.
All the Russians retained were Crimea (where they already had a massive force) and a presence in eastern Ukraine. There, the Russians tried to incite a broad uprising that never happened.
Putin needs to do something significant since he hasn't been able to do much about the economy or Ukraine. He needs to appear threatening, even if it's a bluff.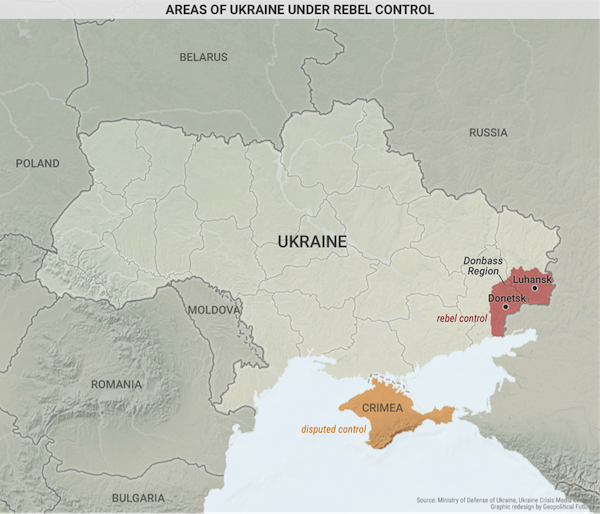 Given recent regional shifts and improved relations with Turkey, Russia has some advantage. It is not clear, though, whether the Russian military would take action that might lead to confrontation with the US.
If Russia were to get bogged down or lose, it would be Putin's end. It would also end Putin's attempt to separate Europe from the US. This type of Hail Mary doesn't seem worth it.
Putin's Strategy
So what is Putin doing?
If Putin wanted a suitable political settlement, this would be the best strategy. He should create a crisis that makes it appear Russia is on the verge of attacking Ukraine. This would lead countries to send dignitaries to the region in an effort to convince the Russians not to go to war.
Putin would make absurd demands, enraged by the aggression of the Ukrainians. Then as talks appear to be collapsing, he would come to a deal. Given the American sense of weakness after Ukraine, and Germany's distraction, it would be the ideal time for this move.
But, the Russians could also use the same strategy if they made a decision to go to war.
The Russians would create a massive crisis and then reach a reasonable agreement. They would stand down—except for a few divisions that carry out exercises—and everyone would relax. Then, the Russians would strike.
This is what the Soviets did in Hungary and Czechoslovakia and what Russia did in Georgia. And they blame the attack on some action by the target—a target that thinks the Russians have backed down.
Here's the problem. If the Russians wanted a negotiated settlement or if they were getting ready for war, they would act in exactly the same way. The negotiation requires an opening bluff. A war requires a final bluff.
So, as much as I think this is not going to end up in a war right now, we can't ignore that this looks like the early stages of one.
A Poor Economy Won't Stop the Russians
Some believe that a weak economy precludes war. Generally, I believe that isn't true, but with the Russians, it certainly isn't true. The Russians have fought all their wars from Napoleon on with an economy in shambles. It is their normal condition.
Keep in mind, this would be a local conflict, not a world war. The US might be involved but not on a large scale. As for sanctions, they really aren't a deterrent on a national security issue. Sanctions are rarely placed on a country that has just won a major war and is now perched on the borders of Europe. And that's one of the attractions. In that position, Russian can try to extract economic benefits.
I would not have been surprised to see this happen in a year. I am surprised to see it now. But while we know what we are seeing, we don't know what it means. The next thing to watch is whether the Russians increase their rhetoric. If they do, things could get very scary indeed.
Watch George Friedman's Ground-Breaking Documentary Crisis & Chaos: Are We Moving Toward World War III?
Russian posturing is part of a storm of instability engulfing a region that's home to 5 billion of the planet's 7 billion people.
In this provocative documentary from Mauldin Economics and Geopolitical Futures, George Friedman uncovers the crises convulsing Europe, the Middle East, and Asia… and reveals the geopolitical chess moves that could trigger global conflict. Register for the online premiere now.