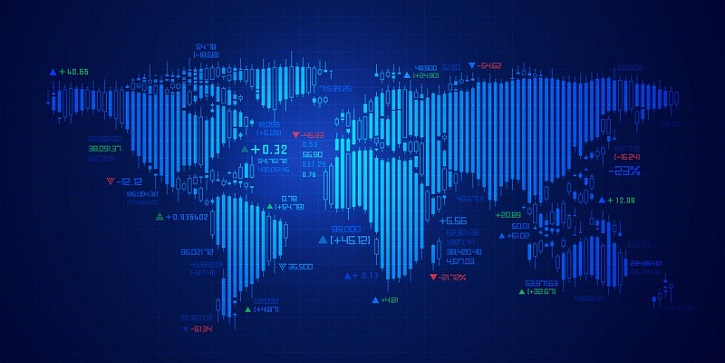 Get rid of your "prejudice" and buy these stocks
Stephen McBride
|
|
February 6, 2023
This article appears courtesy of RiskHedge, LLC.
---

US stocks are about to pass the torch... It's time to buy these stocks instead… Do you suffer from "portfolio prejudice?"
Today, I'm making a controversial call.
You'll probably disagree with me.
You may think I've lost the plot.
But please, please, keep an open mind. Because markets are at a major turning point right now. And if you only own US stocks, you'll most likely be left in the dust.
I believe acting on the facts laid out in this essay will help you make more money than the vast majority of investors this year, next year, and many years into the future.
1. It's been one hell of a decade for US stocks…
We all know the famous FAANG stocks.
To be a successful investor over the past 10+ years, all you had to do was buy the stocks behind that five-letter acronym.
Facebook… Apple… Amazon… Netflix… and Google. These American giants handed investors trillions of dollars in stock market profits. And they became the largest and most successful companies the world has ever seen.
In fact, these five stocks were so successful, they grew to make up roughly 20% of the US stock market. And their meteoric rise was a huge contributor to US stocks' incredible run over the past decade.
As you can see, every dollar invested in the S&P 500 in 2010 is worth almost four bucks today: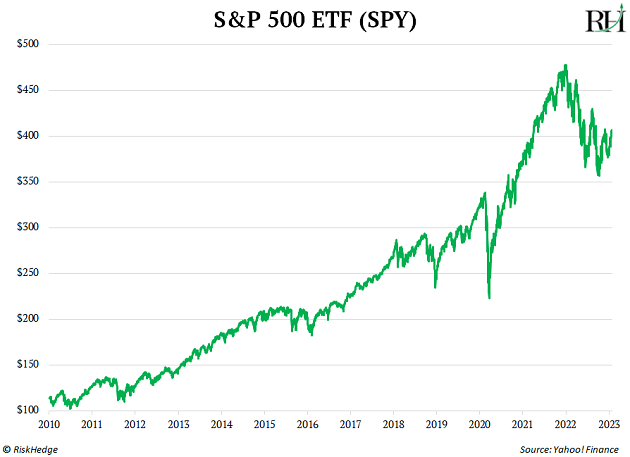 2. Meanwhile, foreign stocks were a horror show…
Take a look at this next chart.
It maps the performance of the S&P 500 ETF (SPY) versus stocks from emerging markets (VWO) and those from Europe and Japan (VEA):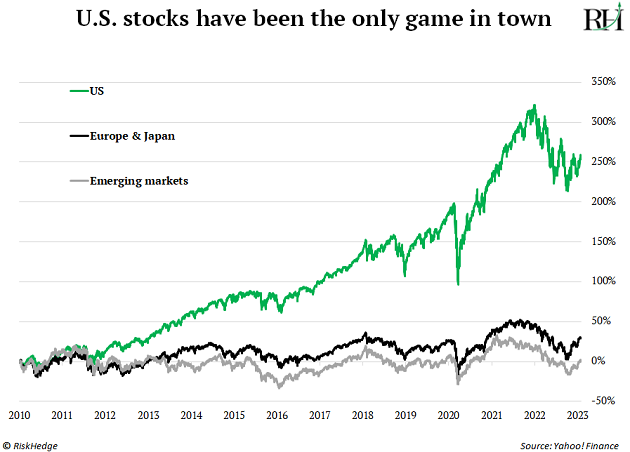 US stocks absolutely pummeled their foreign peers.
We all know America has its fair share of problems. But things are usually a lot worse in other countries.
Former Treasury Secretary Larry Summers summed it up nicely a few months ago when he said: "Europe's a museum, Japan's a nursing home, and China's a jail."
3. What if I told you this trend is set for a dramatic reversal?
2022 was brutal.
The S&P 500 fell roughly 20%. It was the worst year for US stocks since 2008.
Meanwhile... Chile, Brazil, and Argentina's stock markets all finished in the green.
And did you know the UK's version of the S&P 500 just hit all-time highs?
In short: It's finally time to buy international stocks.
Here's why...
Last year, US stocks dipped into their first bear market since 2008. And all bear markets have one thing in common: They transfer leadership from one group of stocks to another.
In other words, bear markets hit the reset button on stock market leaders.
For example, US tech stocks soared throughout the 1990s. Their dominance came to an end when the dot-com bubble burst.
Emerging market and commodity-related stocks dominated most of the noughties (the period between 2000 and 2009).
But the financial crisis ended their run and handed the reins back to US stocks.
This chart from JPMorgan illustrates how the stock market leadership pendulum swings back and forth (international outperformance in purple; US outperformance in gray):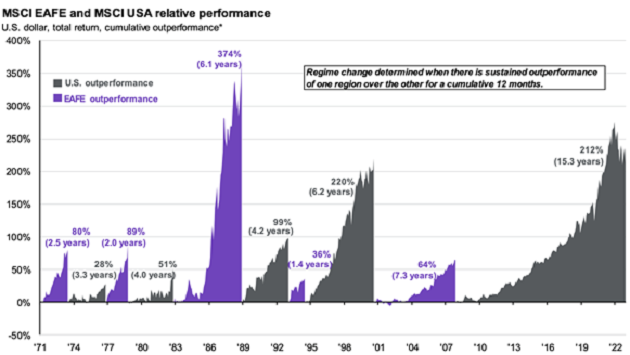 Source: JPMorgan Asset Management
Today, we're on the cusp of a shift back to international stocks.
You can see the S&P 500 has lagged the rest of the world over the past few months: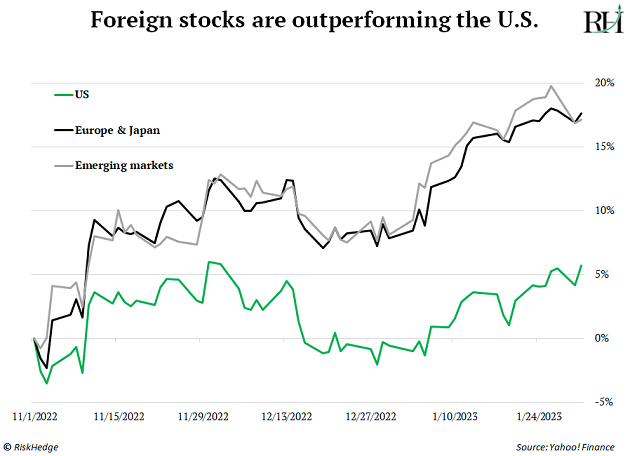 4. If it's time to buy international stocks, what should you buy?
We all know FAANG stocks like Apple and Google print cash. They're among the finest companies the world has ever seen.
But there are some equally impressive companies abroad.
Take ASML (ASML), for example. Longtime RiskHedge readers know ASML is the only company in the world capable of making the machines that produce the latest and greatest chips.
The Dutch giant fell 54% from January 2022 to its low in October. But it's up more than 90% since.
It's up 221% since my original recommendation in 2018, but I see it headed MUCH higher over the coming decade.
If you're a regular RiskHedge reader, you know France's LVMH (LVMUY)—best known as the parent company of Louis Vuitton—is another top international stock.
While the S&P 500 is stuck in a bear market, LVMH sits near record highs: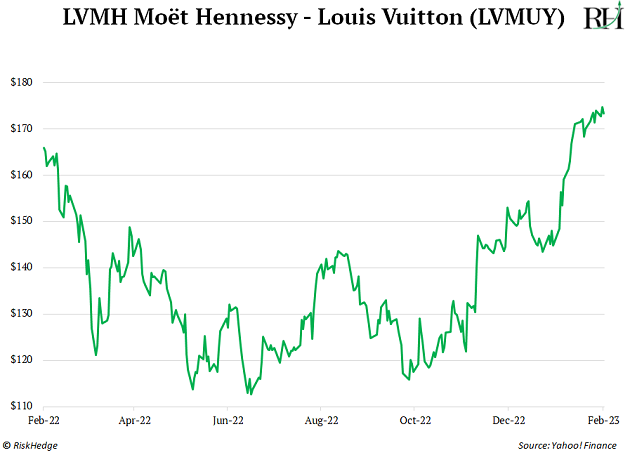 And check out Australia's BHP Group (BHP), which is among the world's largest producers of iron ore and copper.
It's up around 46% over the past three months while the S&P 500 is up 7% during the same period: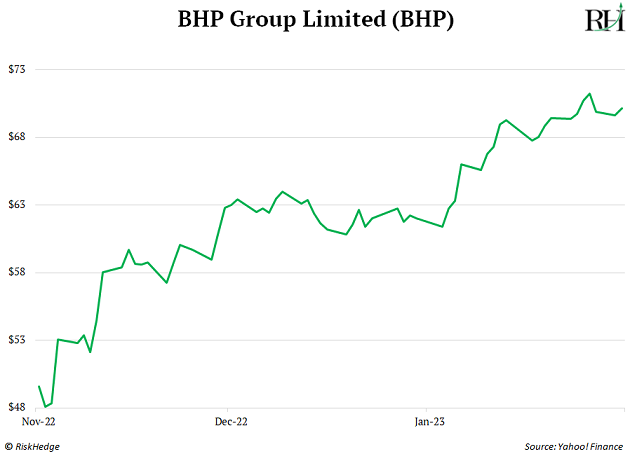 My friends, there's a world of opportunity out there in the land of international stocks.
5. It's time to get rid of your "home country bias"…
Investors typically prefer to buy companies from the country they live in and ignore the rest of the world.
Americans own mostly US stocks. Brits invest in UK stocks. Invest in what you know, right? Financial nerds like me call this "home country bias."
This bias has served US investors well over the past decade. Now it's time to rid your portfolio of prejudice.
I believe international stocks are poised for a decade of outperformance against US markets.
To be clear, that doesn't mean sell all your US stocks. And don't blindly buy foreign stocks. Investing overseas can be a minefield.
That's why, in Disruption Investor, we're taking a "best of the rest (of the world)" approach.
We're not buying speculative Chinese stocks that can move 50% in a day. We're investing in the highest-quality international stocks you can find, like ASML, Taiwan Semiconductor (TSM), and more.
Before I sign off, I want to make sure you had a chance to review your invitation to join the New RiskHedge.
In short: It's the biggest upgrade to how we deliver our research in our company's history. As our publisher Dan explains here, you have a chance to get in on the ground floor.
Click here for the details, including how you stand to save 74% or more.
Stephen McBride
Chief Analyst, RiskHedge
Stephen McBride is editor of the popular investment advisory Disruption Investor. Stephen and his team hunt for disruptive stocks that are changing the world and making investors wealthy in the process. Go here to discover one of Stephen's top investment themes and to try a risk-free subscription.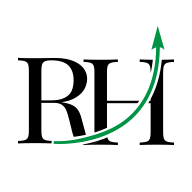 This article appears courtesy of RiskHedge, LLC. RiskHedge publishes investment research and is independent of Mauldin Economics. Mauldin Economics may earn an affiliate commission from purchases you make at RiskHedge.com