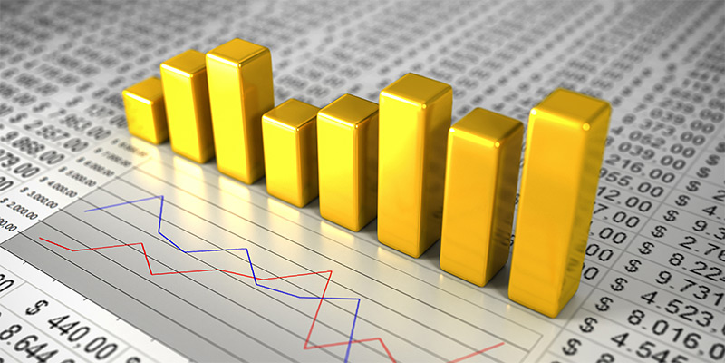 The "Special Situation" Disruption That Could Hand Investors 1,600%+ Gains
Stephen McBride
|
|
April 27, 2020
This article appears courtesy of RiskHedge, LLC.
---
It might just be the best opportunity in American history for this investment.
Will you take advantage of it?
Longtime RiskHedge readers know me as the disruption guy.
It's my job to study disruptive trends and show you how to make money from them.
And today, I have a "special situation" disruption for you.
This money-making opportunity only comes around once every couple of decades.
The last time we saw this setup, investors made 1,600% gains. The time before that, folks "only" banked 550% profits… in less than five years.
And after just chatting with one of the world's leading experts on this specific type of investment, I can tell you this once-in-a-generation opportunity is on the table again.
More on that in a minute. But first…
Did you notice something odd on last week's bank statement?
This past week, the US Government started handing out "free money."
Over 60 million Americans have already received a $1,200 check from Uncle Sam. And there's plenty more on the way.
The US government passed a historic $2.2 trillion stimulus package to fight the economic fallout from the coronavirus.
And get this… governments around the world have passed $7 trillion worth of stimulus in just the past four weeks!
My friends, the money spigots have been turned on. These are the biggest, most expensive spending packages in history.
It dwarfs what we saw in the financial crisis… and even the Great Depression.
According to Congressional Research, the total cost of WWII was $4.1 trillion in today's dollars. Yet governments have already agreed to splash out $7 trillion!
Governments have never borrowed and spent this much money.
This spending spree is sparking a huge money-making disruption.
When folks see governments throwing trillions of dollars around, it triggers a thought in their minds.
If you're familiar with how our financial system works, you know our money isn't tied to anything of real value anymore. Rather, the value of the dollar largely depends on politicians making responsible financial decisions.
In other words, there are consequences when governments spend and borrow ungodly sums of money.
And right now, politicians are going out of their way to spend as much money as possible.
Each time this happens, folks worry about the value of their hard-earned savings. And they're drawn to "real" assets the government can't just create out of thin air.
In other words, it perks their interest in hard money—like gold.
Out of control spending kicked off a gold supercycle in 2000.
US government spending started getting a little wild at the turn of the century.
In 2000, spending jumped by $70 billion… a year later, it soared another $125 billion. And when the '08 crises hit, spending was surging $270 billion a year!
As government spending soared, so did Americans' interest in gold.
In 2000, gold was selling for $200/ounce. By the end of the decade, it surged almost 600% to $1,350.
No investor would turn their nose up at 600% gains.
But buying gold isn't the "special situation" disruption I have to show you.
When folks pile into gold… it pays to own gold stocks.
Gold stocks are like gold on steroids.
They're "leveraged" to the price of gold… meaning when gold moves an inch, gold stocks can move a mile.
When gold spiked 600% between 2000–2010, the average gold stock surged 1,600%!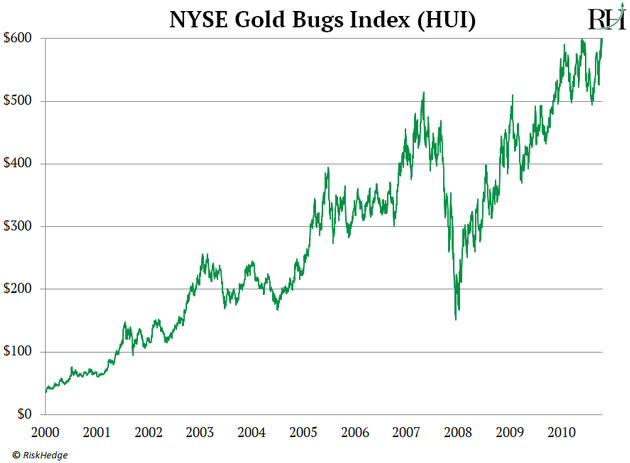 Many individual gold stocks soared even higher during that time.
Agnico Eagle Mines (AEM) surged 2,850%...
Kinross Gold (KGC) shot up 1,940%.
And Newcrest Mining (NCM.AX) jumped 2,640%...
The exact same pattern played out in the 1970s.
From 1976–1980, US government spending jumped 55%...
Gold rocketed almost 400% during that period… but gold stocks handed investors almost 6x their money.
Do you see the pattern?
When governments start splurging, investors get interested in hard assets like gold. And when gold jumps, you want to own gold stocks.
And this pattern is starting to repeat itself…
Since Congress started debating the historic $2.2 trillion stimulus package in early March, gold stocks have shot up 57%!
In short, this unprecedented spending spree is creating a once-in-a-generation speculative opportunity in gold stocks.
And the industry insider I'm talking with—a true legend in the resource space—believes we're at the start of another big run-up in gold stocks.
Now, I get it… Gold isn't as "exciting" as the disruptions I often write to you about...
Self-driving cars… healthcare disruption… and cyber are much "sexier" than gold.
But don't let that stop you from taking this opportunity seriously.
I'll choose profits over excitement any day. And buying gold stocks at the right time—NOW—is one of the best ways to collect big gains quickly.
Gold stocks have exploded for triple—or quadruple—digit gains seven times in the past 48 years.
Today, the cycle just started again… and it could be the most lucrative yet.
By picking the right gold stocks, you can make tons of money.
But finding the right gold stocks isn't easy. There are thousands. Most are "duds."
If you're interested in putting money to work in this idea, my #1 piece of guidance is this: Don't go it alone. Find a proven expert to guide you.
That's where my friend Marin Katusa comes in...
Marin is a hedge fund manager, New York Times bestselling author, and one of the most trusted and well-connected dealmakers in the resource space. He's personally financed some of the most successful mining businesses.
And he's built one of the greatest investment track records in history (with wins of 1,852%, 1,050%, 1,450%, 2,400%… even 4,160%).
Right now, Marin says the stage is set for what he believes are the greatest investment opportunities we've seen in a generation.
And he's personally investing millions of his own money in a small group of stocks to take advantage of this rare window.
Now, because this is such a big—and urgent—opportunity…
I've asked Marin to join me and RiskHedge CEO Olivier Garret in an exclusive interview for RiskHedge readers only.
During this emergency broadcast, which we'll air on Tuesday, April 28 at 10:00 am ET, Marin shares:
✔ Why an inevitable surge in gold is coming
✔ How to spot the companies poised to deliver massive returns over the next 12–24 months
✔ One of his top gold stocks to buy right now (name and ticker free for everyone who attends)
You don't want to miss it.
Stephen McBride
Editor — Disruption Investor
Stephen McBride is editor of the popular investment advisory Disruption Investor. Stephen and his team hunt for disruptive stocks that are changing the world and making investors wealthy in the process. Go here to discover Stephen's top "disruptor" stock pick and to try a risk-free subscription.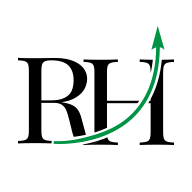 This article appears courtesy of RiskHedge, LLC. RiskHedge publishes investment research and is independent of Mauldin Economics. Mauldin Economics may earn an affiliate commission from purchases you make at RiskHedge.com