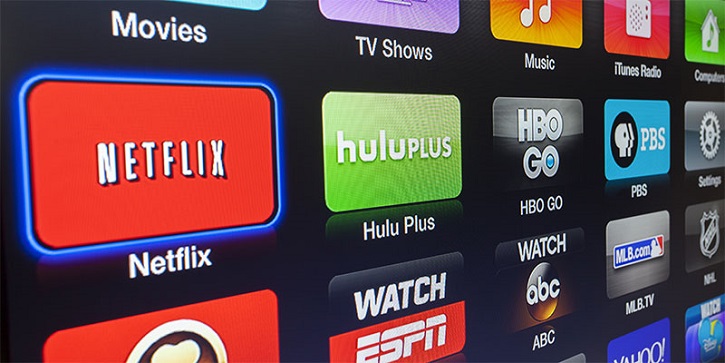 War is underway—what does that mean for stocks?
Stephen McBride
|
|
February 28, 2022
This article appears courtesy of RiskHedge, LLC.
---
Stephen's note: As I wrap up this issue, Russia is invading Ukraine…
My team and I have been preparing for this.
Times of war are scary and emotional for investors. But if you know anything about me, when things get emotional, I look to the facts.
In short, stocks always fall at the start of a war, and that's what they're doing this morning. The Nasdaq is down 3% as I type.
But here's the important part: Markets almost always recover quickly from war-induced plunges.
Going back to the attack on Pearl Harbor, the S&P 500 fell 5% on average during 20 "war" events. It recovered those losses in fewer than 50 calendar days, on average.
I'll have a lot more data and analysis on this in next week's issue. For now, know that this war is no reason for investors to panic. In fact, incredible buying opportunities in select disruptive stocks are forming because of it. Like the one we'll talk about below…
***
Remember the streaming wars?
A few years ago, every news outlet was having a field day debating which company would conquer American TV.
Netflix… Disney… Amazon… Apple… and a slew of other firms are still battling it out for streaming supremacy.
With over half a billion paying subscribers between them, you could say they all "won."
But there's been one big loser in the war…
Investors.
Despite all the hype surrounding the streaming wars… streaming stocks have gone nowhere for three years. Take a look at the performance of Netflix (NFLX), Disney (DIS), and Discovery (DISCA):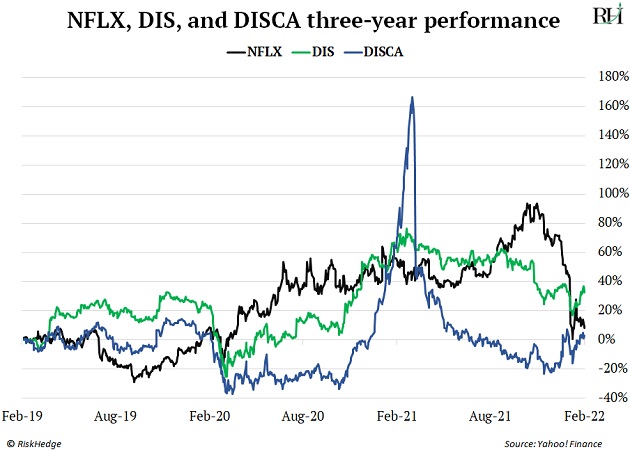 Longtime RiskHedge readers will remember I wrote a series of essays in 2018 warning investors to avoid Netflix. My most controversial one was published on June 5 that year, titled "The Market Is Dead Wrong on Netflix."
Some folks thought I'd lost it. Netflix was a stock market darling back then. It had surged 8,900% over the previous nine years.
But Netflix was hyped to the moon. And it was obvious the stock was headed for trouble.
As a quick recap, Netflix pioneered streaming over the internet. And for years, it was the only game in town. This allowed the disruptor to grow uninterrupted for almost a decade.
But then rivals finally jumped into streaming. Suddenly, we had HBO Max… Disney+… Peacock… Apple TV… CBS All Access… and Discovery+ to choose from.
Just as competition heated up, Netflix's stock began to fizzle out.
Wall Street has thrown in the towel on streaming stocks.
Netflix announced earnings last month.
Compared to expectations, they were awful.
Its stock plunged 30% after reporting its worst subscriber growth since 2015. In other words, $69 billion of shareholder value went "poof" in a matter of hours.
Hype around the streaming wars has turned to despair.
Google "streaming wars" these days, and you'll mostly find negative stories. Take this recent headline from The Economist.

Back when Netflix stock was at $700, nearly every analyst on Wall Street was buying.
Now it's trading below $400, and nobody wants to touch it.
I'm starting to see an opportunity.
Streaming stocks are 30%… 40%… 50% off their highs.
But the underlying businesses have never been stronger.
Netflix now has 222 million paying subscribers, up 100 million since 2018.
When Disney jumped into streaming in 2019, it hoped to attract 60 million subscribers within five years. It hit that target within 12 months and now boasts 130 million users.
And the megatrend of streaming has never been stronger.
In 2019, just 14% of TV viewing time was spent watching streaming apps, according to top research firm Nielsen. That doubled to 28% last month.
Streaming continues to disrupt America's favorite pastime. In fact, over Christmas, Nielsen estimates Americans watched a total of 183 billion minutes of shows and movies on streaming platforms in the last week of 2021. A record high.
Here's what's going on…
A few years ago, streaming giants were priced like they were going to take over the world. When these giants failed to live up to those impossibly high expectations, their stocks plunged.
Today, the exact opposite is happening.
Almost everyone who bought these stocks in the past three years has lost money. Expectations have sunk to zero.
Yet, the underlying businesses are as strong as ever.
Prices are once again detached from fundamentals… but this time, it's working in favor of these stocks.
Every business has its price…
Three years ago, I warned you to avoid Netflix stock like the plague.
But the stock is starting to look attractive.
It's crashed 45% since November… yet Netflix still offers tremendous value. For the price of a burrito a month, you get access to thousands of shows and movies.
And it's still the largest streaming service… with the most loyal subscribers.
Data from media firm Ampere Analysis shows roughly 10% of Apple TV subscribers hit the cancel button each month.
Despite having way more subscribers, Netflix's "churn" is just 2%, the lowest of any streaming app.
After being stuck in the mud for three and a half years, Netflix stock is worth a small investment if it can stay above its recent post-earnings low of $350.
There's another streaming stock to keep your eye on.
We all love HBO. It's made many of the best shows ever, like The Wire, The Sopranos, and Game of Thrones. And longtime RiskHedge readers know content is king when it comes to streaming.
HBO's streaming service, HBO Max, has been enjoying fast growth. It added seven million new users in the US alone last year.
The problem for investors was… you couldn't invest in HBO directly. Its parent company, WarnerMedia, was owned by AT&T.
That's set to change later this year. AT&T is spinning off WarnerMedia in a $43 billion merger with Discovery. In other words, investors will soon be able to bet on HBO's world-class studio.
Keep an eye out for the stock, which is set to debut on the market later this year.
Stephen McBride
Editor — Disruption Investor
Stephen McBride is editor of the popular investment advisory Disruption Investor. Stephen and his team hunt for disruptive stocks that are changing the world and making investors wealthy in the process. Go here to discover Stephen's top "disruptor" stock pick and to try a risk-free subscription.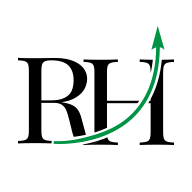 This article appears courtesy of RiskHedge, LLC. RiskHedge publishes investment research and is independent of Mauldin Economics. Mauldin Economics may earn an affiliate commission from purchases you make at RiskHedge.com