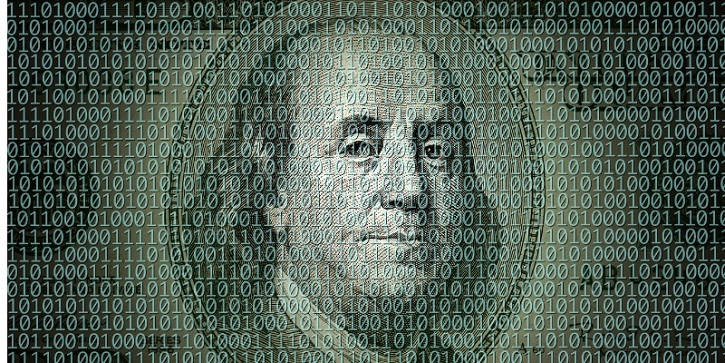 Welcome to inflationary hell
Stephen McBride
|
|
May 9, 2022
This article appears courtesy of RiskHedge.
---
Stephen's note: Today, I'm passing the reins to RiskHedge's newest analyst and my right-hand man, Alex Toussaint. Alex, who grew up in Haiti, has an important perspective on inflation… and his new idea today is one I want every RiskHedge reader to understand…
***
Work hard, save money.
It's a way of life for Americans who want what's best for their families.
But what happens when the "save" part is impossible?
When inflation eats your nest egg faster than you can possibly build it?
With US inflation at 8.5%—the highest rate in 40 years—this sad reality is confronting many Americans, even though they may not realize it yet.
Unfortunately, my family has more experience with devastating inflation than I'd prefer…
Hi, I'm Alex Toussaint. Roughly one year ago, I changed careers to work full-time for RiskHedge Chief Analyst, Stephen McBride. I'll tell you more about that some other time.
For now, you should know I grew up in Haiti… the poorest country in the Western Hemisphere.
I escaped Haiti when I was 17. My parents sent me to live in South Florida with my uncle…
I'm forever grateful. I love my home country, but the government turned it into a living hell. I couldn't imagine raising my now two-year-old son there.
Kidnappings and gunfights happen every week. And inflation is so bad… some families starve.
Haiti's currency, the gourde, is depreciating around 20% per year, according to official statistics.
Naturally, Haitians try to avoid saving in gourdes. But the government makes it hard. Most jobs in Haiti pay in gourdes. The government limits currency exchanges to 100 US dollars a day. And you have to physically go to a bank to make the exchange.
That's no easy task in a place where it's dangerous to walk out your front door.
(I'm not exaggerating… I have friends who were kidnapped and held until their parents paid a ransom.)
Hopefully, inflation in the US won't reach 20% or worse.
But having lived through it… and seeing the US government spend over $13 trillion in the last two years as if there will be no consequences…
Let's just say the situation feels uncomfortably familiar. And I'm preparing.
So let me give you a new idea to beat inflation you've likely never heard of.
My family member is trying to make her escape from Haiti now.
Her immigration to the US is pending. She has some savings… but they're in gourdes.
She's desperate to turn them into US dollars… which, for better or worse, have long been the go-to "store of value" for folks from other countries.
We love to hate on the US dollar. And there's good reason to these days, with inflation raging.
But in most of the world, US dollars are a precious commodity for savers. Dollars are the most sought-after currency, by far.
Problem is, dollars are hard to get in a poor country like Haiti.
In helping my family member, I found a surprising solution.
Have you heard of stablecoins?
A stablecoin is a cryptocurrency worth exactly one US dollar.
They're as good as US dollars. And they can be transferred anywhere around the world, virtually for free.
As Stephen McBride recently explained:
Stablecoins or "digital dollars," like USDT and USDC, are much easier to acquire than physical dollars and can be stored electronically. They've taken off in countries experiencing rapid money debasement like Argentina and Turkey.
It costs almost nothing to send a stablecoin from one crypto wallet to another. This is why they're popular among foreign workers looking to wire money across borders and avoid the hefty charges of firms like Western Union. Think of them as borderless dollars.
In short, using a smartphone, non-US citizens can now instantly turn their home currency into US dollar stablecoins.
This practice is booming in places like Venezuela, where the inflation rate is 686%.
If you've lived in the US your whole life, you've never had to think about this…
But trust me… it's a huge deal.
It is lifechanging—literally—for billions of people around the world.
People in poor countries can now, for the first time, reliably turn their hard work into savings as soon as they receive the money.
This a sigh of relief for folks around the world who have worked very hard but couldn't effectively save.
Here's how this could help you beat inflation…
Stablecoins have many uses. But for Americans, the most compelling one is something Stephen recently suggested to his RiskHedge Venture subscribers.
In short, by storing your stablecoins a certain way, you can collect a 19% annual percentage yield (APY) on a US-dollar stablecoin.
That's right… 19%...
Or 270X more than the average interest rate paid by a US bank savings account.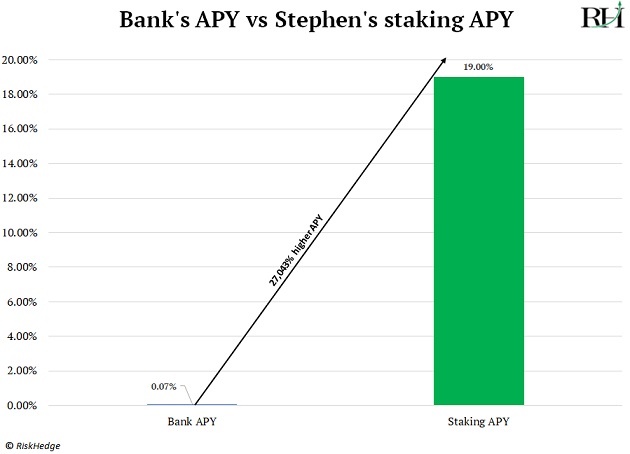 How is this possible?
Simply put, cryptos are redefining money.
A 19% yield keeps you ahead of today's 8.5% inflation.
If you're interested in seeing how it's done and doing it yourself—consider a subscription to Stephen's premium crypto advisory, RiskHedge Venture.
In Stephen's recent issue, The staking issue: How to earn passive crypto income, you'll discover all there is to know about earning big yields in cryptos—including step-by-step instructions for exactly how to do it yourself… the risks involved… and even potential opportunities to collect big capital gains and big yields at the same time.
Of course, that's not all you get with a subscription to RiskHedge Venture. Stephen has eight current "BUYS" in his crypto portfolio—all with the potential to appreciate by at least 1,000%.
You'll also get immediate access to Stephen's Crypto starter kit and the RiskHedge Venture Owner's Manual, which walk you step by step on how to hit the ground running…
As well as his brand-new NFT report, just published this week.
Regards,
Alex Toussaint
Analyst, RiskHedge
PS: This special deal to RiskHedge Venture is only available until Sunday, May 8 at midnight.
So, if you're ready to take advantage, don't delay. Go here if you'd like to join Stephen's inner circle of crypto investors.
Stephen McBride is editor of the popular investment advisory Disruption Investor. Stephen and his team hunt for disruptive stocks that are changing the world and making investors wealthy in the process. Go here to discover Stephen's top "disruptor" stock pick and to try a risk-free subscription.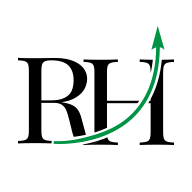 This article appears courtesy of RH Research LLC. RiskHedge publishes investment research and is independent of Mauldin Economics. Mauldin Economics may earn an affiliate commission from purchases you make at RiskHedge.com