Why Every Investor Should Invest in Water
Robert Ross
|
|
November 4, 2019
---
By Robert Ross
This might surprise you, but water is a fantastic investment.
Take water utility stocks like American Water Works (AWK) and Consolidated Water Co. (CWCO), for example. In the past six months alone, their stocks have shot up 19% and 28%, respectively.
Industrial water companies like Danaher Corp. (DHR) are also on a great run. Danaher has climbed 10% in the last six months: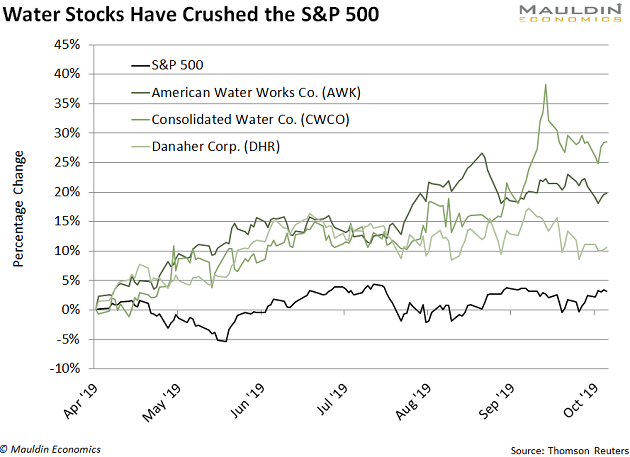 That's pretty substantial, especially compared to the S&P 500's 3% gain during this stretch.
Water Stocks Offer a Safe Haven
Stock market volatility is part of the reason water stocks are doing so well right now.
You probably know that US stocks have had a rollercoaster year. In August alone, there were five days when the S&P 500 rose or fell 1%. (This only happened on eight days during all of 2018.)
Add in trade wars, the impeachment circus, a yield curve inversion… and you get a lot of nervous investors.
At the same time, stocks are flirting with all-time highs. And we're at the tail end of the longest bull market in US history. So investors are rightfully skittish.
When stock market risk rises, investors flock to safe and reliable stocks. And water stocks fit that bill.
Water utilities are my favorite type of water stock. These companies process and deliver water to cities and towns. They're often highly regulated, which limits profits. But it also keeps out competition.
Water infrastructure and equipment companies are another good option. These companies work with water utilities and the industrial and commercial sectors to improve water treatment and transport options.
Either way, you want some exposure to the water industry right now…
People Always Need Water
Remember when stocks fell 20% between September and December last year?
Water stocks bucked the trend. In fact, California Water Services Group (CWT) and American States Water (AWR) rose 8.2% and 4.7%, respectively, during that period.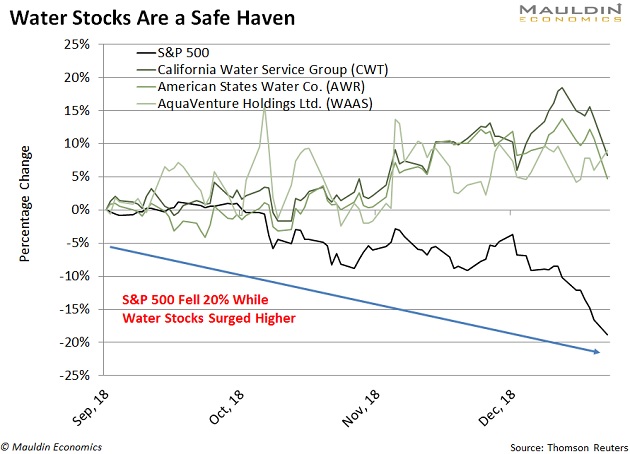 Same story for water infrastructure firm AquaVenture Holdings Ltd. (WAAS). While the S&P 500 was in freefall, AquaVenture shot up 9.0%.
Meanwhile, Brazilian water giant Sabesp (SBS) beat them all, soaring 32%: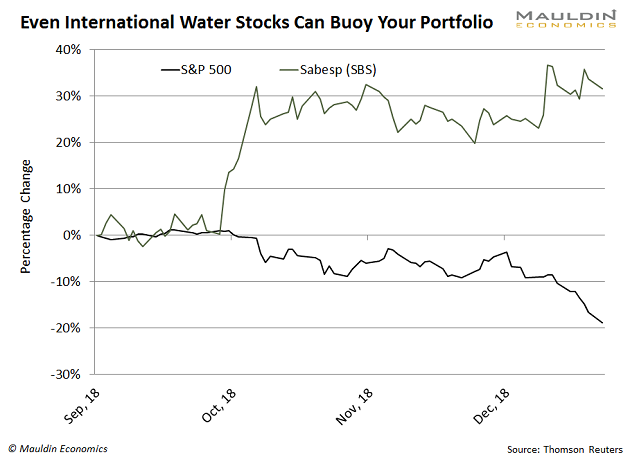 This all makes sense when you think about it. People always need water, period. That doesn't change when the broader market is heading south.
Less Than a Penny Per Gallon
Of course, water is essential for sustaining all life on Earth. So, it's no surprise that water infrastructure, treatment, and transportation companies run very stable businesses.
On top of that, long-term trends like population growth and a shrinking supply of fresh water from rivers, lakes, and aquifers can only push demand—and prices—higher.
However, right now, water in the US is downright cheap. The average price is about $1.50 per 1,000 gallons, or less than a penny per gallon.
But you can still make a lot of money off it…
There are 327 million people in the US today. That figure could climb as high as 440 million by 2050.
Meanwhile, Americans use 80 to 100 gallons of water per day, on average. So we need every last drop of water we can find.
This is why the US government is investing heavily in water infrastructure. By 2027, investment in municipal water infrastructure will rise 11%. And private spending on drinking water infrastructure will total $60 billion, according to accounting firm PricewaterhouseCoopers.
Over the next 25 years, total spending on wastewater treatment alone will exceed $10 billion a year.
These steady and predictable investments help make US water stocks some of the safest investments on the market.
The Best Ways to Invest in Water Right Now
There are a handful of ways to invest in water. For income investors like us, the best route is water utilities like American Water Works (AWK) and Consolidated Water Co. (CWCO).
Water infrastructure companies like Xylem (XYL) also offer solid opportunities. Although it has underperformed the S&P 500 and water utilities year to date, it has beaten the market over the last 36 months.
If you prefer the ETF-route, my favorite is the Invesco Water Resources ETF (PHO). It holds everything from utilities to infrastructure companies, and it pays a small 0.5% dividend yield.
That said, I usually prefer buying individual stocks, since they offer more upside. But for investors who want a broad slice of the water market, an ETF is a suitable choice.
Either way, water belongs in every income investors' portfolio.
The Sin Stock Anomaly: Collect Big, Safe Profits with These 3 Hated Stocks
My brand-new special report tells you everything about profiting from "sin stocks" (gambling, tobacco, and alcohol). These stocks are much safer and do twice as well as other stocks simply because most investors try to avoid them. Claim your free copy.