Energy Short and Long Term
---
Welcome to Global Macro Update for Friday, September 9, 2022.
This week, I spoke with Sam Rines, Managing Director of Corbu Research and author of After Normal: Making Sense of the Global Economy.
We discussed energy markets as well as the US economy, inflation, the Fed, and geopolitical tensions. It was a wide-ranging conversation.
If you're short on time, you can access the transcript of this week's interview by clicking here.
The video of my full conversation with Sam is below. Read on for more…
The Long View on Energy
Sam Rines, as you'll see below in this week's interview, is bullish on oil and gas long term. If you find that a curious position, especially after watching oil prices fall precipitously in recent weeks and some analysts calling for a return to $60/barrel, be sure to read on.
The most important single factor right now is critically low capital expenditure in the oil and gas space, which makes sense given the rise of ESG, renewables, and political headwinds.
Why invest, after all, when the whole world is predicting your imminent demise? The current situation in Europe is one good reason. The problem is that CapEx is a slow-moving ball—incredible inertia when it gets rolling, but it doesn't happen overnight.
Take a look at the chart below, courtesy of the Dallas Fed: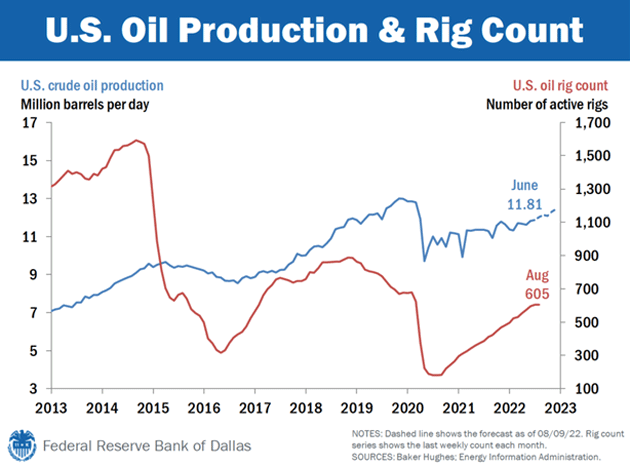 Production is obviously climbing, but rig count (as a proxy for industry CapEx) severely lags the "up and to the right" COVID-recovery trajectory we're seeing in other industries.
What does this mean for oil and gas investors as we look to Q4 and 2023? Sam Rines and I discuss oil industry CapEx, LNG from Qatar, the short and long term for the EU, and more below…
A Quick Look at the Markets This Past Week…
Gold was slightly up .63% to $1,720.
The average 30-year mortgage rate rose 2% to 5.66%.
Yields on 10-year Treasuries increased 2.7% to 3.28%.
The S&P 500 increased 1.83% to 3,995.
Bitcoin was down 3.60% at $19,255.
Oil declined 3.8% to $83.60/barrel for WTI. And now…
This Week's Global Macro Update Interview…
Sam Rines, Managing Director of Corbu Research and a Strategic Investment Conference (SIC) favorite this year, gave a fantastic interview this week.
Click here or on the screenshot below to watch now…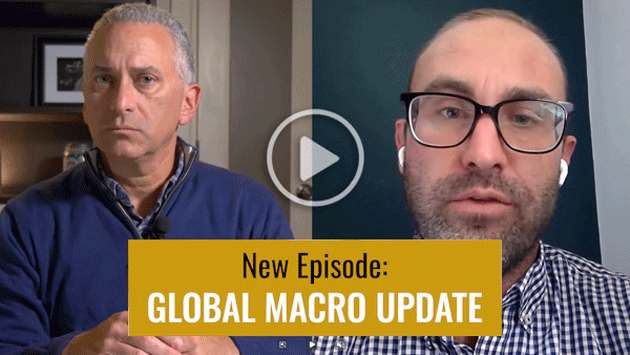 Click the Image Above to Watch Global Macro Update Now
In this edition, you'll hear Sam and me discuss:
Why the long-term outlook for oil and natural gas is very bullish…

How Qatari LNG could offset a significant amount of Russian energy dependence…

Why Russia halting natural gas exports to Europe likely won't have the catastrophic effects the media fears…

What Fed actions could mean for emerging market economies…

Why we could feel the ripple effects of COVID for the next 5–10 years…
Sincerely,

Ed D'Agostino
Publisher, Mauldin Economics
Tags