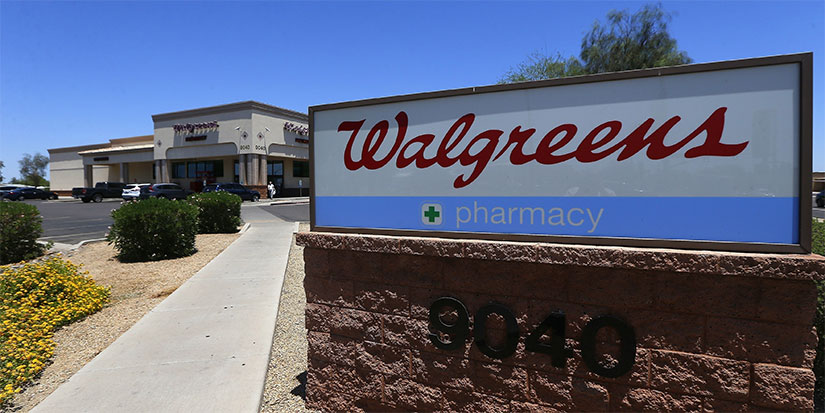 Is This Dog of the Dow a Buy?
---
I've said it before: The "Dogs of the Dow" strategy is a straightforward and historically profitable one that's easy to follow.
Essentially, you buy the worst-performing stocks in the Dow Jones Industrial Average, which includes 30 blue-chip, high-quality companies handpicked by a committee. It includes names like Microsoft (MSFT), McDonald's (MCD), Walt Disney (DIS), and Walgreens Boots Alliance (WBA).
The track record on buying the Dogs is quite strong, and at the bottom of the list for worst performance is Walgreens.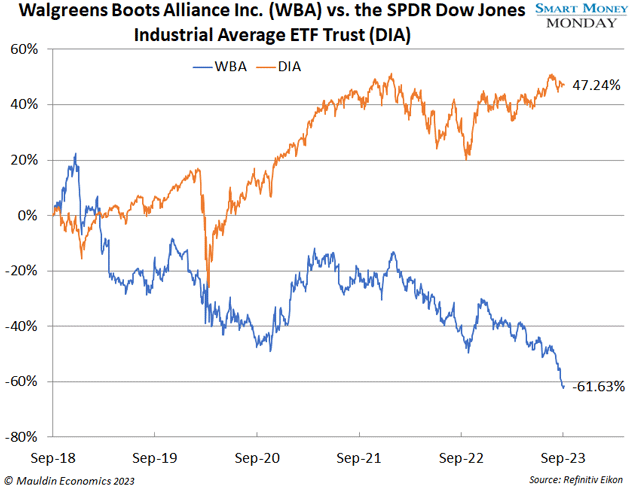 The company is facing tons of issues. But are these temporary or more permanent? Let's walk through them to gauge whether the stock should make its way into your portfolio…
WBA's Key Issues
The first issue is opioids. In 2022 and 2023, many large companies agreed to a massive financial settlement with a consortium of states and municipalities.
Essentially, companies such as Kroger (KR), Walmart (WMT), and Walgreens agreed to pay billions of dollars to the states to help with opioid addiction prevention. The idea was that all these companies knowingly overprescribed opioids to their pharmacy customers.
Again, all the money is going to the states to be allocated toward prevention of opioid addiction. It's not going to victims, unfortunately.
The dollar amounts are gigantic. At first, you'd think it would bankrupt some of these companies. In fact, it likely will bankrupt smaller drug store chain Rite Aid (RAD).
But the reality is that the payments are spread out over many years. In Walgreens' case, the payments are over $7 billion, with payments made in equal installments over about 15 years. This is a pretty wild figure—$7 billion is nearly 40% of Walgreens' current $18 billion market cap.
In addition to the opioid settlement payments, Walgreens also has another $8 billion of debt and $22 billion of lease liabilities capitalized on the balance sheet.
The second issue is that Walgreens is without a CEO and CFO.
CFO James Kehoe announced his planned departure from the company in July 2023. And on September 1, CEO Rosalind Brewer announced she would be stepping down as CEO and a member of the board.
Ouch. Lots of debt and no real management in place—that's a tough place to be.
Lastly, the dividend is at risk.
Walgreens currently pays out a $0.48 quarterly per-share dividend. That pencils out to $1.44 per year, or $1.6 billion in total. Free cash flow for 2022 was $2.1 billion. This likely doesn't include the opioid settlement payments of around $400 million per year.
So, Walgreens is effectively not able to pay the dividend from free cash flow. That's not good.
Path Forward from Here
For Walgreens to get interesting, I'd like to see it clean up its balance sheet. And the only way to do that is by selling assets.
It owns a sizable stake in pharmaceutical distribution company Cencora (COR), formerly AmerisourceBergen. It also has a large European pharmacy business—this is where the "Boots" comes from in the corporate name, Walgreens Boots. The company could potentially sell this off.
I'm sitting on the sidelines with this one. Until we have a bit more guidance on the future, it's a pass for me.
Thanks for reading,

—Thompson Clark
Editor, Smart Money Monday
Tags
Suggested Reading...