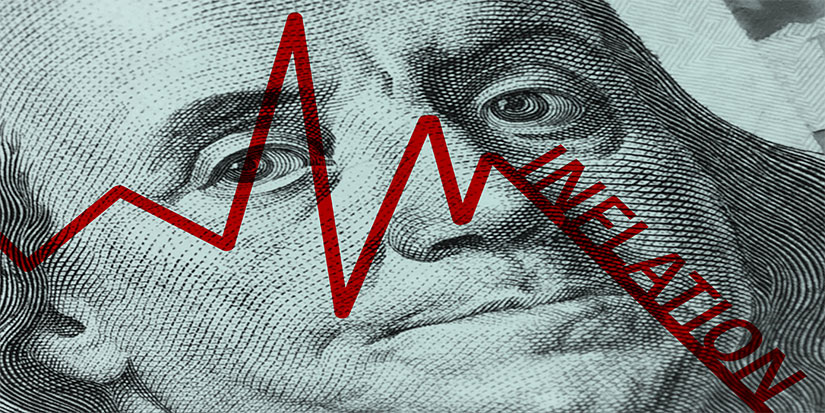 Special Edition Interview: Inflation Is Dead—What's Next?
---
Aaron Gentzler, Associate Publisher, Mauldin Economics
Thompson Clark, Editor, Smart Money Monday and High Conviction Investor
Aaron Gentzler: Thompson, thanks for agreeing to this short interview. I want to talk about three things:
Your September 2022 "inflation is dead" call

Where we go from here

Your recent idea to "double down" on one of your High Conviction Investor positions
So, let's get right into it…
Thompson Clark: Let's do it. Thanks, Aaron.
Inflation Is Cooling Faster than Advertised
Aaron: In September, you said inflation would be over around this time. You said, "Our inflation nightmare will flatline in six months." With inflation continuing to cool, now falling for nine straight months... your prediction seems to have come true. Can you update us on your latest thoughts?
Thompson: So, the recent CPI reading showed inflation growth of 5% year over year. That means March 2023 inflation was up 5% compared to March 2022. This is important because year over year, the growth rate has been slowing. It was 6% in February and 7% last November.
My September 2022 prediction was more about the month-over-month increase in inflation—that is, from February 2023 to March 2023. We saw inflation go negative on a month-over-month basis in October, November, and December of 2022. It's started to pick up, but at a very moderate pace. February 2023 to March 2023 was just 0.33%.
So, inflation's flatlined month over month, and the year-over-year growth rate continues to slow. I see it falling even more, and it has to do with shelter...
Aaron: I know shelter inflation is a huge weight in the CPI calculation. And I know you're not a fan of how the government calculates shelter.
Thompson: That's exactly right. The CPI calculation is a weighted blend of a variety of goods and services. One of those is shelter. It takes up approximately one-third of the weight in the CPI calculation.
My issue is not with the inclusion of shelter—everyone has to pay to live somewhere, so it's a real cost. My issue is with how much of a lagging indicator it is. Year-over-year growth in shelter for the month of March 2023 was up nearly 8.2%. This growth rate has been increasing dramatically for the past six months. The growth rate was just 6.2% in August 2022.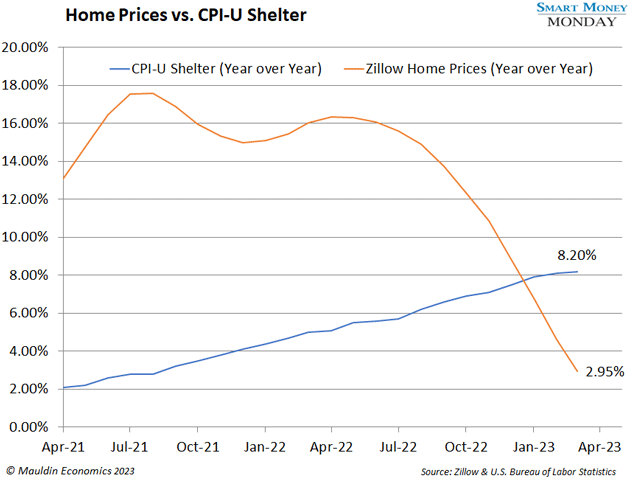 The reality, though, is that rent and home prices are not growing nearly that fast. In fact, real estate firm Redfin just reported that rents showed the first annual decline since the start of the pandemic in 2020.
The shelter calculation is extremely lagging, and it's skewing the inflation data. My sense is that inflation is down to the Fed's target of 3%–4% when you normalize for true shelter costs.
[ONE WEEK TO GO!]
A few years ago, it would've been unthinkable that we'd experience the rate hikes, inflation, and global unrest of the last year.
Today, it seems the only way to truly be defensive in your portfolio and leverage new opportunities is to "think the unthinkable."
At this year's Strategic Investment Conference, our faculty of world-renowned speakers will help us prepare for what comes next in 2023 and beyond—both the potential pitfalls and the hidden opportunities.
Back in a Bull Market?
Aaron: Leave it to the government to use wonky statistics that don't tell the real story. Okay, so the inflation nightmare is over. What's that mean for stocks?
Thompson: I'm glad you asked. Basically, the death of inflation means the end of rate hikes and a hostile Federal Reserve. The Fed's policies have already killed a few banks. The economy has slowed and, in some sectors, is still slowing. But by and large, a less hostile Fed and stable interest rates are good for the market.
Here's the thing though: The market already knows this. In my view, it's already priced in. Just look at the S&P 500. We're nearly back in a bull market. In this case, a bull market is defined as a 20% move off the lows.
Well, the S&P 500 is 16% off its October 2022 low, so we're nearly there.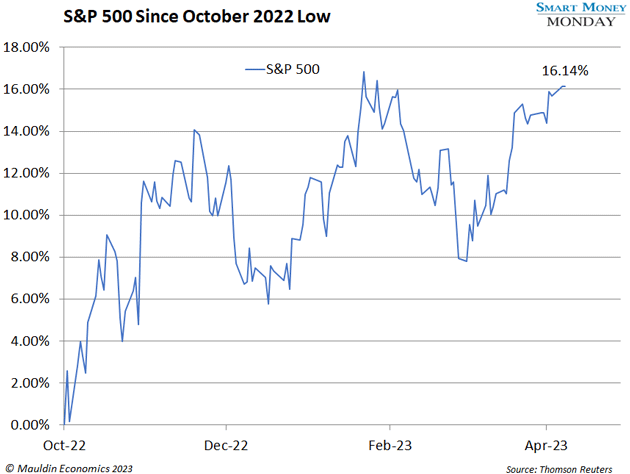 Aaron: All right, so large caps have ripped. But that's not where you spend most of your time...
Thompson: Right, and I know I sound like a broken record here, but the better value at this point is in small caps. Specifically, profitable small caps as represented by the S&P 600.
The S&P 600 trades for 13X forward earnings, while the S&P 500 trades for 18X. It's just math: The S&P 600 is cheaper and, in my view, offers the better risk/return setup.
Double Down
Aaron: Okay, great. That leads me to my last question…
In your High Conviction Investor premium advisory service, you just made a huge bet. You told readers to double their position in one of your favorite ideas. What can you tell us about that?
Thompson: Well, small caps remain cheap. And one of my long-time favorite small-cap ideas is as cheap as it's ever been. The insiders own a ton of stock. The company is returning tons of cash to shareholders with buybacks and dividends, and the future is extremely bright.
This is only the third time in my decade-long career in the newsletter business that I've told readers to double down on an existing name. My hit rate on the prior two calls is 100%. So, hopefully I keep that trend going.
Aaron: Thompson, thanks for taking some time here and updating us on your thoughts. Subscribers can get the full details here. And new readers can discover more about High Conviction Investor and how to access the latest pick by visiting this page.
I'll talk with you soon.
Thompson:
Absolutely. Thanks, Aaron. Nice talking with you.

—Thompson Clark
Editor, Smart Money Monday
Suggested Reading...