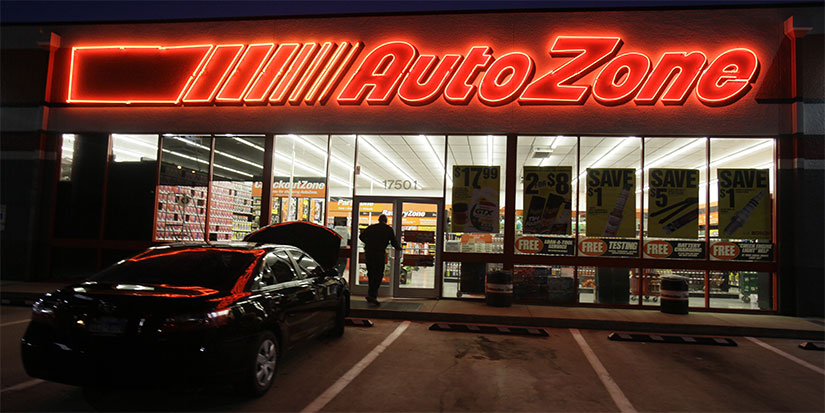 What Happens When You "AutoZone" a Stock?
---
Regular ol' businesses can make you a ton of money.
Just look at AutoZone, Inc. (AZO), the Tennessee-based auto parts retailer. Maybe you've visited one of its stores to buy a new car battery, wiper blades, or snow tires.
AutoZone makes good money selling all this ordinary stuff. In 2011, the company generated $1.5 billion in operating income. A decade later, operating income had grown to almost $3 billion.
That's solid growth. And when a company doubles its operating income like that, its stock price should roughly double, too. But that is not what happened. Instead, AutoZone has soared 659% since 2011.
Sure, those impressive returns happened during a historic bull market. But AutoZone more than doubled the S&P 500, which rose 273% over the same period.
There's a simple explanation for this ordinary retail stock's extraordinary performance…
Share buybacks. Since 2011, the company has repurchased over half of its shares, cutting the number of shares outstanding from 45 million to 21 million.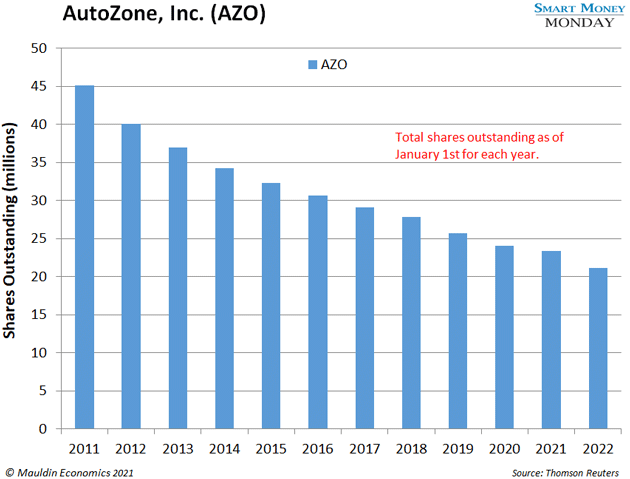 Buybacks, as you probably know, are one way a company can deliver value to shareholders. It's pretty straightforward: The company buys back shares, often at depressed prices, which reduces the total number and pushes up the price of the remaining shares.
In this issue of Smart Money Monday, I'm going to recommend another company that sells a bunch of ordinary stuff… a household name that's absolutely gushing cash. And the best part is, it's set to "AutoZone" its stock with buybacks.
I'm talking about eBay Inc. (EBAY), one of the largest ecommerce companies in the world.
Let's get one thing out of the way: eBay is not an outdated online flea market. You can buy a lot of the same stuff on eBay that you'd find at Amazon (AMZN) or Walmart (WMT). And most of those items go for full price.
Over $100 billion worth of goods were sold on eBay in 2020. That figure jumped 17% compared to 2019. And the company takes 10–15% transaction fees for all of it.
That's one of the reasons eBay is gushing cash. EBITDA (a proxy for free cash flow) grew from $3.5 billion in 2019 to $3.7 billion in 2020. And I expect it to come in close to $4 billion for 2021.
For all the attention Amazon and Shopify (SHOP) get, eBay is the better ecommerce play right now…
Because unlike Amazon or Shopify, the stock is cheap. For 2021, earnings should land around $4 per share. The stock is currently trading around $65, or a very reasonable 16 times earnings. But it's even cheaper when you factor in eBay's hidden assets.
eBay owns:
A $9 billion stake in Adevinta, the world's largest online classifieds company

A 20% stake in eBay Korea (it sold the other 80% for $3 billion in 2021)

An $800 million stake in South Korean fintech disruptor Kakao Bank

A $1.4 billion stake in payment processor Adyen—which eBay also uses for vendor payments
Together, eBay's investments are worth $25 per share. If we back that out of its $65 share price, eBay's "core" is trading for $40 per share—or around 10 times earnings. Meaning it's screaming cheap. But I don't expect that to last.
eBay is starting to "AutoZone" its stock through buybacks.
Again, aggressive buybacks are a major reason AutoZone has soared 6X. Now eBay is following the same playbook.
Since 2019, eBay has repurchased 20% of its shares, cutting the number of shares outstanding from 856 million shares to 665 million.
I expect eBay to continue to use nearly all of its free cash flow to repurchase shares. For 2021, stock repurchases should come in near $7 billion. And by 2025, I see a clear path for the company to cut its share count below 500 million.
This is a great setup. The business is a firmly established cash cow. The stock is cheap. And share buybacks should help push the price much higher. I own shares of eBay, and you should, too.
Thanks for reading,

—Thompson Clark
Editor, Smart Money Monday
P.S. EXPIRING TODAY: Upgrade to our most elite club—The Alpha Society—and get full credit for all of the subscriptions you already have. Today you have one more chance to book your savings and claim access to all of our finest research—for life! Click here now to view your unique offer.
Suggested Reading...