---
Charter Subscription
Discount Savings Certificate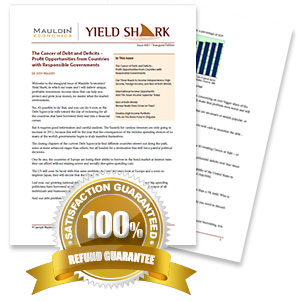 Yes!
I want to get extraordinary advice on how to collect 7% TAX-FREE from your number-one natural gas investment. Plus, I want to download my three FREE reports to protect and boost my investment income in any market, including …
The Three Best Natural Gas Stocks Money Can Buy. (Value $59.66)
The Mauldin Economics Solution: Double-Digit Income in a Single-Digit World (Value $59.66)
ETF Income Superstars: Our Favorite 3 ETFs for High-Yield Income (Value $59.66)
I also would like my Charter Discount Subscription to Yield Shark, with all its benefits, including my free copy of John Mauldin's New York Times bestseller, Endgame: The End of the Debt Supercycle and How It Changes Everything.
Please sign me up for the no-risk charter subscription term below. I understand I have a full 90 days to decide if Yield Shark is right for me, and if I decide to cancel, I will receive a 100% refund... or if I should decide to cancel after the first 90 days, I will receive a prorated refund for the balance of my subscription.
No questions, no problems, no quibbling!
---
Copyright © 2012 Mauldin Economics