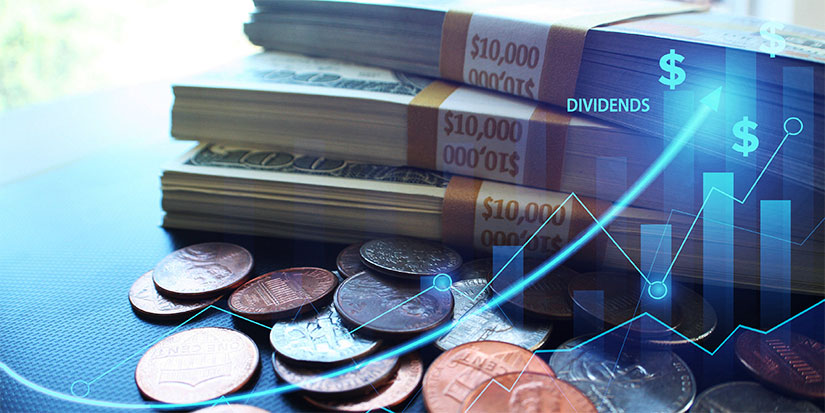 The 5-Second Trick to Turbo-Charge Your Income
---
Dividends may not be the only path for an individual investor's success, but if there's a better one, I have yet to find it.
—Josh Peters, author of The Ultimate Dividend Playbook
I had just started working for one of the industry's largest dividend newsletters when my senior editor handed me Peters' book.
Eleven years later, and I'm still convinced dividends are one of the best ways to earn extra income and grow wealth.
I'm going to show you that dividends aren't just for retirees.
There is a dividend strategy for every stage of life. It just needs a few tweaks as we age. It all comes down to your time horizon and investment goals.
You Can Unlock Extra Income at Any Age
I discovered the power of dividends in my early 20s.
There's no rule that says you must wait until you're retired to collect dividends for extra income.
As I showed you in last week's Dividend Digest, there are some solid higher-yielding stocks out there if you take the time to look for them.
Bankrate
, the national average interest rate is 0.18% for a savings account and 1.02% for a 5-year CD (certificate of deposit).
That is peanuts compared to the 8.3% dividend paid by tobacco giant Altria (MO).
Not interested in owning a "vice" stock? No problem. You can bank a 5% yield from Walgreens Boots Alliance (WBA). Or The Coca-Cola Company (KO) and Target Corp. (TGT) will pay you 2.9% and 2.7% yields, respectively.
Worried your dividend will get cut? Don't be. These companies are members of an elite club.
All three of these consumer staples stocks are Dividend Aristocrats. They have raised their dividends every year for over 25 straight years. KO and TGT have increased theirs for the past 50 years!
And that's just the dividends. Consumer staples companies like these tend to have higher total return over the long run, as well.
The internet has made it easy to be a dividend investor.
Most stock trades are commission free. Just select your stocks and dividends are but a few clicks away. Your dividends are automatically posted to your brokerage account. Long gone are the days of waiting for those dividend checks to arrive in the mail.
Plus, unlike a CD, there are no "early withdrawal" penalties if you need your money right away.
And if you don't need income right now, you might choose a different dividend strategy.
Turbo-Charge the Growth of Your Wealth
Tesla (TSLA)
or
Amazon (AMZN)
. That's a grand waste of time as timing the market is nearly impossible.
Instead, use the power of this underappreciated math trick—compounding.
This only works when you leave your money untouched for a longer period of time. And you'll be able to withdraw money easily from your brokerage account if you need it sooner.
This could be money for your retirement, a home purchase, or a college or travel fund. This trick can even be spread over generations if you're looking to create wealth to pass to your grandchildren.
Would you take a crisp $100 bill today, or payouts over the next 30 days that start with a penny and double every day?
By day 15, that measly first payment of a penny has turned into $163.84. On day 30, your payout would be over $5.3 million.
This is an extreme example; however, it shows the power of compounding over time.
Instead of collecting your dividend payments as cash, you could opt to have the money reinvested in more shares of a company.
Using this option means you'll collect dividends on your dividends each and every time the next dividend is paid.
Here's a real-life example of how dividend reinvesting will turbo-charge your long-term total return.
McDonald's Corp. (MCD)
back in 1990. If you took your dividend as cash, your shares would be worth about $150,000 today as shown in this chart: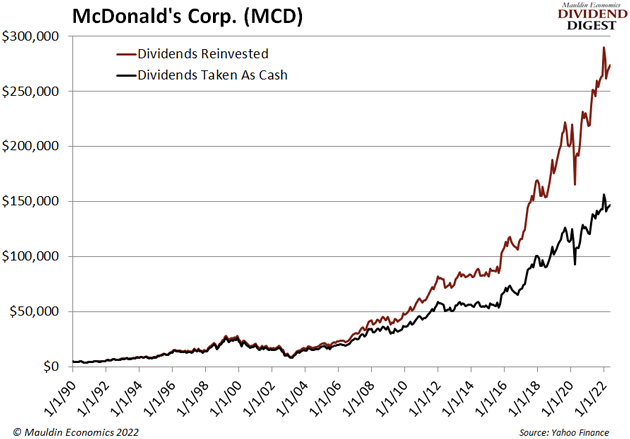 However, if you'd reinvested those dividends back into shares, your investment would be worth nearly double that amount.
Most brokerage accounts make dividend reinvestment simple. You simply check the appropriate box and they do all the work. And you can decide to take your dividends in cash rather than shares at any time.
It's a simple way to supercharge your wealth if you don't need the income today.
You can mix and match your choice of cash or reinvested dividends for each company, and tailor your portfolio to your needs.
Investing is not a one-size-fits-all approach.
How you allocate your wealth is a very personal decision. In the end, you have to feel comfortable with the safety and accessibility of your money. You can make your money work for you.
Fortunately, dividends are a powerful tool that can help you unlock greater wealth potential. And my job is to help guide you along your dividend journey.
For more income, now and in the future,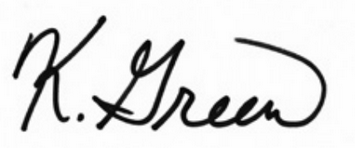 P.S. I'm interested to hear about your dividend experience. You can send me a note at subscribers@mauldineconomics.com.