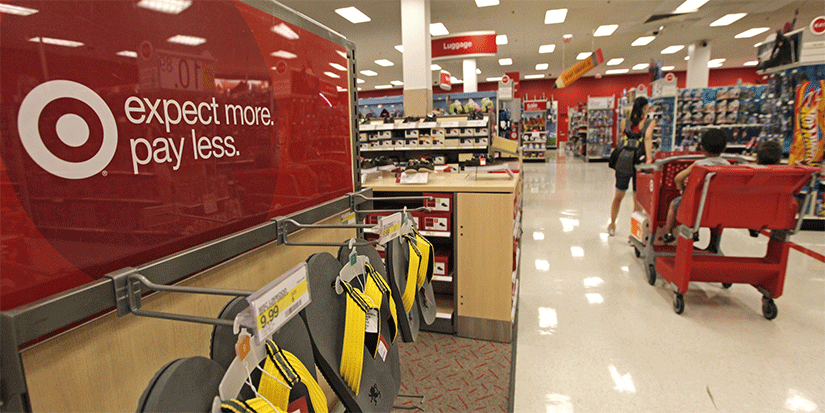 The Consumer Switch to House Brands Is a Must-Watch Dividend Trend
---
Famed investor Warren Buffett coined one of my favorite quotes:
"Price is what you pay, value is what you get."
Buffet was referring to buying stocks, but we all apply this simple advice to everyday life choices.
Is it worth it to buy an $8 fancy latte?
Some will answer yes, some no… and sometimes, it just depends. The price of the latte is $8, and only you can decide if the value of the latte is worth the price. My degree is in economics, and in that field, we call this concept "utility." It simply means the level of satisfaction you get from a product or service.
As consumers find themselves staring down the barrels of inflation and shrinkflation (less product for the same price), this balance of price versus value is playing a greater role in buying decisions. You can see this in the mood of today's consumers.
The University of Michigan's Index of Consumer Sentiment measures how people feel about their finances and the economy. The September reading ticked down to 67.7 from August's 69.5. That is far below the historical average of 86.
Consumers are worried their dollar doesn't stretch as far. That makes it essential to get maximum value from every dollar spent.
One popular solution is to buy private-label or store brands in place of name brands. CNET notes that, on average, you can save about 40% by buying store-brands rather than their name-brand equivalents. But the savings don't mean anything if the product doesn't perform.
Again, it's not simply due to price… it's about finding the best value.
Shoppers Finding Value in Store Brands
Consumers must be finding value as store-brand sales account for around 21% of the $1.7 trillion annual grocery industry. The Private Label Manufacturers Association recently reported that store-brand sales jumped 8.2% during the first half of 2023.
Back in May, Forbes declared in an article that "we may be in a golden age of private label, even if Americans' romance with […] brands remains very much in place."


Source: Forbes
According to consumer research firm Attest, 9 out of 10 shoppers say they hunt for bargains when grocery shopping. And 85% of those surveyed said they are likely to buy private-label brands. Further, 73% who have switched plan to keep buying private label brands after the economy improves.
Aldi and Trader Joe's have built their entire business models on the value of the store-brand concept. Over 90% of products at Aldi are one of its store brands. That's true for over 80% of products at Trader Joe's. Both grocers essentially have a cult following due to the value they deliver to the shopper.
Retailers, in general, have been catering to this growing market with the creation of private brands at various price points. Walmart has Great Value, Equate, Sam's Choice, and Member's Mark. Costco has Kirkland. BJ's Wholesale Club has Wellsley Farms.
Shoppers know these are store brands, but they have more appeal than just slapping a label with the name of the store on a jar. And there is one big box retailer that does this better than anyone else. Even more interesting is that the yield on this company's stock just hit 4%, something I never expected to see.
More Store Brands than All the Rest
I recommended a mostly unknown company in the
September issue of Yield Shark
that's a major player in the food and beverage house brand market. The growing switch to value brands is driving its sales higher. But this company takes the cake on the highest number of brands.
Target Corporation (TGT) has over 45 private label brands, which they call "owned brands." You can find them in every department of the store and at every price point. Many shoppers don't realize that these are Target-owned brands—but they're in millions of kitchen pantries.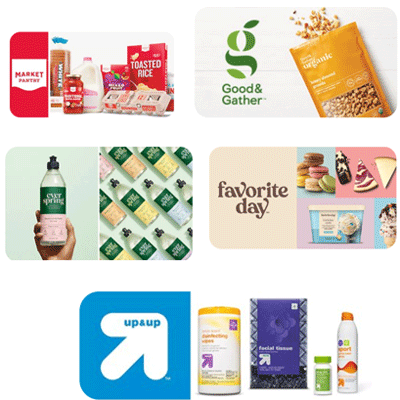 Source: Target
Target has been the subject of ideological debate over the past year. The dispute has polarized the brand among its patrons and clobbered the share price, down 37% from its 2023 high.
I don't shop at Target, but when I see an opportunity to earn a 4.1% yield from a giant retailer, it deserves a closer look.
Target decided to double down on its private-label brand development in 2017. It also introduced many new brands right before the pandemic, which was perfect timing as shoppers rely on Target for many essential purchases. And as I noted above, Target offers more than just groceries and household supplies. Here are just a few examples: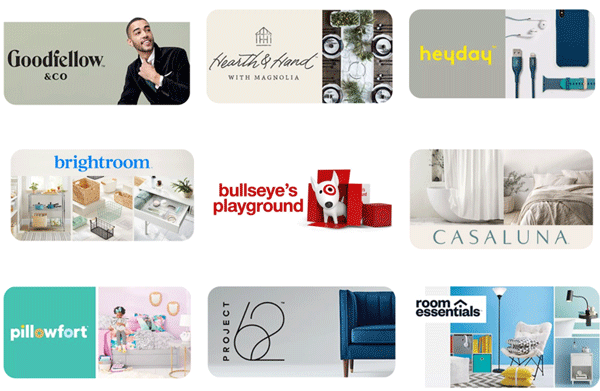 Source: Target
The retail giant is already set to benefit from the growing number of value-minded shoppers.
And this unprecedented 4.1% yield is hard to ignore.
Target is a Dividend King, having raised its dividend every year for the past 54 years. During the pandemic, Target had some amazingly profitable quarters. It was a unique period that enabled Target to hand above-average annual dividend increases to its shareholders. Added bonus: shares have slid all the way back to early 2020 levels.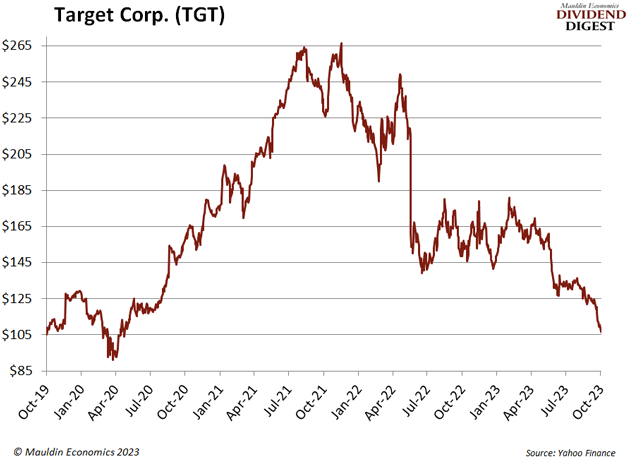 That combination now gives us a post-COVID dividend at a pre-COVID price—and potentially a great deal.
In Target's last earnings call, the company acknowledged it faces a few challenges. Management also lowered its full-year earnings per share to a range of $7.00–$8.00, down from its previous guidance of $7.75–$8.75. Even if earnings are at the bottom of the range, the dividend will be more than covered… with room for some growth.
I don't think the next dividend increase will be as large as those over the last couple of years. I do, however, think we are going to see a stronger Christmas shopping season than many expect. That means this opportunity for a 4%+ yield will only be available for a short time.
For more income now and in the future,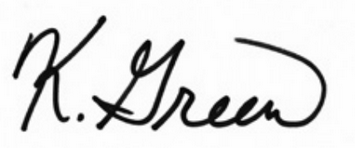 Kelly Green
Tags
Suggested Reading...