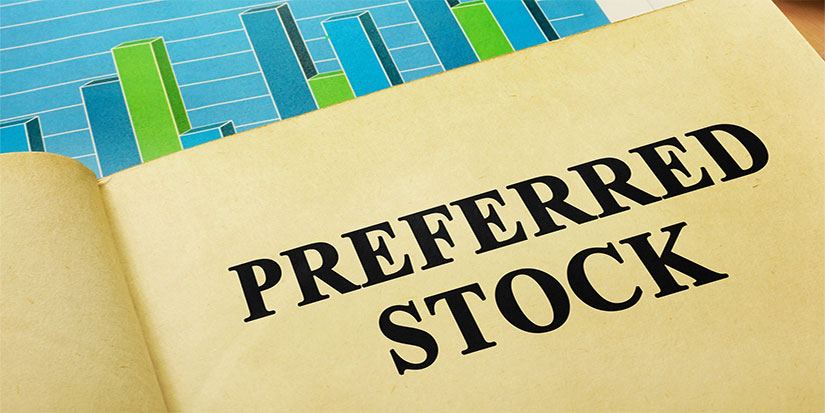 Three Reasons to "Hack" Your Income with Preferred Shares
---
Who doesn't want to be a VIP? That's why we sign up for memberships and clubs: for preferred treatment or benefits.
Lucky for us, there's a way to gain VIP status with dividends...
If a company needs to cut its dividend—or, in the worst-case scenario of liquidation—there are certain people who get paid first. Common stock shareholders will find themselves standing at the end of the line with their hands outstretched. And you can bet there won't be much left.
Even when things start to get hairy, common stock dividends are the first to get cut.
Preferred shares are one way to move up that claim line.
These shareholders are positioned between debt holders and common stock shareholders.
This chart shows the quick differences between preferred and common shares:


Source: Wall Street Prep
The trade-off for income safety and a lack of volatility limits the upside capital gains potential you have with common shares. But as our focus is on income, preferred shares can be a useful tool.
No. 1: You'll Know Exactly How Much Income You'll Get
There's no guessing with preferred shares. The amount you'll collect each quarter is set. It's listed in the name of the shares.
AT&T Pfd. 4.75% Series C (T.PC) shares pay out 4.75% based on the par value of $25. That's $0.30 every quarter—no more, no less.
This is important because common shareholders of AT&T just got hit with a dividend cut last year. This is the lowest quarterly payment those shareholders have seen since 2007. If you're living off that income, you've now found yourself a few dollars short.
With preferred shares, there are only two ways that your income could be cut:
The company would have to be out of money. The common share dividend would already be at zero, and then the preferred shares could be cut. If your shares are cumulative, any back payment owed would have to be paid before another common share dividend could be declared.

If the issue is callable, your preferred shares might be called back by the company. This happens if the company can borrow at a cheaper rate and will be more of a risk when interest rates start to come down again. However, if this happens, the company owes you the par value on the shares, which you can redeploy in your next investment.
No. 2: You Can Speculate with Less Risk
Speculation is not my primary strategy… income is. But preferred shares can sometimes offer a way to collect income from risky stocks.
How would you like to be an investor in
Drive Shack Inc. (DSHK)
?
Yes, I'm talking about the entertainment ecosystems of high-tech driving range golf games combined with pub fare and signature drinks that have popped up over the past few years. The company claims that it brings a fresh alternative to the day and nightlife scenes.
Well, you can grab shares for the low price of just $0.28. Or you could look into the Drive Shack Inc. Pfd. 8.375% Series D (DS.PD) shares. They are trading at just $5.55 and pay out 52.34 cents every quarter. This is actually a current yield of 37% since those shares are trading at a discount to par value. You'll be collecting a dividend while other investors are holding onto a penny stock that may never go up.
I'm not specifically recommending these shares, but they are included on a watchlist I have of speculative income plays.
No. 3: Collect Income During a Transformative Time
It's no secret that I like big stable companies, especially for the Bedrock Income part of my Yield Shark portfolio. These companies have long track records of paying dividends and tend to be resilient in the long term. That doesn't mean they don't experience short-term volatility.
We're in a post-COVID normalization period right now. Consumer staples have been working hard to offset increased input costs and currency impacts.
Shipping rates and metals, on the other hand, are heading downward from record highs. These companies will no doubt experience volatility in the short term. Specifically, I think shares will trend down over 2023. This deters me from wanting to add shares to my portfolio now.
I'll wait for those share prices to drop and then lock in higher yields. In the meantime, I could see if the companies offer preferred shares.
This is exactly the reason I recommended a preferred share to my Yield Shark readers last week. The underlying company is solid but heading into a normalization year.
By using preferred shares, we collect an extra percent on our dividend yield during a time when common share prices have no choice but to drop.
There's still time to lock in 5% from this giant—just click here to access Yield Shark.
ZIM's Quarterly Deterioration
Lawrence wrote in after last week's edition asking for more clarification on ZIM Integrated Shipping Services Ltd. (ZIM). He's a long-term holder of the stock. And last week, I noted that Yield Shark readers had just cashed out their position.
First, it's important to note that I recommended the shares back in December as a speculative play. Shipping rates were already deteriorating, so we anticipated only collecting a payment or two.
The first quarter of 2022 was the best quarter ever for ZIM by operational and financial measures. Since then, however, quarterly results have steadily declined. Fourth-quarter results dropped dramatically due to falling freight rates.
It's clear that the drop in shipping will hurt ZIM's dividend payments. Check out this chart from ZIM's Investor Presentation, which included full-year and fourth-quarter 2022 financial results: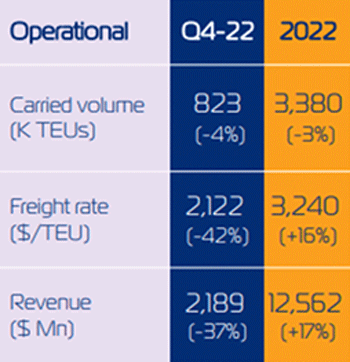 Source: ZIM Investor Presentation
Carried volumes were down slightly for both the fourth quarter and the full year. But skip down to the last row, and we see a 37% drop in Q4 revenue while it was up 17% for the year. The explanation is clearly in the middle row.
Average freight rates in Q4 plunged 42% compared to the previous year. Higher rates in the first half of the year helped offset that weakness and resulted in a 16% increase for 2022.
So, a record year overall with continued quarterly deterioration. And it gets worse.
For 2023, the company expects adjusted EBITDA in the range of $1.8‒2.2 billion. That's less than a third of 2022 results.
My guess is that ZIM is going to degrade through the year and that the best-case scenario is flat share prices for the year with decreasing dividends.
For more income now and in the future,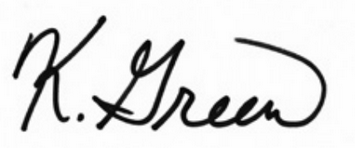 Kelly Green
Tags
Suggested Reading...