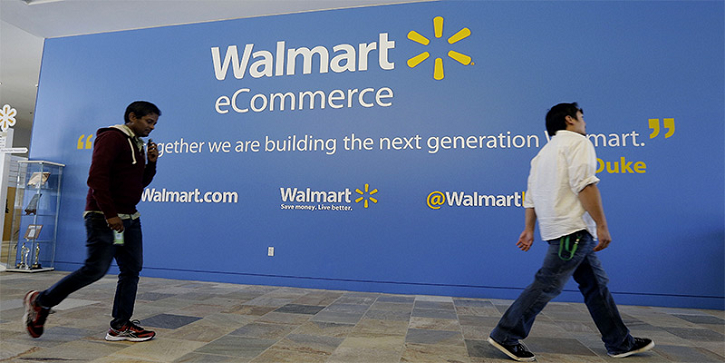 Coronavirus just triggered this $1.5 trillion disruption
Stephen McBride
|
|
March 30, 2020
This article appears courtesy of RiskHedge, LLC.
---
"I almost cried when she pressed on the window," my wife said.
It was Mother Day's here in Ireland this past Sunday.
It's a day when the restaurants are usually bustling with families. But like pretty much every city in the world, everything is shut down right now.
My grandparents are taking extra precautions and staying indoors. However, my wife and I couldn't resist taking my daughter to them.
But instead of going into the house, we chatted through the window. My daughter and her grandmother "high fived" each other on opposite sides of the glass. It was cute, but also weird.
Coronavirus has uprooted all our lives in some way. (Be sure to check out today's mailbag to see how your fellow readers are getting by.)
Maybe you're working from home… homeschooling your children… or if you're like a growing number of Americans over these past few weeks, you may have even started ordering your groceries online…
This pandemic just triggered a disruptive megatrend in the $1.5 trillion/year US grocery market.
This is a "breakout moment" for online groceries.
And there's one specific stock that will be the biggest beneficiary.
This is a world-class disruptor I recommended in my Disruption Investor advisory. It's been soaring to all-time highs during this bloodbath—and my research shows, the biggest gains are yet to come.
I'll explain in a moment. But first, let's take a look at this enormous disruption…
Did you ever hear of Instacart?
It's basically "Uber" for groceries.
The company's employees—aka "grocery shoppers"—go to the store and pick up all your requested items for you. Then they deliver it all straight to your doorstep.
With the coronavirus gripping the nation, this type of service has never been more popular.
Last week, Instacart's sales growth rates jumped 10x compared to February of this year. CEO Apoorva Mehta said, "The last few weeks have been the busiest in our history."
And get this… to keep up with surging demand, Instacart is adding 300,000 new employees over the next three months.
But they're not the only company rushing to meet demand…
Even "hall of fame" disruptor Amazon (AMZN) is struggling to handle record online orders.
Millions of Americans use Amazon's Pantry service to get groceries and household items delivered to their door.
But on Tuesday, Amazon suspended its service as it couldn't keep up with the orders.
In other words, Americans are ordering so many groceries online they essentially "broke" Amazon!
Keep in mind, Amazon delivered 3.5 billion packages last year. It had sprawling warehouses the size of 17 NFL fields. Yet online purchases swelled to the point where many of these depots are now empty.
It's a similar story in Europe. Online grocer Ocado's (OCDO.L), which runs fully robotic storehouses, has seen such a large spike in demand, it's had to set up a "virtual queue" for customers to access its website.
On Monday, there were more than 9,000 people waiting in line just to access the website!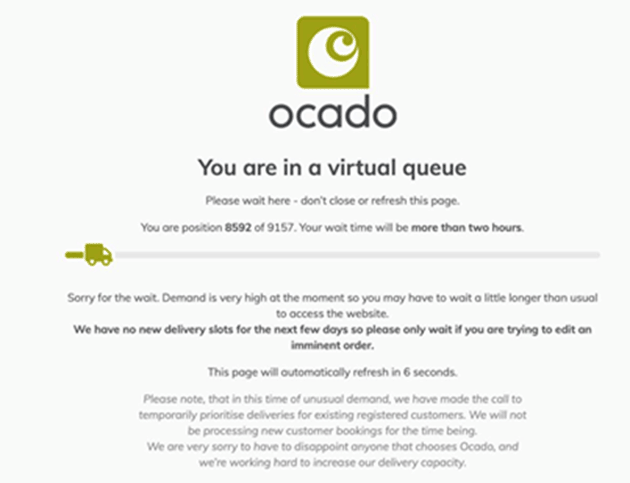 Ocado's stock recently hit all-time highs after it announced sales doubled in the past month.
This is a breakout moment for many big, new disruptive trends that will change the world.
And online groceries is one of the most important of all.
I first showed you this chart last year, predicting online groceries were going to explode: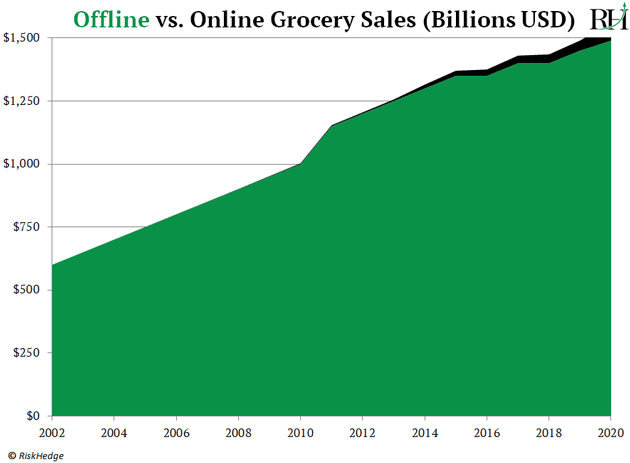 Now it's happening.
The breakout moment is here.
The coronavirus is flipping one of the world's biggest industries on its head.
And there's a clear winner from this disruptive megatrend.
It'll thrive now and long after this pandemic is over.
I'm talking about America's largest grocer… and one of my favorite stocks on the planet…
Walmart (WMT).
As I mentioned earlier, Walmart is thriving in today's volatile markets.
In fact, last Monday—when the stock market plunged to record lows—Walmart struck an all-time high!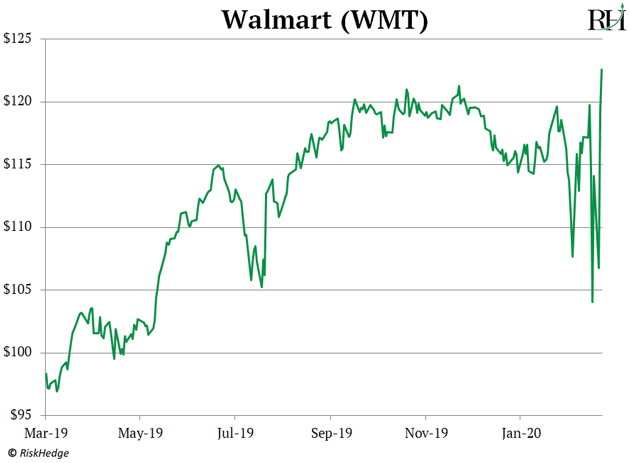 Walmart has always been one of the world's most dominant businesses.
But the recent rush into online groceries has catapulted the stock to new highs.
App research firm Apptopia found downloads of Walmart's grocery app shot up 160% last week.
In fact, it's now hiring 150,000 new employees to man its warehouses as it wrangles with surging online demand.
As you likely know, Walmart is the largest grocery chain in America. It has over 5,300 stores across the country. And it'll sell roughly $350 billion worth of groceries this year.
Roughly 90% of Walmart's sales happen in its physical stores. But it's been making a huge push into online groceries. For example, e-Commerce revenues shot up 37% last year, driven by strong grocery sales.
And this year, it will sell over $50 billion worth of goods through Walmart.com. In fact, it's overtaken eBay to become America's second-largest online seller.
Walmart already dominates the market for online groceries. Research firm eMarketer found the number of Americans buying online groceries from Walmart doubled in 2019. That's almost double the number of customers than its closest rival, Instacart.
As I said, online grocery sales will surge in the coming years. And when it comes to predicting who will dominate this market, the answer is clear:
Nobody can touch Walmart.
Walmart has a store within 10 miles of 90% of American households. This sprawling footprint gives it the ability to deliver fresh groceries to millions of Americans every day.
By the end of this year, same-day grocery delivery from Walmart will be available to over 200 million Americans!
Walmart has only launched online delivery in less than one-third of its stores so far. As it rolls it out nationwide, the 40% growth in its online business could easily double.
2020 is going to be a breakout year for online groceries. And Walmart is hands-down the best way to play this disruptive megatrend.
Stephen McBride
Editor — Disruption Investor
Stephen McBride is editor of the popular investment advisory Disruption Investor. Stephen and his team hunt for disruptive stocks that are changing the world and making investors wealthy in the process. Go here to discover Stephen's top "disruptor" stock pick and to try a risk-free subscription.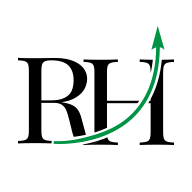 This article appears courtesy of RiskHedge, LLC. RiskHedge publishes investment research and is independent of Mauldin Economics. Mauldin Economics may earn an affiliate commission from purchases you make at RiskHedge.com