How We'll Profit from the Resurgence of "Made in the USA"
October 22, 2018
"Made in America."
Remember when this label was something to be proud of?
Today it sounds like the punchline of a joke.
Any business student will tell you only a sucker makes stuff in America these days.
According to the Bureau of Labor Statistics, the average US factory worker earns around $27/hr.
Meanwhile, factories in Indonesia pay workers about 70 cents an hour.
This cold, hard math has led to the hollowing out of American manufacturing. Between 1990–2007, America lost over four million manufacturing jobs.
What if I told you a disruptive technology is set to unleash a resurgence in American manufacturing?
Maybe you're rolling your eyes right now.
Maybe you think it's laughable to suggest traditional manufacturing jobs will ever return to America.
If so, you're right.
Those jobs are likely gone for good.
But a new kind of "Made in the USA" is here.
Because how we make things is totally changing.
A few weeks ago I explained that some of the world's biggest companies like Airbus (EADSY), Boeing (BA) and Nike (NKE) are pumping billions of dollars into 3D printing.
Think of 3D printing as "manufacturing 2.0."
A 3D printer builds objects layer by layer. Starting from scratch, it stacks thin slices of material like plastics and metals to build from the bottom up.
You may remember the craze around 3D printing a few years ago. The technology has improved 100-fold since then.
Leading 3D manufacturers can now print jet engines, car parts, and even key pieces in US military submarines.
For example, General Electric (GE) recently 3D printed an entire aircraft engine. This engine used to have 855 different parts. Would you believe that GE's 3D-printed version has just 12?
3D printing flips manufacturing on its head.
Traditional manufacturing requires a lot of manpower. To make, say, a car, thousands of parts must be made separately and then assembled. Take a look at this picture of an auto assembly line: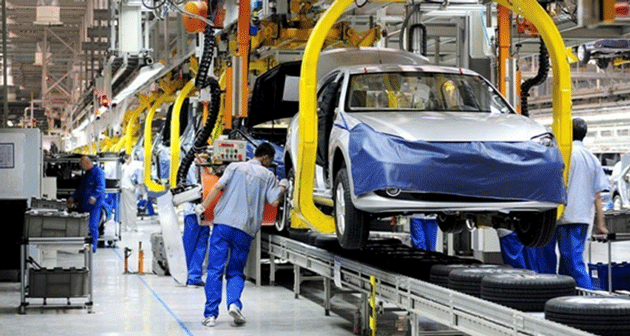 Source: Alibaba
That's a long row of highly-paid workers operating expensive machinery. You can imagine why carmaker Ford (F) employs 202,000 people… and spent over $7 billion on machinery last year.
Now take a look at a 3D printing factory.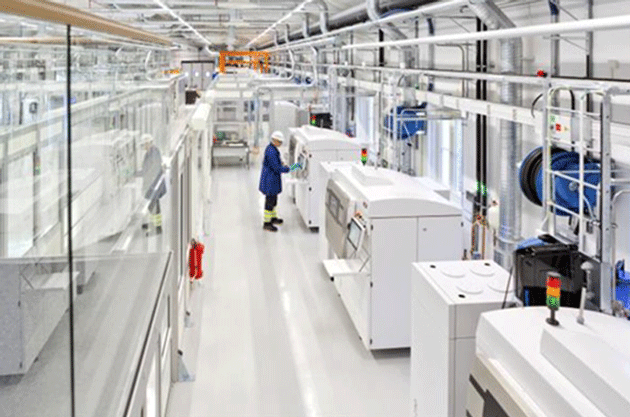 Source: DIY 3D Printing
Those machines you see cost around $300,000. But as 3D printers can make whole products from scratch… you don't need nearly as many assembly workers. There is often nothing to assemble, because it can print a finished product.
Fortune 500 companies are pouring hundreds of millions into the technology. Nike, for example, has started 3D printing some of its shoes. It reports that it has cut labor costs by 50%... and cost of materials by 20%.
Adidas (ADDYY) is 3D printing shoes, too. Earlier this year it opened its second 3D printing plant. Not in China, Vietnam, or Mexico… but right here in the USA. The Atlanta-based factory will spin up one million pairs of shoes per year.
Defense contractor Boeing now 3D prints titanium parts for its 787 Dreamliner. It has shaved $3 million off the cost of each one.
And according to General Motors (GM), its new 3D-printed metal seat bracket is 20% stronger and 40% lighter than a conventional one. And it's made of only one part instead of eight.
Notice the theme. 3D printing makes things stronger… lighter… cheaper… more efficient. All of which boosts profits. This is music to the ears of business executives. Just about every company that makes things stands to benefit by adopting 3D printing.
For investors like you and me… it's crucial to understand that 3D printing is still in the earliest innings.
According to leading research firm Wohlers, the 3D printing market totaled $7.3 billion last year.
That's roughly 1/100th of the $700 billion US companies spent on traditional manufacturing machinery.
Morgan Stanley estimates the 3D printing market will triple to $21 billion by 2020. I agree… my independent research suggests it'll expand to a $100-billion market in the next decade. This represents about 13x growth from today.
Sales of metal 3D printers will be a key driver. 3D printers that print in plastic have been available for years. But ones that can print metal components for engine parts have only been rolled out recently.
Sales of these metal printers exploded 80% last year. The latest machines are 100x faster than existing ones… and make parts for 1/20th the cost.
This is like pouring Miracle-Gro on the 3D printing industry. For example, there are 2.3 million parts on a Boeing 787. Less than 5% made from plastics. Around 45% are metal. We can expect a big chunk of these to be 3D printed in the near future.
This is why the Federal Aviation Administration (FAA) has already set guidelines for all 3D-printed parts.
As disruption investors, this is exactly the type of rapid progress we like to see.
Here's how we'll make money in 3D printing…
When we last talked 3D printing I recommended Stratasys (SSYS), a leading maker of 3D printing hardware. Stratasys shares are on sale today after the whole stock market took a nosedive last week. I'm a buyer at today's price of $21.
Today I want to fill you in on my top 3D printing software pick. Like all hardware, 3D printers run on computer programs. Before an object can be 3D printed, engineers must first design it using creative design software.
Think of it like this. A traditional manufacturer has to create a physical mold of a product before making it. With 3D printing you don't need a mold, because the model is designed on a computer.
The software behind this is very important. It allows engineers to try out hundreds of different materials… measure weight and performance… and modify an object down to the millimeter… all in virtual reality.
My #1 3D printing software pick is Autodesk (ADSK).
Autodesk owns a 29% share of the creative design software market, which makes it a dominant player. Its AutoCAD program is considered the premier 3D printing software. It counts many big, important companies like Airbus and General Motors as happy customers.
Autodesk charges a subscription fee to use its software. Last quarter it boosted its subscriber base by a massive 290,000. It now has just under four million paying customers.
If you've been reading the RiskHedge Report you know I like businesses that run on a subscription model. I call them "Autopilot Stocks" because they can generate big, predictable streams of cash. More important, many of these stocks have trounced the market over the past few years.
I see Autodesk doubling over the next two years as 3D printing takes off.
Its stock dropped along with the rest of the market during last week's selloff. Now you have a chance to buy it at a 10% discount to what folks were paying just two weeks ago.
That's all for today. As always, you can reach me at stephen@riskhedge.com.
Stephen McBride
Chief Analyst, RiskHedge