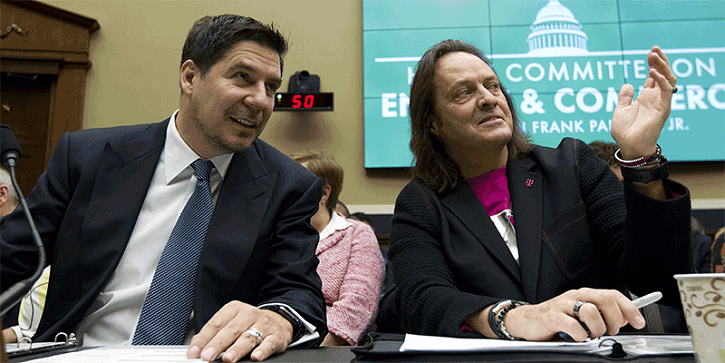 Trump Opened the 5G Money Spigots… Are You Ready?
Stephen McBride
|
|
February 24, 2020
This article appears courtesy of RiskHedge, LLC.
---
America's 5G rollout just hit a stunning milestone...
In a move that shocked many skeptical investors, last week the US government approved a $26 billion merger between Sprint (S) and T-Mobile (TMUS).
Sprint shot up 70% on the news, while T-Mobile jumped 10%: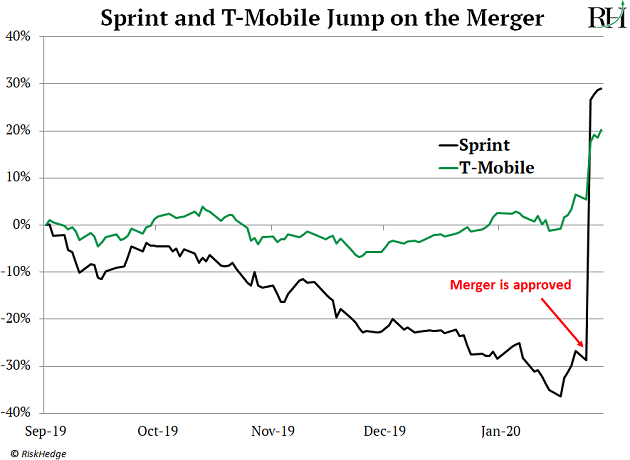 Sprint and T-Mobile are America's third-and fourth-largest cell companies. They'll now form a new "supercarrier" with 140 million customers. Three companies will control the whole US cell market: the new T-Mobile, Verizon (VZ), and AT&T (T).
Markets were dumbfounded by the news. The crazy price action says it all. Sprint stock had been drifting lower for three years straight. Then the instant the merger was approved, it rocketed 70%!
That'd be an extraordinary move for a tiny microcap stock. For a big $30 billion company like Sprint, it's practically unheard of.
Even the Wall Street Journal seemed to doubt the deal would go through. Just two weeks ago, it ran the headline: "Why Hope Is Fading for Sprint and T-Mobile." In short, 13 states, led by New York and California, were trying to block the deal.
You see, the US government has always been leery of letting phone companies grow too powerful. If too much power concentrates with too few companies, they can take advantage of customers.
In fact, that's exactly why it shot down a proposed linkup between T-Mobile and Sprint five years ago…
As regular RiskHedge readers know, 5G will be the most disruptive force of the decade.
In short, 5G will supercharge America's wireless networks. It will give us internet speeds 100X faster than today's.
This will open up a whole new world of disruption.
After being shot down years ago, T-Mobile and Sprint wised up this time around...
They told the US government they lacked the cash to build their own 5G networks. So they pledged to join forces and build a sprawling network blanketing 95% of America.
In other words, they made it clear this was all about 5G.
"5G" is a magic passcode that unlocks doors in Washington, DC…
The Trump administration has earmarked 5G as one of its top priorities.
Last April Trump said: "The race to 5G is a race America must win." And a few months ago the White House hosted a 5G Summit titled: "America First, 5G First."
Trump loves to talk up the booming economy. And he tweets each time the stock market hits a record high. But look past this noise and you'll see America's 5G rollout is at the top of his agenda. Specifically, he's dead-set on America beating China in the 5G race.
5G is the reason the US government blacklisted Chinese network giant Huawei (which I warned was likely).
And get this… last week attorney general William Barr suggested America should buy foreign companies Ericsson or Nokia to counter China's bid to dominate 5G.
So when T-Mobile and Sprint promised to build America's largest 5G network together... it was music to the ears of the Trump White House.
Stephen, why are cell networks suddenly the most important thing in the world?
Many folks think 5G is simply about a speedier internet.
Sure, we'll soon be able download full-length HD movies in 10 seconds. But that's just the start.
5G is the gateway to a whole new world of disruption. And it will be one of the biggest wealth creators in US history.
Longtime RiskHedge readers know the last wireless upgrade—4G— paved the way for many world-changing disruptions.
4G allowed disruptors like Netflix…. Amazon… and Apple to flourish. And shareholders got rich in the process. Since 2010, these stocks have handed investors 3,767%, 1,209%, and 899% gains.
Remember, 5G will be MUCH bigger than 4G. Top research firm IHS Markit estimates 5G will unlock $12.3 trillion in new wealth over the next 15 years. Think of 5G as the "tool" innovators will use to create the next set of great disruptors.
Transformative disruptions like self-driving cars… remote robotic surgery… and flying drones that "talk" to each other will be a reality with 5G.
In fact, we can't imagine all the ways businesses will use 5G's lightning fast speeds to change the world. I bet in five years a 5G-related company we don't even know about yet will be worth a trillion dollars. Keep in mind, there are only four companies worth $1 trillion in America today!
Money is about to gush from the 5G spigots...
The T-Mobile/Sprint merger was first announced way back in 2018. After two years of court battles and congressional hearings… it's finally done.
But here's the thing… the delay caused both firms to hit pause on spending. Last August, T-Mobile put all its 5G contracts on ice. Sprint was banking on the merger to fund its 5G ambitions, so it barely spent a dime.
Remember, these are America's third- and fourth-largest cell carriers. They're expected to plough $20 billion a year into building their 5G network.
Now that the merger is approved, the spending will be opened again.
And that's great news for companies collecting checks from America's 5G buildout…
As I've mentioned, you want to own the stocks COLLECTING billions from the buildout. Not companies that have to pay for it, like T-Mobile, Verizon, and AT&T.
I'm talking about companies putting up the 5G towers…
Selling the 5G networking equipment…
And helping "fine tune" the new 5G network.
These are the stocks you want to own right now.
In my Disruption Investor advisory we own three stocks collecting billions from 5G. They aren't household names... but they're best positioned to profit from 5G right now.
All three stocks shot up when the T-Mobile/Sprint merger got approved last week… and I see even bigger upside ahead.
If you want to get these top 5G stocks, go here to activate a risk-free trial subscription to Disruption Investor.
Stephen McBride
Editor — Disruption Investor
Stephen McBride is editor of the popular investment advisory Disruption Investor. Stephen and his team hunt for disruptive stocks that are changing the world and making investors wealthy in the process. Go here to discover Stephen's top "disruptor" stock pick and to try a risk-free subscription.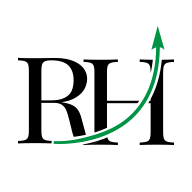 This article appears courtesy of RiskHedge, LLC. RiskHedge publishes investment research and is independent of Mauldin Economics. Mauldin Economics may earn an affiliate commission from purchases you make at RiskHedge.com