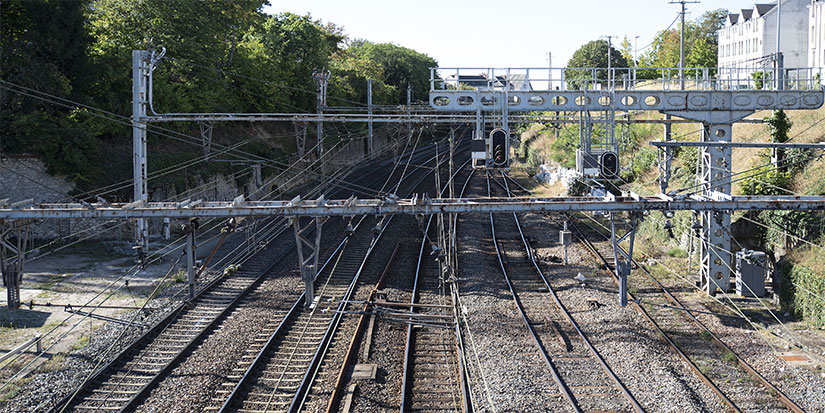 What to buy if there's a rail strike (and when)
Keith Fitz-Gerald
|
|
November 29, 2022
This article appears courtesy of Keith Fitz-Gerald Research.
---
The markets want to run higher—a possibility we've discussed many times over the past 60 days. But they remain jammed by headlines related to China, the Fed, and Russia, among other things.
Take a deep breath.
Bottoming is a process, not a light switch.
Stay focused.
The best CEOs will beat the most feckless politicians every time, a point I made during a conversation with the fabulous Maria Bartiromo this morning. (Watch)
Here's my playbook.
What to buy if there's a rail strike (and when)
Labor negotiations between unions and the nation's freight railroads
continue to stall ahead of next week's deadline for an agreement. December 9 is the strike deadline, but disruptions to rail service could begin as early as December 5. (
Read
)
Why you should care. Rail carries so much freight that it'd take 99 million 18-wheelers to pick up the slack if they strike. A 30-day strike would be a $160 BILLION buzzcut. (Read)
What to buy & when: I suggest Westinghouse Air Brake Technologies Corp (WAB), but only if it drops under $81, which'll probably take a strike to bring it that low. Selling cash-secured puts could be a good idea at that level—and a way to use strike-related volatility to your advantage. Come to think about it, a Low Ball Order of $81 or less seems appealing too.
Musk v. Apple will crater Meta and Google
Elon Musk wants to use Apple's app store to distribute Twitter and, in the process is perfectly willing to pay Apple hundreds of millions of dollars from Twitter Blue subscriptions sold through the app store. (Read)
Tim Cook may not care. My guess is he's thinking in terms of billions. Twitter-related fees may be a rounding error if so. In fact, I'd bet on it.
What this means for your money. Titans don't square off without collateral damage. Google becomes a "has been," and Meta gets crushed along with the dreams of millions who don't understand the battle royale that's brewing.
So bad even Kim Kardashian wants out
Balenciaga recently has made headlines for all the wrong reasons... including an online campaign featuring little girls playing with teddy bears in bondage gear and a very poorly "hidden" SCOTUS decision about child pornography. (Read)
Things are so bad that even Kim Kardashian is reportedly reconsidering her relationship with the brand. (Read)
Seems to me there's an opportunity. Kering SA (KER.PA) owns Balenciaga and is trading at $545.90, down -20.17% YTD as of last night's close. My analysis suggests $523.21 by year-end could be possible. However... vous aurez besoin d'un accès à la bourse de Paris. (In English: You will need access to the Paris Stock Exchange.)
There is an unsponsored US ADR trading under the ticker PPRUY at $56.09, but there are no options. Shorting is not for the faint of heart, so I wouldn't advocate that anybody except the most disciplined should have at it. I think the stock will be "defended" into Christmas, which makes this even dicier!
Highest dividend level in a decade
My favourite chip maker has gotten positively shellacked this year, and I think that's GREAT for one reason. I intend to hold it for years to come.
Recent cost-cutting moves will boost cash flow at a time when it's making huge progress on what will ultimately be a brand-new strategic priority: chips made right here in the USA. Upgrade to paid
The dividend yield is the highest in years. That magnifies compounding, lowers risk, and potentially boosts profits… all at the same time for investors smart enough to hang on.
I hope I'm smart enough to buy more.
Porn is a weapon in China
What's happening
. Chinese escorts have very suddenly become great marketers. Reports suggest that the Chinese government has begun blasting porn to cover up COVID protest news. (
Read
)
I'm not surprised. I've experienced the "Great Wall" of Chinese internet censorship and seen manipulated results many times during my travels there. When China wants you to see something, you will. And when it doesn't, you pretty much won't.
There are only two Chinese stocks I recommend at the moment under the circumstances. Both have global aspirations AND Beijing's blessing, a point that makes them very different from the big names most investors talk about incessantly. Upgrade to paid
Bottom Line
If dividend stocks are like watching paint dry, gimme a brush!
Now, let's get MAKE it a great day.
You got this—I promise!
Keith
This article appears courtesy of Keith Fitz-Gerald Research. Keith Fitz-Gerald Research publishes investment research and is independent of Mauldin Economics. Mauldin Economics may earn an affiliate commission from purchases you make at keithfitz-gerald.com