Price Divorced from Value
---
Dear Reader,
This week, I spoke with Keith Fitz-Gerald, the well-known market analyst and educator, and co-founder of Keith Fitz-Gerald Research. You'll see him on FOX Business News, CNBC, and other financial media every week. He's the author of 5 with Fitz, a free daily letter that cuts through the noise with actionable investing and trading ideas.
I encourage you to sign up for his free letter—I read it daily. It's concise yet packed with investing ideas. You can do so here.
In this week's Global Macro Update, we discuss why investors sitting on the sidelines are missing out on a tremendous opportunity and where they should be looking… the two tech stocks you should unload now… why FTX will be remembered as crypto's Enron… the event that may trigger crypto's resurgence and widespread adoption… and much more.
You can access the full transcript of this week's interview by clicking here.
The video of my full conversation with Keith Fitz-Gerald is below.
Cash on the Sidelines
Legendary investor Warren Buffett once said to "be fearful when others are greedy, and greedy when others are fearful."
In 2022, fear seems to be winning out.
The chart below shows that fund managers are moving large amounts of cash to the sidelines. Historically, they've held lower amounts of cash than today about 95% of the time.
Clearly, fear is dominating greed right now—which, as Keith Fitz-Gerald points out in our interview, presents a huge opportunity for savvy investors.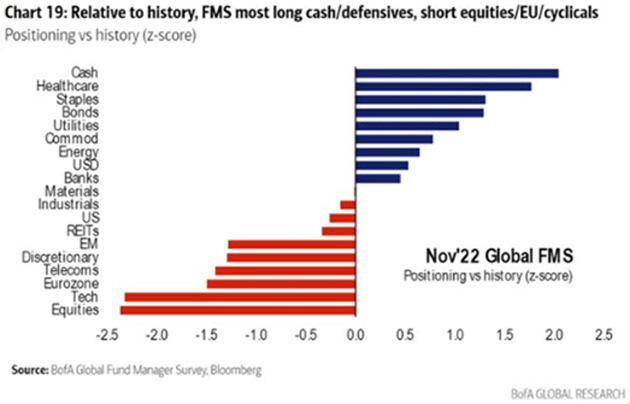 Source: https://twitter.com/Callum_Thomas/status/1592413632683708416
For more details on the top three criteria to use when making investment decisions... the definitive guide on which tech stocks to dump and which ones to keep... and the future of crypto assets... check out today's episode.
But first, our market recap...
A Quick Look at the Markets This Past Week…
Gold was down .16% to $1,763.
The average 30-year mortgage rate fell 6.63% to 6.61%.
Yields on 10-year Treasuries decreased 1% to 3.78%.
The S&P 500 decreased 1.16% to 3,947.
Bitcoin was down 2.01% at $16,690.
Oil was down 7.85% at $81.97/barrel for WTI.
And now...
This Week's Global Macro Update Interview
Click here or on the screenshot below to watch now…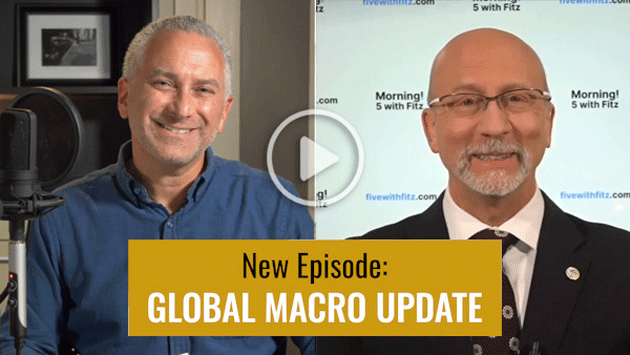 Click the image above to watch Global Macro Update now
Alternatively, you can click here to read the transcript of this week's interview.
Thank you for reading Global Macro Update.
Sincerely,

Ed D'Agostino
Publisher, Mauldin Economics
P.S. To have Keith's hands-on investing ideas and market perspective delivered to your inbox every day, click here to sign up for free to 5 with Fitz.
If you prefer to listen to Global Macro Update, you can do so here:
Tags
Suggested Reading...