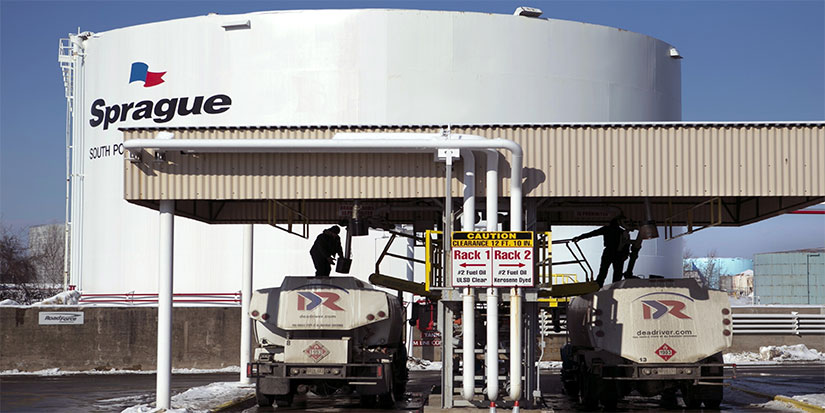 Serious Threats to Global Markets
---
Dear Reader,
This week, I was joined by my longtime friend John Mauldin, co-founder of Mauldin Economics and one of the most brilliant minds in macroeconomics. His free weekly letter, Thoughts from the Frontline, is read by hundreds of thousands of investors across the globe.
In this week's Global Macro Update, we discuss the risk of sovereign debt crises… why Jerome Powell must drive a stake through the heart of inflation... the massive disconnect between ESG policies and global energy needs…. why China looks a lot like Japan in the late 1980s... where the next financial crisis could strike... and much more.
You can access the full transcript of this week's interview by clicking here.
The video of my full conversation with John Mauldin is below.
Oil & Gas Capex Likely to Stagnate
Before the price of oil shot up this year, the last time it broke through $100 per barrel was in 2014. But by year-end of 2015, it had plummeted below $35 per barrel... a roughly 65% decline.
Will history repeat itself?
The chart below suggests that it won't. In 2014, over $740 billion went into oil and gas field development. That led to higher production, which in turn led to a greater supply and lower oil prices.
The past two years and 2022 estimates show capex won't even climb above the $400 billion mark.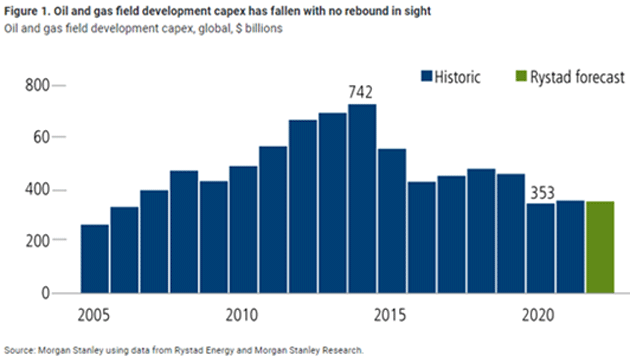 Source: https://www.calamos.com/blogs/voices/perspectives-on-quality-in-the-energy-sector/
So, what will lead to the next crisis—energy prices, housing, inflation? Will we experience hyperinflation? These and many more questions are what John and I talk about in this episode.
But first, our market recap...
A Quick Look at the Markets This Past Week…
Gold was up 4.6% to $1,757.
The average 30-year mortgage rate remained at 7.08%.
Yields on 10-year Treasuries decreased 7.6% to 3.83%.
The S&P 500 increased 4.9% to 3,956.
Bitcoin was down 15.1% at $17,953.
Oil was down 6.8% at $86.30/barrel for WTI.
And now...
This Week's Global Macro Update Interview
Click here or on the screenshot below to watch now…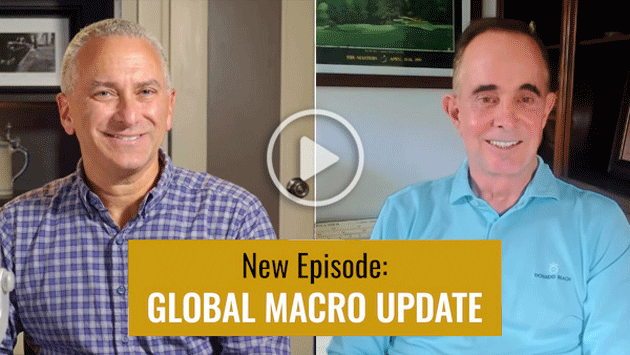 Click the image above to watch Global Macro Update now
Alternatively, you can click here to read the transcript of this week's interview.
If you want more of John Mauldin's macroeconomic insights, click here to sign up for free to Thoughts from the Frontline.
Thank you for reading Global Macro Update.
Sincerely,

Ed D'Agostino
Publisher, Mauldin Economics
P.S. A quick tip of the hat to our friend, real estate and mortgage expert Barry Habib who was with me three weeks ago (watch our interview here). During our conversation, he predicted inflation would break on November 10... and here we are, with CPI coming in lower than expected. Inflation is cooling.
Barry just called me and reiterated his call for much lower mortgage rates in the coming months (5 handle). He also noted that CPI would have been even lower this month if it wasn't for the lag time with which shelter prices are calculated.
If you prefer to listen to Global Macro Update, you can do so here: