Did You Catch Charlie Munger's Zinger?
---
Did you catch billionaire Charlie Munger's zinger at Berkshire Hathaway's annual investment conference?
Last week we talked about CalPERS' inane criticism of Munger's partner, super investor Warren Buffett, for serving as Berkshire's CEO and chairman. In Charlie's words:
"It's the most ridiculous criticism I've ever heard. It's like Odysseus comes back from winning the Battle of Troy and some guy says, 'I don't like the way you held your spear.'"
Instead of harping on the guy who's delivered 549% returns to shareholders over the last 20 years, maybe try emulating him.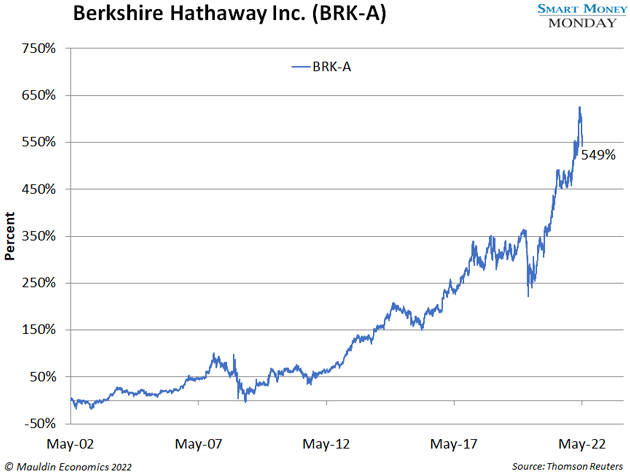 After all, the straightest route to success is to follow the most successful people. If you want to become a better golfer, do what Tiger Woods does. And if you want to become a better investor, do what Warren Buffett does.
Today, we're looking at what Buffett is buying and how we can play along.
Buffett has been gobbling up stocks, purchasing at least $50 billion in common stock since the start of the year. That includes a hefty slice of energy.
Let's start with Chevron (CVX), which has been on a big run over the past 12 months.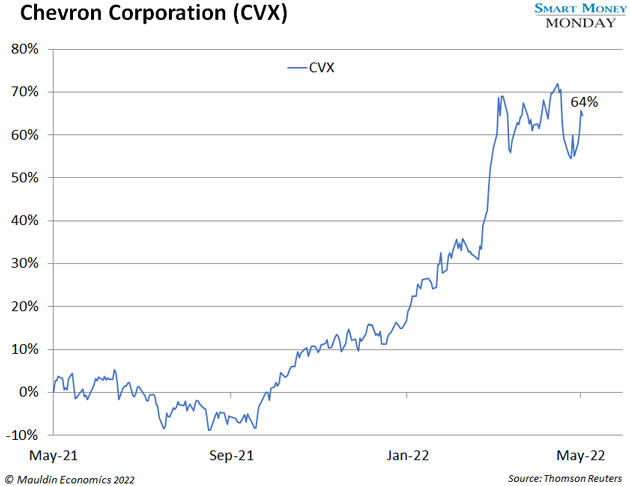 Berkshire bought a stake in Chevron in late 2020. And it's purchased an additional $20 billion worth of shares this year. That brought Berkshire's total stake in Chevron to $30 billion, making the oil major one of its top 5 holdings.
Berkshire's second energy bet is Occidental Petroleum (OXY).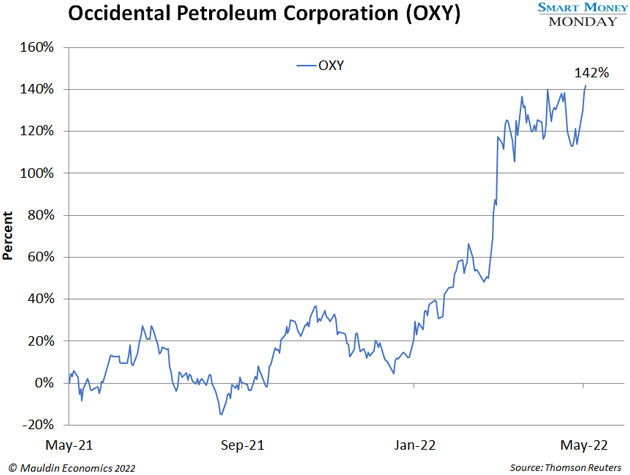 Buffett first got involved with Occidental in 2019, through $10 billion worth of 8% preferred stock, with warrants, to help Occidental fund its acquisition of Anadarko Petroleum. Berkshire still owns that preferred stock today.
He's also buying up Occidental common stock—seemingly adding to the position daily. Berkshire now owns 15% of Occidental, with an equity stake worth $9 billion.
Altogether, this puts Berkshire's oil and gas bet at $50 billion. That's a serious bet, even for Berkshire.
I agree with Buffett: Oil and gas is a good place to be.
I've mentioned that here in Smart Money Monday before.
The oil and gas producers have found religion. That is, they're not producing just to produce. They're only producing if the returns are there. Why deploy capital if there's no return?
That means higher earnings and likely higher stock prices.
Energy has already been on quite a tear this year. The Energy Select Sector SPDR Fund (XLE) has climbed 46% year to date. It's crushing the S&P 500, which is down 13%, and the Nasdaq 100 ETF (QQQ), which is down 21%.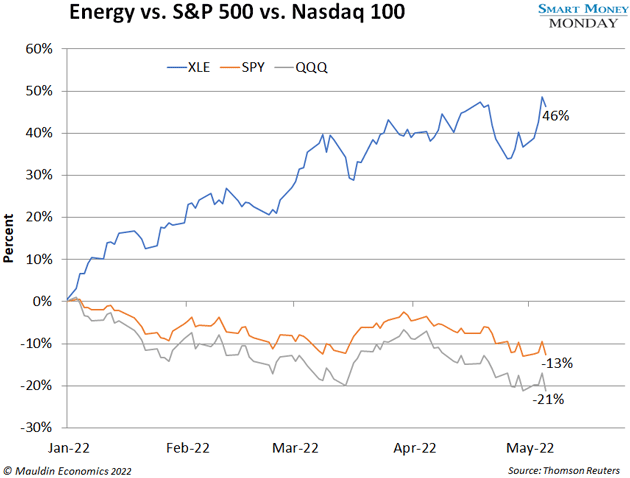 That's serious outperformance.
Even after that run-up, energy companies are still cheap. Majors like BP (BP) and Chevron trade for mid-teens earnings multiples and have 4% dividend yields. Medium-size player Pioneer Natural Resources (PXD) is even more interesting, with a current dividend yield north of 10%. All these companies are generating tons of free cash flow and acting rationally.
Energy is still a good place to be. Buffett likes it, and so do I. In fact, last month we added an energy small cap to the High Conviction Investor Portfolio—something I'm planning to talk about more (along with answering some of your questions) on Friday at 11:55 am EDT during the SIC "PLUS DAY." If you haven't secured your Virtual Pass yet, it's not too late to catch me live. Click here for the details.
Thanks for reading,

—Thompson Clark
Editor, Smart Money Monday
Tags
Suggested Reading...