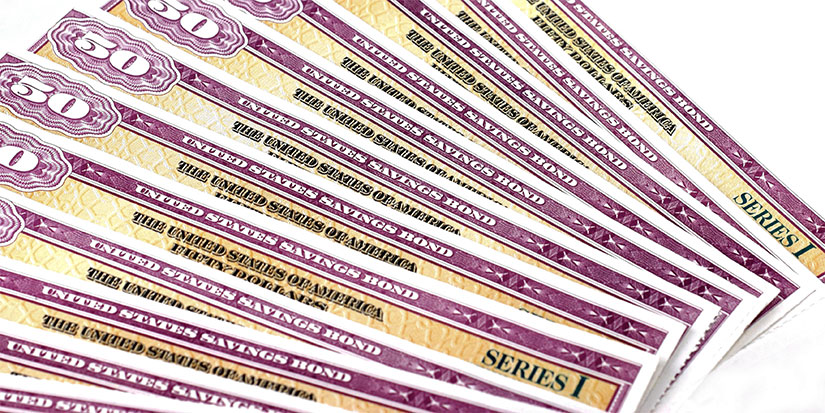 My Favorite Low-Risk Bonds Are Set to Pay 9%+
---
You've probably heard that inflation hit a 40-year high last month.
Not great for consumers. But it does mean a little-known investing secret I shared with you in January will continue to be a great place to park cash.
I'm talking about the Series I Bond…
I Bonds currently allow US investors to lock in 7%+ returns at virtually zero risk.
The I Bond is unique because of how the interest payments are calculated. There are two components. The first is the fixed rate, which the US Treasury sets. It's currently 0%. And the second is the variable rate, which is tied to the CPI-U, one of the government's inflation metrics.
The CPI-U is a raw number. It started at 100 in 1982, and by March 2022 had risen to 287.5. But we're less interested in the raw number, and more interested in the growth rate, which you can see in the chart below.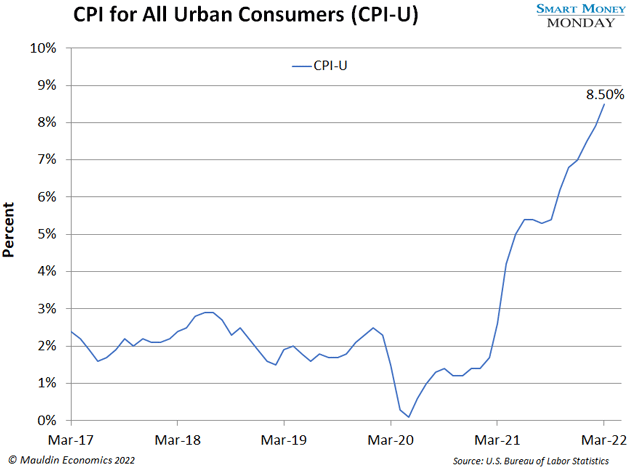 For the I Bond, we only care about the September and March CPI-U readings. The CPI-U came in at 274.31 last September. Then it rose to 287.5 in March. That's a 4.81% growth rate.
The Treasury doubles that figure to calculate the I Bond interest rate.
So, starting in May, I Bonds will pay a whopping 9.62%.
If you buy I Bonds today, your variable payment will be tied to the November 2021 inflation reading. That means you'd receive 7.12% for the next 6 months. The 9.62% rate only kicks in for I Bonds purchased May through October of this year. Then the rate will reset again in November.
SIC 2022: The Countdown Begins...
We're officially one week out from the start of SIC 2022.
Six action-packed conference days where over 50 top money managers, economists, and geopolitical experts provide their timely analysis and insights into current events and markets.
Watch Dr. Henry Kissinger, Ron and Michael Baron, Tom Hoenig, Joe Lonsdale, Cathie Wood, Danielle DiMartino Booth, Charles and Louis Gave, David Rosenberg, George Friedman, Thompson Clark, Felix Zulauf, former NATO Deputy Commander Richard Shirreff, and many more in over 40 live presentations, panel discussions, and fireside chats.
The conference kicks off on Monday, May 2. There's still time to secure your Virtual Pass.
There's also a limit to how much you can purchase: $10,000 per person, per calendar year. So together, you and your spouse could buy $20,000 worth. And if you have minor children, you can buy another $10,000 a piece for each of them.
There's also a minimum holding period of one year. And if you sell before five years are up, the Treasury deducts the previous three months' interest.
So, this isn't the place to hold cash you need to pay your monthly bills. However, it's a fantastic alternative to holding your other cash in a savings account, or even in US Treasuries, which still have yields below their long-term averages.
Inflation will eventually cool off…
I don't have a crystal ball. But the consensus is that the Fed will hike rates a few more times this year, which should help temper inflation.
That said, certain elements of the CPI-U are bound to stay high over the next few quarters. Take housing, for example. Or as the CPI-U calls it, "shelter." Shelter makes up around 33% of the CPI-U reading. Over the last 12 months, it's grown at its fastest rate since May 1991. And it shows no sign of pulling back.
I also expect gas prices, which have doubled over the past 12 months, to stay high. But gas only makes up around 4% of the CPI-U.
Whatever happens next, you can lock in juicy I Bond rates now through October. If you haven't purchased $10,000 worth of I Bonds this year, I recommend picking some of this low-hanging fruit. You can buy the bonds directly at TreasuryDirect.gov.
Thanks for reading,

—Thompson Clark
Editor, Smart Money Monday
Suggested Reading...