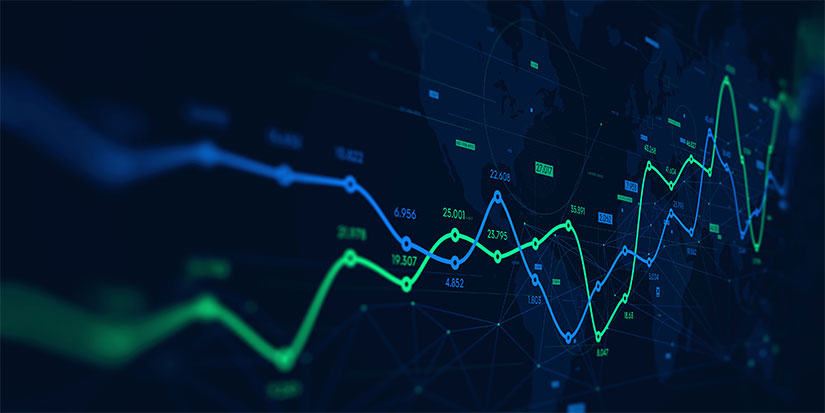 Smart Money Is Targeting These Undervalued Stocks
---
It has been a stressful year for most investors.
And the media's endless cycle of gloom hasn't helped. It seems like everywhere you look, you're slugged with a doomsday headline: Historic Inflation! Global Recession! Nuclear Apocalypse!
But regardless of mainstream market sentiment and alarmist news, I'm not panicking.
You see, I'm always looking for high-growth opportunities with limited downside. And right now, companies and insiders are targeting the type of stocks I prefer to invest in: small caps that are undervalued and poised to pop.
The best part? There's an easy, one-click way to follow the smart money and get in on the action.
It all comes back to stocks' valuation floors.
As I wrote in January, a valuation floor is the price where a private buyer would happily own 100% of a company. The price of a stock shouldn't stay below this floor for long. After all, if it does, smart private buyers will pounce and buy the company outright.
Since writing about valuation floors, and especially over the past few months, private buyers have been taking advantage of major valuation disconnects through small-cap takeovers and acquisitions.
Take the fastest-growing fitness franchise in the US, F45 Training Holdings Inc. (FXLV), for example.
The stock went public right before the November 2021 peak of COVID mania at $16 per share.
Twelve months later, the company announced its founder and CEO was stepping down. It also adjusted its full-year revenue outlook from between $255 million and $275 million to $120 million and $130 million.
That's a significant decrease, and it sent the stock plummeting to $1.35 per share. Meaning, in just 12 months, the stock tumbled more than 90%.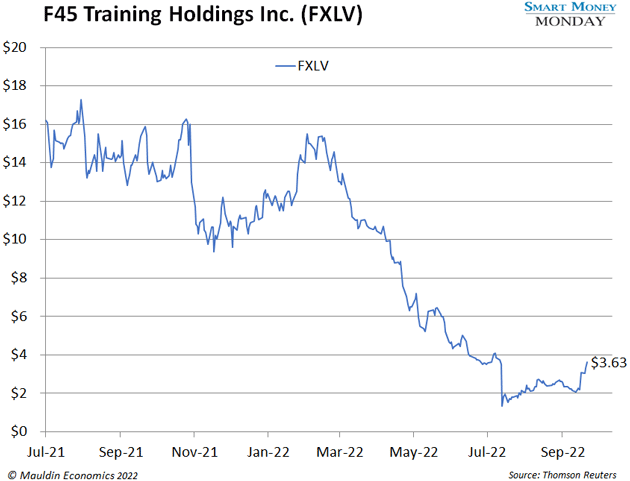 Sure, $16 was too high for smart-money investors. But $1? That's enticing... and it's clearly well below the company's valuation floor.
Which is why Kennedy Lewis Management, a $10 billion private equity firm, was aggressively buying FXLV stock at around $2 per share in August.
Now the firm wants to own the whole thing. On September 30, Kennedy Lewis offered to buy F45 Training Holdings Inc. for $4 per share, which sent the stock surging 41% higher.
As for Kennedy Lewis's offer, we're talking an 83% premium. A
serious
premium. This is a clear indicator of how far F45 fell below its valuation floor.
Readers of my premium advisory High Conviction Investor are familiar with Atlas Corp. (ATCO), a leading independent owner of containerships...
We bought it earlier this year.
The thesis behind this pick was simple: The stock was cheap, it's growing rapidly, and it's overseen by Berkshire Hathaway alum David Sokol.
As with most stocks this year, Atlas drifted lower and lower, bottoming around $10 per share in July 2022.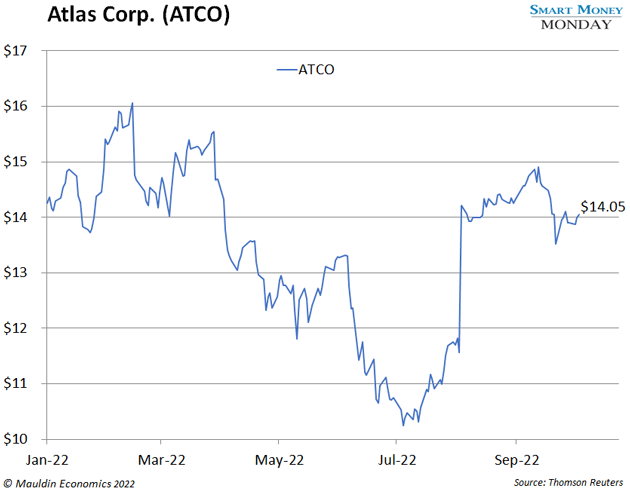 As I told subscribers, this was well below fair value.
Turns out, insiders agree. David Sokol and other insiders offered to take Atlas Corp. private on August 4 at $14.45 per share. The news sent the stock from a closing price of $11.57 on August 4 to $14.22 on August 5—nearly 23% higher!
Still, as a fellow shareholder, I wasn't happy with this offer. It was too cheap. But a few weeks later, the group sweetened the offer to $15.50 per share in all cash.
So, from its lows, that's a 50% premium, and it's only been a few months.
It's not just insiders who are taking over companies at cheap prices.
Look at ecommerce software provider ChannelAdvisor Corp. (ECOM).
ChannelAdvisor isn't your typical software company. It actually makes money.
So, on September 6, a similar ecommerce company decided it wanted to keep all that profit for itself. That's when CommerceHub announced it was acquiring ChannelAdvisor for $23.10 per share in cash—a 57% increase over the stock price on September 2.
That's not just a little pop. That's a massive premium.
And like F45 and Atlas, it's likely to be a homerun deal for the buyer.
You, too, can get in on undervalued small-cap companies. Here's how…
Small caps have blown through their valuation floors. They're
dirt-cheap
.
According to Yardeni Research, the small-cap S&P 600 trades below 11 times 2022 estimated earnings per share. That's the cheapest the index has been in two decades.
So, I expect more private equity and strategic buyers to step in and take advantage of this massive valuation disconnect.
To get broad exposure to cheap small caps, check out the Vanguard S&P Small-Cap 600 ETF (VIOO).
Thanks for reading,

—Thompson Clark
Editor, Smart Money Monday
P.S. In my High Conviction Investor research service, I target high-upside small-cap opportunities without taking unnecessary added risk. And right now, I see plenty of incredible opportunities in the space.
If you're interested, you can learn more about a subscription to High Conviction Investor here.
Tags
Suggested Reading...