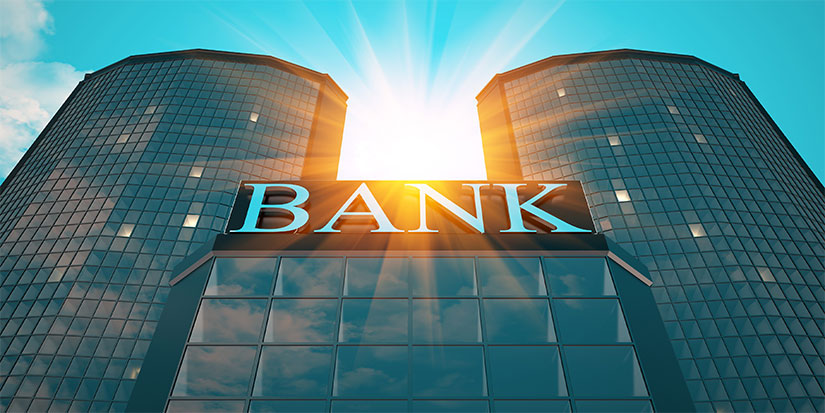 The Only US Bank Stock I'm Buying
---
Several readers shared their doubts…
When I recommended Deutsche Bank (DB), Ben wrote in (thanks Ben):
DB is balance sheet insolvent! The DB outfit is on life support, on and off-balance sheet liabilities far exceed recoverable asset values.
I understood the concern—Deutsche Bank faced a few turbulent years. In 2018, the IMF dubbed it the "riskiest bank stock in the world." But I could see management was turning things around. And the stock was dirt cheap when I recommended it last November.
Deutsche Bank has surged almost 30% since (while the S&P 500 has dropped nearly 6%).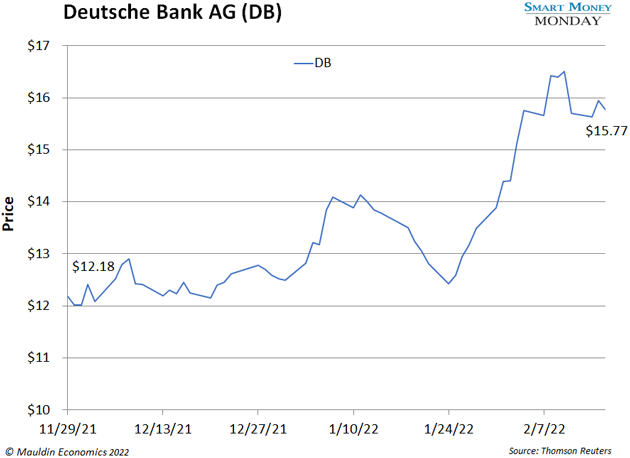 I still like Deutsche Bank at current prices. It's trading at less than 60% of tangible book value.
But today, I'm going to share a bank stock I like even more…
First Citizens BancShares (FCNCA).
With $100 billion in assets, First Citizens is one of the top 20 banks in the US. It's headquartered in Raleigh, North Carolina (where I'm based). And the stock has a lot going for it.
First, it has strong insider ownership—something we're always looking for. CEO and Chairman Frank Holding, Jr. and his family own over 20% of shares.
[WATCH] A shocking shift on Wall Street has permanently closed entire offices and created a brand-new class of stocks called "Wealth Accelerators" that offer gains like 375%, 818%, and even 1,437%.
Frank's grandfather, R.P. Holding, became president of the bank in 1935. Leadership passed to his three sons when he died in 1957. And Frank has run the show since 2008. In short, the family has a huge personal and financial stake in the bank's continued success.
Meanwhile, First Citizens is growing fast.
In October 2020, during the thick of the pandemic, First Citizens announced it was buying regional bank CIT Group (CIT) in an all-stock merger. Like Deutsche Bank, CIT had a bit of a checkered past. But management was turning the ship around… to the point that I'd personally bought CIT shares.
Plus, when the deal was first announced, CIT was one of the cheapest regional bank stocks in the country. It was trading at around 50% of tangible book value.
The CIT merger was finalized last month. And the new, combined company should have one of the highest return-on-equity profiles among banks of its size.
Yet First Citizens is cheaper than usual…
The stock is trading around $792, or about 1.2X book. To put that in perspective, peers like M&T Bank (MTB) and Fifth Third Bank (FITB) have similar return-on-equity levels. But they trade for 1.45X and 1.7X book, respectively.
So, we're looking at 15% to 40% upside if First Citizens starts trading near its peers. That's nothing to sneeze at.
I expect shares to start moving soon. Remember, the CIT merger just closed in January. So, profitability and returns on equity should start to improve. And that should push the stock higher.
Insiders seem to agree. The CFO and Chief Strategy Officer recently bought $375,000 worth of shares on the open market. That's always a great sign.
First Citizens has been an open secret among bank investors for years.
The stock usually trades at a healthy premium to book value. The bank is conservatively financed. It generates strong returns on tangible equity (14% for 2021). And it has a history of returning cash to shareholders through buybacks when the stock is cheap.
This is a stock to buy and hold for many years. I own shares, thanks to the CIT Group merger, and I plan to buy more. You should consider taking a position, too.
Thanks for reading,

—Thompson Clark
Editor, Smart Money Monday
Tags
Suggested Reading...