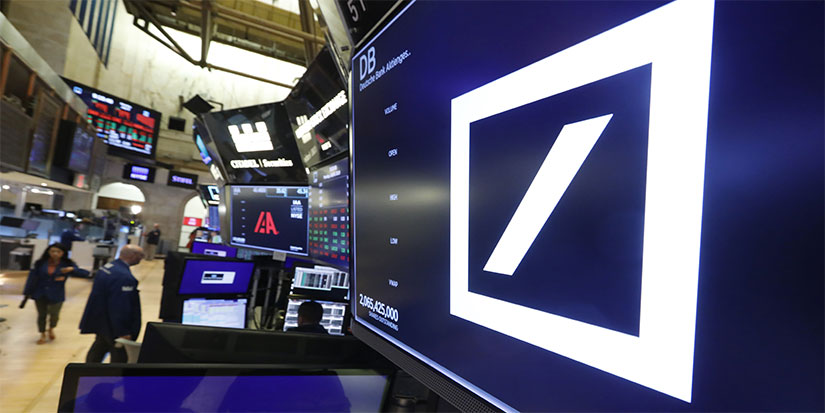 We're Buying the "Riskiest Bank Stock in the World"
---
European bank stocks look a little scary.
It's been over a decade since the financial crisis. Yet many of them are still trading below their 2007 highs. British banks Barclays (BCS) and HSBC (HSBC) are both down about 70%. France's BNP Paribas (BNPQY) is down around 35%. And Germany's Deutsche Bank (DB) is down 90%.
You can see their total returns since 2006 below. Like I said, scary…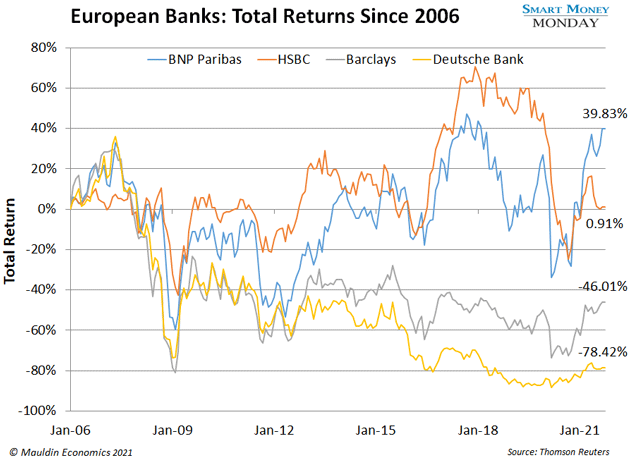 Especially Deutsche Bank. Back in 2016, the International Monetary Fund (IMF) called it "the riskiest bank stock in the world."
And the next year, the Federal Reserve fined it for "failing to maintain an effective anti-money-laundering program."
So why in the world am I recommending buying shares of Deutsche Bank today?
At Smart Money Monday, we are always hunting for good companies facing temporary problems. We aim to buy when a stock is in the dumps, then hold on while the problems subside and the stock recovers. It's a proven strategy for booking big profits.
And my research shows that Deutsche Bank's problems are temporary…
In 2018, the bank brought in new management and started overhauling the company. The new CEO, Christian Sewing, had worked at Deutsche Bank for 25 years. So, he already knew the place inside and out.
Sewing immediately dealt with the bank's regulatory problems, cut costs by EUR 3.3 billion, and started reducing the bank's exposure to risky assets like derivatives.
In short, he got Deutsche Bank back to basics. Today, instead of testing out new business lines or chasing risky emerging markets, the bank is focused on areas where it already has a strong market share. Like corporate banking in Germany, where it's led the market for 150 years. Or asset management, where it's one of Europe's top players.
Despite all these changes to make the bank more profitable, investors haven't caught on yet.
In fact, Deutsche Bank is one of the cheapest bank stocks in the world.
It trades at less than 0.5x book value. That's extraordinarily cheap. For context, JP Morgan (JPM) trades at 1.8x book. And Bank of America (BAC) trades at 1.5x book.
Even if Deutsche Bank simply climbs to 1x book value, that's a double for shareholders who buy in now. And I think it's likely to get there.
Why? Well, for starters, the bank expects an 8% return on its tangible equity next year. That's a conservative forecast. And if it proves it can generate a steady 8%, the stock should easily jump to 1x book value.
Plus, Deutsche Bank plans to return EUR 5 billion to shareholders through dividends and buybacks next year. As a general rule, when a company buys back stock, it makes the stock price go up.
If Deutsche Bank follows through on its plans—and I think it will—we could see a 100% return from current prices.
2022 should be a breakout year for Deutsche Bank.
The stock has already rallied 24% this year, signaling that its worst days are behind it.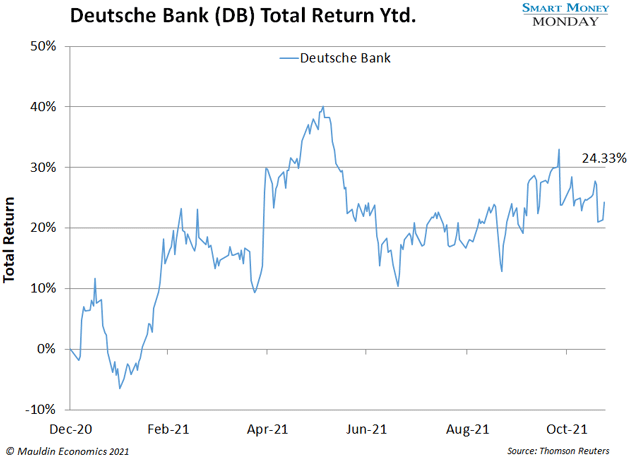 Private equity fund Cerberus Capital owns 3% of the stock. And hedge fund Hudson Executive Capital owns another 3%. Together, they are continuing to push hard for improvements at the bank (and ultimately, a higher share price). Just last week, Deutsche Bank announced a new executive chairman—something Cerberus had advocated for.
This is just one more reason I recommend buying shares of Deutsche Bank now, before the market sees what I see: A great company with the potential to deliver 100% returns.
Because timing is everything…
That was certainly the case with Franchise Group (FRG). If you bought shares when I recommended it in July, you're up a cool 51% in just a few months. Nice work!
Franchise Group recently announced another deal. It's buying Badcock Furniture for $580 million. I like the deal, and it's picking up Badcock at very reasonable price.
When I first wrote about Franchise Group, I said it had 100%-plus upside potential, and I still think that's the case. It's the kind of high-growth, high-conviction stock I call a "wealth accelerator." Because it has the potential to explode higher and exponentially grow your wealth.
I'll share more about wealth accelerators in the coming days, along with critical details about how to access these opportunities through my new premium investment service. Until then…
Thanks for reading,

—Thompson Clark
Editor, Smart Money Monday
Suggested Reading...