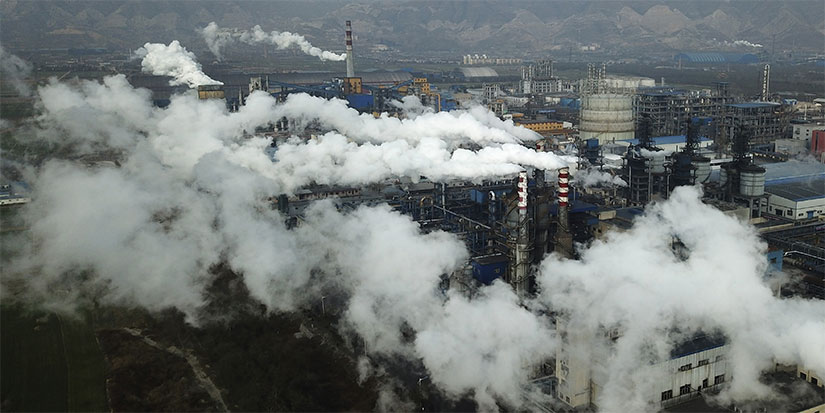 The Truth Behind the CO2 Crisis… and the Smart Way to Play It
---
"Going green" means a lot of things to different people. But one metric often determines success or failure in this effort…
Carbon dioxide (CO₂) emissions.
Despite all the noise around solar panels, electric vehicles, and ESG scores, there is only one way to materially solve the issue of growing CO₂ emissions.
Sadly, no one seems to talk about it. But the solution is simple…
China's Soaring CO₂ Emissions
First, we must look at the problem. And that problem is China.
Since entering the World Trade Organization in 2001, China's CO₂ emissions have risen from 4 billion tons to nearly 12 billion tons.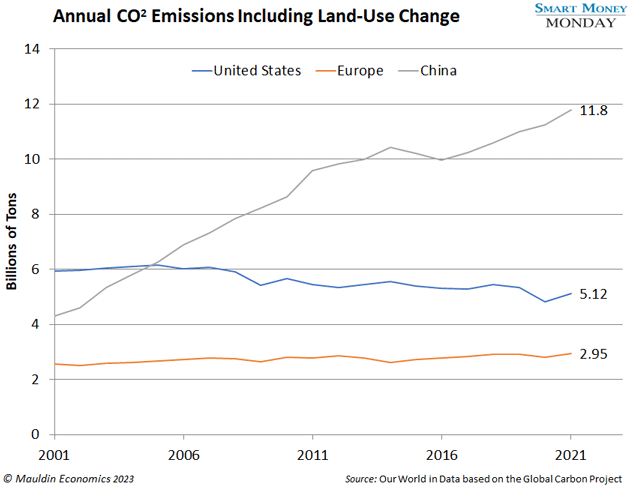 Over that same time frame, US CO₂ emissions are down nearly 1 billion tons to 5 billion in total.
Sure, China has rapidly grown over that time frame. But so have its CO₂ emissions.
CO₂ emissions come from a variety of sources. One of the major sources is manufacturing. For now, China is the factory of the world. So, it's understandable that as its production capacity increases, so too does CO₂.
But increasing by 300%?
It's a tough reality to accept, but China is simply not an environmentally friendly place to make things.
It isn't blessed with natural resources like the US and, based on its surging CO₂ emissions, likely isn't using modern technology in the same way. Plus, I doubt China is abiding by reasonable environmental standards in its production processes.
A Megatrend Worth Following
Onshoring, or bringing production back to the US, is one of the top megatrends we're following closely at Smart Money Monday.
Its close cousin, nearshoring, is also worth following. Nearshoring simply means moving production back to North America.
If global leaders are serious about reducing global carbon emissions, there is only one "problem child" in the equation: China.
To reduce global carbon emissions, the world should accept that manufacturing—or high- CO₂-emitting processes—should be handled in areas of the world that are able to produce them without flooding the atmosphere with CO₂
That location is the US.
Over the coming years, more and more leaders will accept this reality.
Winners in Onshoring
To solve the problem of global CO₂ emissions, more manufacturing needs to come back to the US, which I anticipate will happen.
So, how should you play it?
I've written about one clear winner here: vertically integrated steel manufacturer Cleveland-Cliffs Inc. (CLF).
Cliffs was one of my top ideas for 2022, and it continues to be one of my favorite ideas for 2023.
CEO Lourenco Goncalves has shrewdly grown Cliffs into a steel behemoth through smart capital allocation decisions and well-timed acquisitions.
The company benefits from its access to iron ore in the United States. That's through its control of the iron ore mines in Minnesota—it owns them outright. All that iron ore gets funneled into its steel manufacturing facilities.
Cliffs trades at a reasonable 10X next year's earnings estimates. It's paying down debt and generating a ton of free cash flow. And with hot-rolled steel prices up 67% so far this year, I suspect the analyst earnings estimates are low—meaning there's more upside here.
Another name to benefit from the onshoring megatrend is Class I railroad CSX Corp. (CSX).
Despite Norfolk Southern's (NSC) ugly derailment in East Palestine, Ohio, the rails aren't going anywhere.
Yes, regulation might increase. But the rails are here to stay—they are critical pieces of infrastructure.
Onshoring means an increase in goods transportation. And one cost-efficient way to do that is on CSX's railroad.
CSX trades for 16X this year's earnings estimates. That's a reasonable multiple to pay for what is effectively a duopoly on the eastern seaboard—i.e., between Norfolk Southern and CSX.
It's simple: The US is efficient—and green—when it comes to manufacturing.
So, if you want to get long green energy, it's best to own critical manufacturing companies. Not faddish ideas such as solar farms, faux-meat companies, or electric car companies.
Own businesses that make things that trade for reasonable valuations and have long-term upside as manufacturing and production come back to the US.
Thanks for reading,

—Thompson Clark
Editor, Smart Money Monday
Suggested Reading...