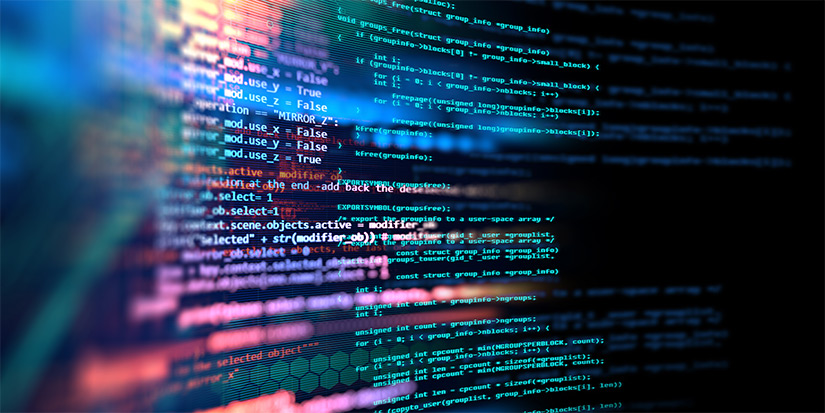 This "Small Switch" Holds Billion-Dollar Potential
---
Dear Reader,
I'm excited to introduce a new colleague of mine, Thompson Clark.
Thompson is a whip-smart value investing expert with a decade of professional experience under his belt. He joined Mauldin Economics as a Senior Stock Analyst earlier this year.
We brought Thompson on because of his impressive track record of helping readers like you make profitable investments… 667% on RILY, 500% on MITK, and 344% on GRBK, to name of few.
Now, we're excited to share his money-making insights with you in our new weekly advisory, Smart Money Monday.
I'm confident you will benefit from Thompson's deep well of lucrative ideas. Today, he shares how "small switches" in tech can lead to explosive gains, along with three stocks to keep on your radar.
Welcome to Smart Money Monday. If you decide it's not for you, just click here to opt out.


Ed D'Agostino
COO, Mauldin Economics
This "Small Switch" Holds Billion-Dollar Potential
Not too long ago, you practically needed a PhD to operate a computer.
If you wanted a computer to do something, you had to type in complex commands. There was nothing intuitive about it. Because all you saw was this—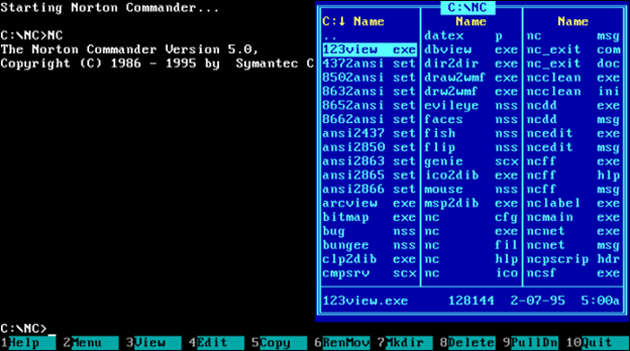 Source: howtogeek.com
Microsoft (MSFT) changed that. With its Windows operating system, instead of typing in code, you simply moved the mouse, pointed, and clicked.
This seemingly small switch made computers accessible to everyone. It also turned Microsoft into one of the biggest success stories in stock market history.
Shares of Microsoft have soared 250,000% since the company went public in 1986.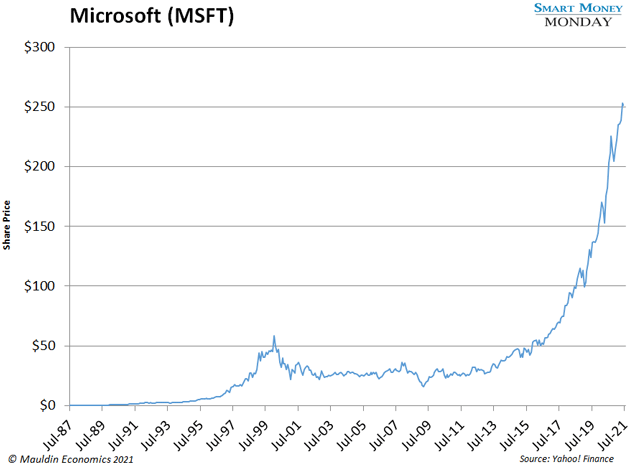 You can't travel back in time and invest in the early days of Microsoft. But incredible investment opportunities pop up all the time… opportunities created by small switches like the one Microsoft made when it took computers "from code to click."
Remember when Apple (AAPL) retired the button?
Before iPhones became ubiquitous, there were other "hot" cell phones. B-list celebrities flashed their Motorola Razrs. Young professionals bragged about their Blackberrys.
Now, 47% of US smartphone users have an iPhone.
There are many reasons for Apple's extraordinary success, but a lot of it goes back to a small switch.
When the company introduced the iPhone in 2007, there were no buttons. The touch screen felt a little strange at first. But people quickly got used to it.
This small switch created trillions of dollars in value. Apple shares have skyrocketed 3,720% since it debuted the iPhone in 2007.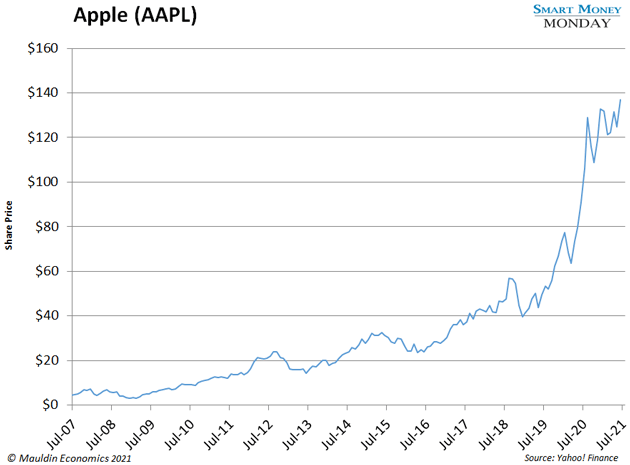 This same pattern played out with a company called Intuit (INTU)…
A few years ago, it took a lot of effort to update your computer software. You had to drive to a store, buy a CD with the latest software, pop it into your CD-ROM, and install the updates.
Today, you don't need a physical CD. Instead, software companies send you updates over the internet.
But there's another component at play… another small switch. Now, instead of making a one-time purchase at Best Buy or Comp USA, you buy a subscription.
Intuit dominates the business and accounting software market. You've probably used one of its products—it makes TurboTax and QuickBooks.
Intuit switched to a subscription model in 2001 when it launched QuickBooks Online. Today, five million users subscribe to the program.
Switching to a subscription model was a windfall for Intuit. That's because subscription revenue is highly predictable… it comes in every month like clockwork.
Intuit's share price has exploded 2,500% since it launched QuickBooks Online in 2001.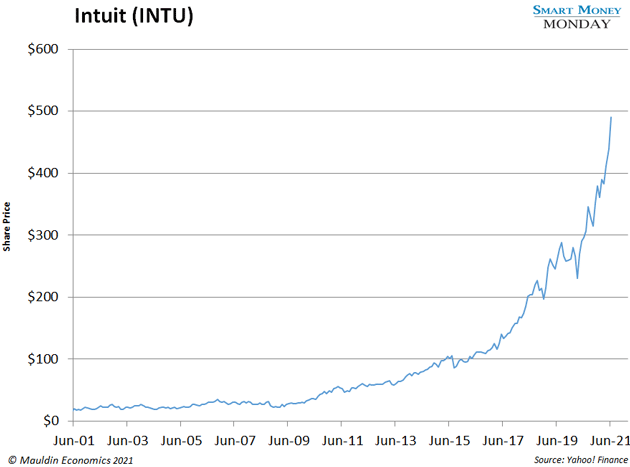 Again, one small switch created billions of dollars in value for shareholders.
Of course, the big money in all those "small switch" opportunities has already been made. So, what's next?
My research shows there's another small switch underway. I expect it to create enormous profit opportunities, and I'll share three stocks that I'm eyeing in this space in a moment.
The next small switch with huge profit potential is called "NoCode." It's short for "no coding experience necessary."
Until recently, if a business wanted to build a website, an ecommerce store, or an app, it needed to hire a developer. It was a complex and expensive chore.
NoCode software is rapidly changing that. It's software that allows people with no coding experience to build software.
A handful of NoCode companies have already enjoyed runaway success…
You may have heard of Wix (WIX). The company's NoCode software makes it easy for anyone to build a website. Just a few clicks and drags of the mouse, and you're done.
Wix launched in 2006. It already has over 200 million users worldwide. That number is likely to grow as it becomes increasingly critical for every business to maintain an online presence.
Wix went public in 2013. Since then, its share price has ballooned by nearly 1,800%. That's a growth rate of 44% per year.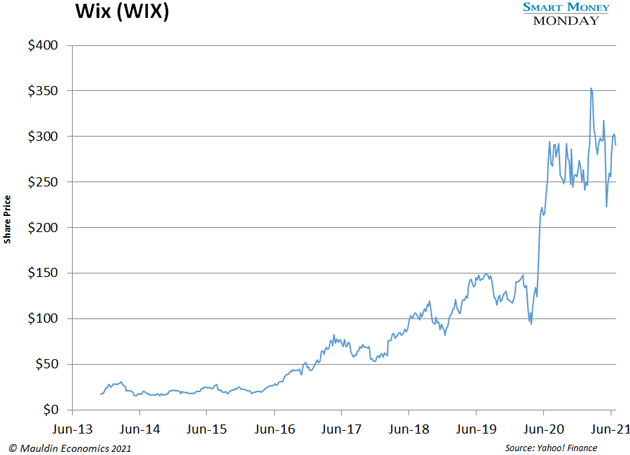 Shopify (SHOP) is another NoCode winner…
Shopify's software allows someone with zero tech experience to start their own ecommerce store. No coding required.
Imagine a little mom-and-pop business that makes t-shirts. They want to scale up with an online store but don't want the cost and hassle of hiring someone to build it from scratch. They can do it with Shopify instead.
Shopify also serves big name customers like Allbirds, Staples (SPLS), and Kraft Heinz Co. (KHC).
The Canadian company went public in 2015. Shares have soared 4,100% since.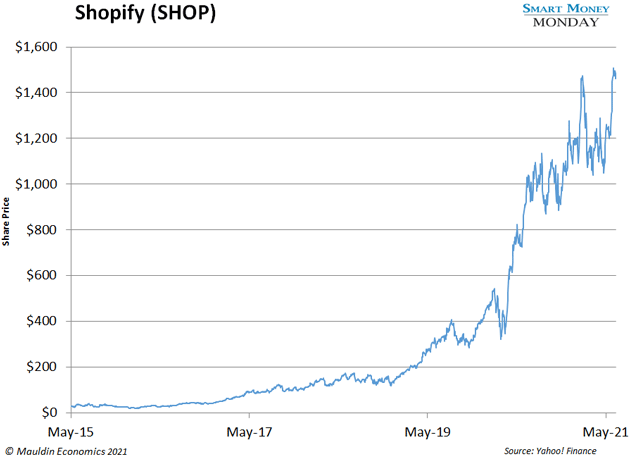 NoCode is one of the big trends we're tracking here at Smart Money Monday…
Gartner expects NoCode companies to bring in nearly $14 billion in revenue next year. That would represent a 23% growth rate over 2021.
Most importantly for us, these companies hold massive profit potential. I'm following these three in particular…
The first is Alteryx (AYX), a leading producer of NoCode data analysis software. We all know that big companies collect a huge amount of data. But it can't do them much good unless they analyze it.
Alteryx makes a "drag and drop" platform that allows someone without any real coding knowledge to get insights from massive piles of data.
The second company on my NoCode watchlist is BigCommerce (BIGC). I mentioned Shopify earlier—its NoCode ecommerce platform has been a monster success. Well, BigCommerce is a close second in this space.
BigCommerce has a $5 billion market cap, compared to Shopify's $184 billion. But it has the potential to close the gap and become a big winner in the years ahead.
The third NoCode company I'm tracking is UiPath (PATH). It's a major player in robotic process automation.
Think of all the boring, repeatable tasks you do on your computer. UiPath lets you record those tasks. Then its software does them automatically. This could save people and businesses a ton of time and money.
I'm not ready to pull the trigger on any of these three yet. However, we will continue to monitor Alteryx, BigCommerce, and UiPath and watch for attractive entry points.

—Thompson Clark
Editor, Smart Money Monday
P.S. If you have questions about the opportunities in the NoCode space, please feel free to reach out to me at subscribers@mauldineconomics.com.
Tags
Suggested Reading...