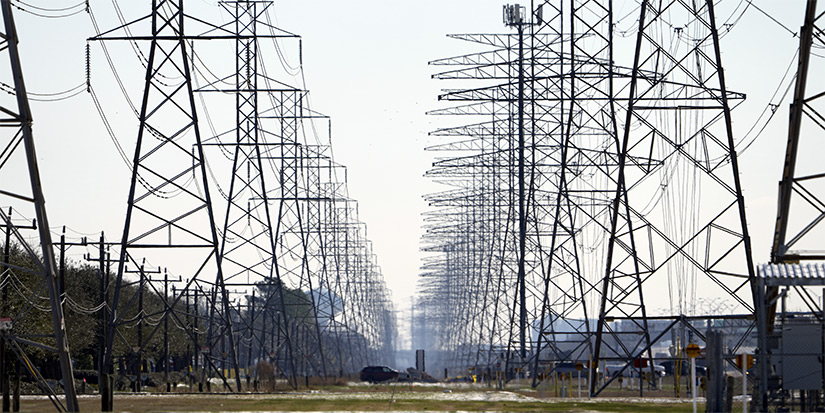 This Beaten-Down Stock Is Having Its "Chipotle Moment"
---
Editor's Note: We hope you caught the first issue of Smart Money Monday, our new weekly advisory here at Mauldin Economics. If you missed it, you can check it out here.
Today, Smart Money Monday editor Thompson Clark shares a unique investing setup with the potential to deliver 70%+ gains thanks to a once-in-a-century event...
If you decide Smart Money Monday is not for you, just click here to opt out.
This Beaten-Down Stock Is Having Its "Chipotle Moment"
Imagine opening your utility bill and seeing a $10,000 balance.
It must be a typo. Right?
Maybe not. This very thing happened to a bunch of people in Texas earlier this year.
The local power company hit a retired veteran with a $16,000 charge. For a human resources representative, it was $8,000. For a nursing student, $12,000.
All thanks to a fluke ice storm that hit Texas in February.
The deadly storm ushered in tornadoes, triggered blackouts for millions of people, and left billions of dollars of damage.
The storm also hammered Texas utility companies…
Brazos Electric Cooperative, one of the oldest utilities in Texas, filed for bankruptcy a few weeks later. So did Houston-based Griddy Energy.
Others suffered billion-dollar losses.
Meanwhile, utility stocks plummeted. NRG Energy (NRG), a utility with exposure to Texas, dropped 16%. Texas-based Vistra Corp. (VST) dropped 27% (and it still hasn't recovered).
It's a giant mess. But it's also a unique, profitmaking setup. I'll share my #1 way to take advantage of it in a moment.
The last time I saw this setup, I made a 100% gain.
No, I didn't buy a utility company. I bought shares of the popular burrito chain
Chipotle (CMG)
.
You might remember when Chipotle was linked to a massive E. coli outbreak at the end of 2015. Headlines about it dominated the news for weeks.
All the bad press pushed Chipotle's stock off a cliff.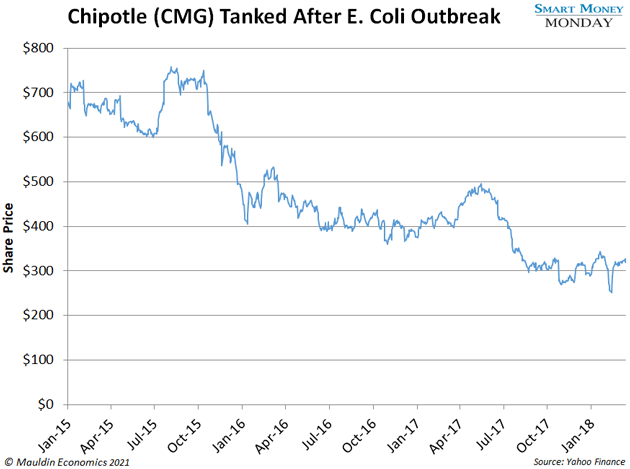 With Chipotle, you had a 1) high-quality business facing 2) an extremely rare problem.
However, after digging into the research, I knew this problem wasn't permanent. It was temporary.
I call this setup "A Chipotle Moment."
In other words, a great company facing an extremely rare, temporary problem.
Making money on these situations isn't always easy. You can't just buy a random beaten-down company and expect a 100%+ return.
It takes deep research to prevent a costly mistake.
With Chipotle, there were major problems at the company. The stock hit a high of $730 in 2015. Then the bad news started rolling in. Eventually, it sank to a low of $251 in 2018.
Chipotle's problems were temporary. But the stock market treated them as permanent.
The fund I worked for at the time held Chipotle. We tracked the situation for months, looking past the negative headlines.
Our research told us the same thing again and again—this company was not permanently impaired.
So, we stuck to our guns. Over our holding period, we booked a 100%+ return.
Chipotle has continued its run since. In fact, it's soared nearly 5X from its 2018 low.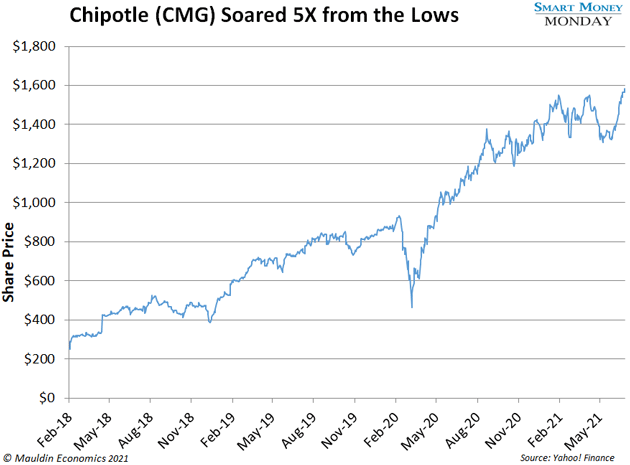 A Chipotle Moment is a pattern—a profitable setup I'm always looking for.
And I see it in Texas right now.
Just after the storm, the Texas utility industry suffered through bankruptcies, regulatory hearings, and people scrounging to pay $10K utility bills.
It was total chaos, thanks to a temporary, once-in-a-century event. But there were still high-quality companies in the mix.
I've pinpointed one utility stock that's ready to emerge from the chaos in even better shape—just like Chipotle did.
With my money, I'm buying shares of Vistra Corp., the Texas utility I mentioned earlier.
Chipotle has soared 5X since the worst of its woes. You can't go back in time and bag those gains. But you can buy Vistra and position yourself for another post-crisis rocket ride.
Think about what happened to Vistra. There was a snowstorm in Texas. It paralyzed parts of the state for weeks.
Just like the E. coli outbreak at Chipotle, no one expected it. The storm wiped out two utilities, Griddy and Brazos, and whacked the balance sheets of many others, including Vistra.
The storm forced Vistra to buy energy at ultra-high prices to deliver on its promises to customers. It was buying energy for $100 and selling it for $20. That's how you lose billions of dollars.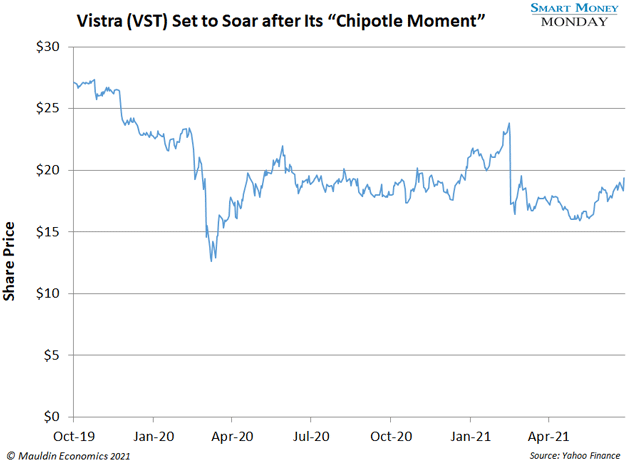 However, just like the problems at Chipotle, Vistra's problems are temporary.
My research shows that Vistra's stock is primed to shoot back up…
Vistra controls 18% of the Texas utility market. It also serves 19 other states and the District of Columbia. So, it's strongly diversified.
Plus, unlike Chipotle, Vistra provides an essential product: power. For millions of Texans, no Vistra = no internet or electricity.
Yes, the storm cost the company roughly $2 billion. But it's still standing strong in one of the fastest-growing states in the US. More Texans means more demand for the power that Vistra sells.
Because of the temporary problems it's facing, Vistra's stock is also dirt-cheap. But I don't expect that to last much longer.
Remember, shares dropped 27% just after the storm. The worst part of Vistra's Chipotle Moment is over, though. It's now trading around $19.
As Vistra continues to recover from its Chipotle Moment, my research shows it has the potential to climb 70%+ higher from here.

—Thompson Clark
Editor, Smart Money Monday
P.S. If you have questions about finding the best beaten-down stocks to buy, please write to me at subscribers@mauldineconomics.com.
Tags
Suggested Reading...