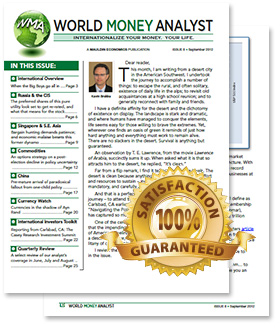 Yes! Sign me up for World Money Analyst
With so many investors bogged down in the financial morass exacerbated by today's debt-soaked governments, there's never been a more important time to have ready access to high-quality information on global portfolio and asset diversification.
World Money Analyst has been custom built from the ground up to fulfill that important need – no matter what country you live in.
However, you really don't need to take our word for it since you can subscribe at no risk.
Along with your annual subscription, you will also receive our special report Where the Smart Money Holds Its Gold, free of charge:
Special Report: Where the Smart Money Holds Its Gold

In an uncertain economic climate such as this, it's a good idea to hold a certain percentage of your assets in precious metals – both as a hedge against inflation and a way to store value in a relatively private way. The perennial problem is where and how to store it.

In this briefing, we share our preferred overseas precious metals storage facility. It's the only service of its kind that still offers complete anonymity, and recently, our team paid a visit to get the details you need to determine if it's right for you.
Try World Money Analyst completely risk-free. If you're not satisfied with World Money Analyst after 90 days, simply cancel your subscription for a 100%, no-questions-asked refund.
PLUS, with Mauldin Economics' Auto-Renew Service, your subscription will automatically renew at the retail price of $179 / year and it won't run out until you say stop! Don't worry, we'll always notify you before renewing your subscription, and you can cancel at any time.