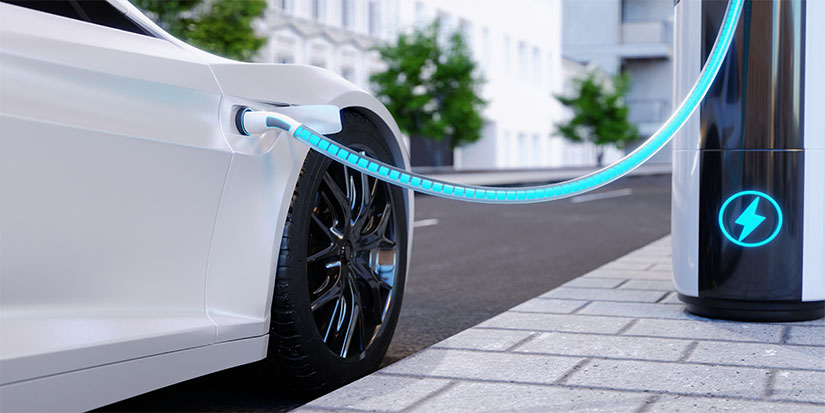 Is Mass Adoption of EVs Inevitable… and Investable?
---
Some of you are proud EV owners and nodding in agreement. And some of you are shaking your head vigorously with your arms crossed ready to close this email.
I hear you. I drive a 2022 Ford F250 with a 7.3-liter V8 and a Yamaha cruiser with a carbureted V-twin. I have both feet firmly planted in the EV skeptic camp. But I'm seeing more and more Teslas on the road here in South Florida. And many Wawa gas stations/convenience stores and even shopping centers have installed banks of EV chargers.
So, is it finally time for EVs to see their big takeoff? Because it's not the first time they've tried.
In fact, the first "heyday" of electric cars was back in 1910 when one-third of all vehicles on the road were electric. It was the combination of Henry Ford's mass-produced Model T, cheap Texas crude, and better roads that would cause them to disappear by 1935.
We saw another revival of EVs in the '90s. GM gave us the EV1 with a range of 70–100 miles in your choice of dark green, red, or silver.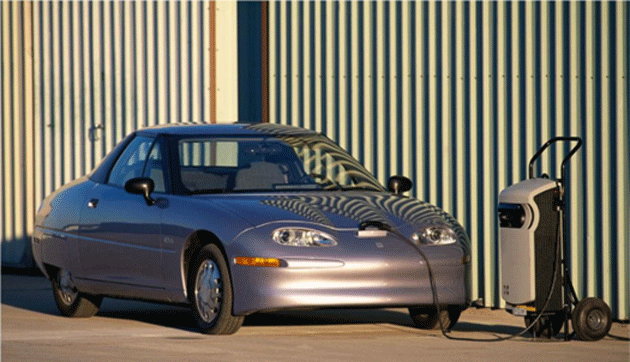 Source: Car and Driver
Chrysler released a TEVan that was based on the Town & Country passenger van. Solectria had the Sunrise and the Force. Ford even rolled out an EV version of the Ranger in 1997. These attempts at EVs also failed.
But if current buying trends continue, this time will be different. It seems like EVs are finally at the point where they will compete with gas-powered cars, at least for some of the population. If that's true, we'll want to have some EV exposure.
Have We Reached the Magical Tipping Point?
No matter what the technologies are, their successful adoption follows a very similar S-curve pattern. I'm talking about everything from the rapid rise of railways in the 1800s to the use of refrigerators in the 1900s and microwaves in the 1980s. We even saw the same pattern for internet use, personal computer ownership, and cell phones.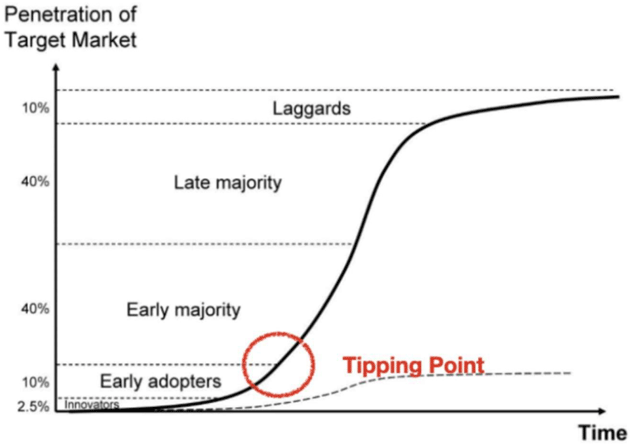 Source: Next Big Future
Once a trend reaches 5%–10% market penetration, it's difficult to reverse. Hitting this point typically guarantees that a technology will complete the full adoption S-curve. With EVs, I'm personally going to be in the laggard category, but that doesn't mean the adoption won't happen around me.
Where we are on this curve varies greatly by country. Here in the US, 0.9% of cars on the road are EVs; however, 8.6% of new vehicle sales in the US are EVs. That means we are the latest country to pass this critical tipping point for EVs.
If the journey is inevitable, shouldn't we jump on for the ride?
How to Collect a Dividend from the EV Movement
We are always looking for at least a 3.5% yield, and that's a challenge in the EV space. Since we would be taking on a higher level of risk, I really want to get paid an even higher yield.
Tesla Inc. (TSLA) has made it clear that it does not anticipate paying a dividend and instead will retain all earnings to finance future growth. This sums up the difficulty in finding a good EV yield play. These companies and the trend itself are in a growth phase, so all their earnings should be reinvested.
Ford Motor Co. (F) pays a whopping 6% dividend, but it has its own issues with EV production and profitability right now. It recently canceled all dealer stock orders of the 2023 F-150 Lightning to do additional quality reviews.
If we wanted to target the largest EV manufacturer or battery maker in the world, we'd have to look at Chinese companies. Those titles belong to BYD Company and Contemporary Amperex Technology Co., respectively. The batteries from the latter power one-third of all EVs worldwide. And with a research staff of 18,000 and a $2 billion R&D budget, rivals are struggling to catch up. Finding ways to invest in both of these companies is challenging.
Finally, there's the option to invest in raw materials like lithium that are used in EV batteries. Lithium-ion batteries not only require lithium, they also need cobalt, nickel, manganese, and graphite. But that's still only indirect exposure.
For now, we're just going to have to monitor the EV industry and collect data.
There are too many players scattered across too many related industries right now. And nobody knows who the clear winners and losers will be. Looking back at our adoption curve, I'm hoping that when we're deep in the early majority phase, we'll have more data to spot the winners… and still have plenty of time to lock in future income.
I did, in fact, find a back-door way for my Yield Shark readers to lock in a dividend from the EV movement. It's a more speculative play, and the dividend will most likely vary with each payout. But there is still time to get in before the next payment. For all the details, try Yield Shark with our 90-day money-back guarantee.
For more income, now and in the future,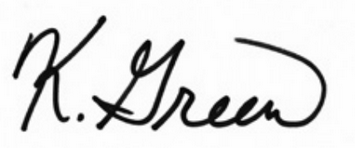 Kelly Green
Tags
Suggested Reading...