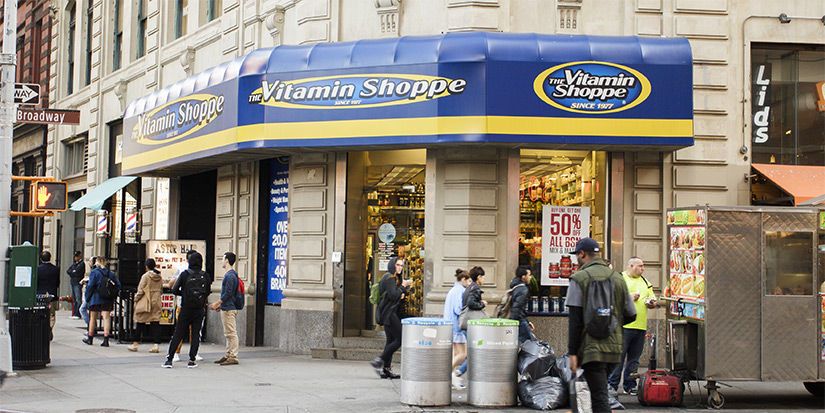 I'm buying this "franchise stock" with 100%-plus upside potential
---
Editor's Note: Welcome back to Smart Money Monday, our new weekly advisory here at Mauldin Economics. If you missed the first two issues, you can catch up here.
This week Mauldin Senior Stock Analyst Thompson Clark shares his favorite way to grab the massive upside of owning a franchise without all the hassles.
I'm buying this "franchise stock" with 100%-plus upside potential
Maybe you know someone who owns a franchise.
"Yes, that's John. He owns 6 McDonald's. He's killing it!"
Maybe you've even considered buying one yourself.
It sure seems like a nice idea. You think, "I'll buy the business, the manager will run it, and I'll collect the cash."
You imagine it creating the best kind of income: Passive.
Franchises are big business in the US…
They employ nearly 8 million people. Last year, they added $450 billion to US GDP.
Your average Dunkin' Donuts franchise brings in over $850,000 a year. For McDonald's, it's close to $2.4 million.
So, buying a franchise must be a smart investment, right?
In reality, it's more like owning a job.
Running a business is a pain. You have to hire good people. Pay taxes. Pay the rent. Pay the utilities. If something doesn't get done, you have to do it.
What if you could grab the upside without doing all the work?
Turns out, you can. And I've found one of the best ways to do it.
Many of the big franchise businesses are publicly traded companies. You know the names—
McDonald's (MCD)
…
Domino's Pizza (DPZ)
…
Planet Fitness (PLNT)
. The list goes on.
Buying a franchise stock is a one-click way to enjoy the benefits of owning a franchise without the headaches.
The one I'm most excited about right now is a smaller, well-diversified franchise company with a top-notch CEO. And it's growing. Fast.
If you're new to Smart Money Monday, welcome. Every Monday I share a profitable idea to kick off your week.
And this week we're talking about the opportunity I see in Franchise Group (FRG).
Franchise Group is a 25-year-old, $1.4 billion holding company based out of Virginia.
It owns four, high-quality franchise lines—The Vitamin Shoppe, Pet Supplies Plus, American Freight (discount furniture), and Buddy's Home Furnishings. You may have even shopped in one of their stores.
All four franchise lines tap into lucrative markets.
The US vitamins and supplements market is worth $50 billion. Home furnishings is worth $450 billion. And pet supplies is worth $100 billion—and analysts expect it to grow 6% annually for the next few years.
This helps the company rake in a lot of cash…
Franchise Group generated $2.9 billion in revenue last year.
So, it's a sizable operation. Altogether, the company has 4,600 stores, mostly in the US and Canada.
A major dealmaker named Brian Kahn serves as Franchise Group's CEO. Kahn is also the managing partner at a Florida-based investment firm called Vintage Capital Management.
Vintage has a 28% stake in Franchise Group. So, it effectively controls the company.
That's a good thing. It means Vintage and Kahn have real skin in the game.
My favorite part of Franchise Group is its growth potential…
Growing a business is hard. Most business owners are happy if profits grow 8–12% a year.
That's good. But we're hunting for incredible investment gains here at Smart Money Monday. So, we like companies with exponential growth potential.
Instead of 10% growth, how about 100%?
One way to grow that fast is to buy another business at a good price. That can double or triple your cash flow overnight.
Kahn's team knows that…
Franchise Group bought Pet Supplies Plus in March for $700 million. Revenue shot up over 40% on that deal alone, and it's hunting for more.
Kahn also knows when to sell. Franchise Group sold Liberty Tax, its flagship franchise, in a $240 million deal earlier this year.
That was a smart move. It will let the company focus on its higher-growth franchises, like Pet Supplies Plus.
Buying shares of Franchise Group follows one of my most profitable strategies…
Follow the dealmakers.
I used this strategy to lock in a 667% gain on B. Riley Financial (RILY). And I've seen it work time and time again in the public markets.
My research shows that the next big dealmaker opportunity is with Brian Kahn.
Kahn is not well-known outside of industry circles… at least not yet. But I think he's in the same class as the high-profile CEOs you're used to reading about.
Kahn has already grown Franchise Group from a $400 million company into a $1.4 billion company since he took the top seat in 2019.
And, as he mentioned on a recent conference call, Kahn sees even more room to expand: "As far as working on larger deals or smaller deals,we're always looking at companies."
Franchise Group pays a nice 4.2% dividend, and shares are reasonably priced.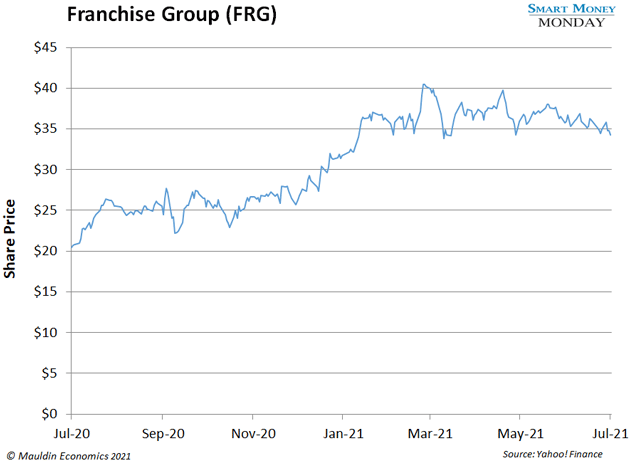 This is a great investment opportunity—my research shows that shares have 100%-plus upside potential from current prices.
That's why I'm long Franchise Group (FRG).

—Thompson Clark
Editor, Smart Money Monday
P.S. If you have questions about the opportunities in franchise stocks, please write to me at subscribers@mauldineconomics.com.
Suggested Reading...