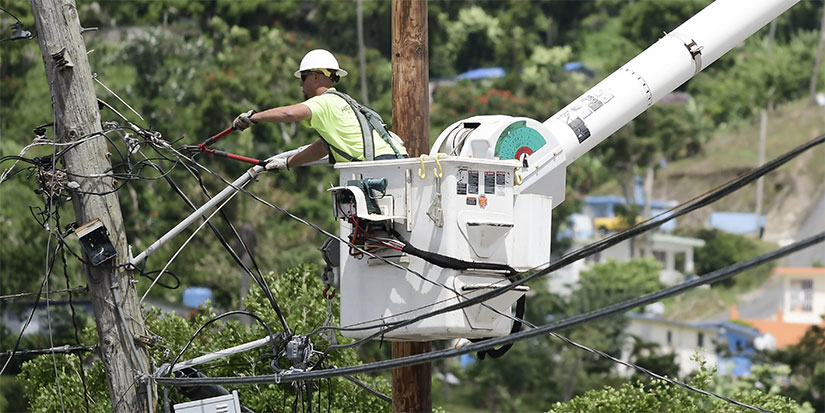 Is This Beaten-Down Utility a Buy?
---
There's one question I try to answer with any beaten-down stock: Is this a good company with temporary, solvable issues?
In the case of a company such as PG&E Corp. (PCG), the answer was… not really. The California utility looked cheap and interesting after a handful of horrible California wildfires a few years ago. Ultimately, the legal environment (and a messy balance sheet) made the setup unattractive. Today, the stock trades at the same price it did in 1983. Ouch.
On the flip side, there's Vistra Corp. (VST), a utility company I first introduced to Smart Money Monday readers because of its unique setup in July 2021.
Vistra's stock got whacked following a vicious winter storm in Texas. The storm was so bad it got its own name, Winter Storm Uri, and Vistra's stock got hit due to a multibillion-dollar charge related to the storm. However, it has come out of it stronger and has repurchased gobs of stock. And it announced a transformative deal earlier this year, which I wrote about here in March.
Vistra is a stock I still hold today, but this week, we're looking at another utilities player… and this one is really quite interesting.
Hawaiian Electric
That company is Hawaiian Electric Industries, Inc. (HE), the largest supplier of electricity in the US state of Hawaii. Inside HE, there also happens to be one of the largest banks in Hawaii: American Savings Bank.
It's an interesting company with a unique setup. Very few companies can say they own a bank and a utility.
As you're likely aware, Hawaii—specifically, the island of Maui—is currently recovering from a devastating wildfire. The fire is estimated to have destroyed 2,200 buildings and killed over 100 people, with another 300 or more still missing. It's a horrible tragedy.
The narrative we're hearing is that, essentially, Hawaiian Electric caused the wildfire. However, the company has a counter-story, asserting the Maui County Fire Department is to blame. Furthermore, the utility company goes on to say that it shut off electricity on the island after a small fire.
The courts will ultimately decide who is right and who is wrong. It's a huge mess.
Looking at the stock, though, you can see the market has spoken. This company has been absolutely clobbered.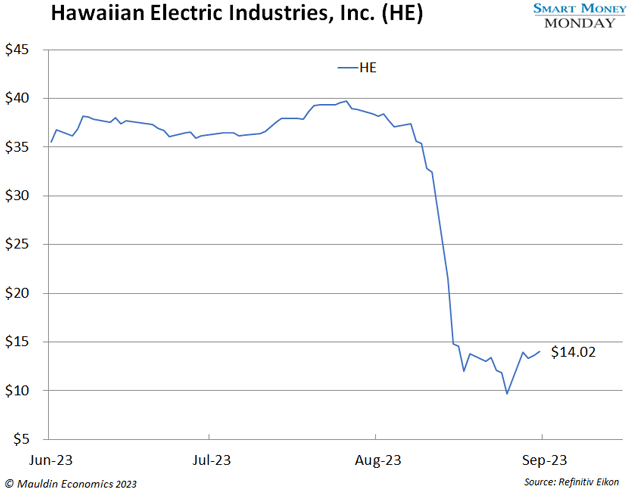 Dividend Suspension
"Dividends have been paid on an uninterrupted basis since 1901."
It's a remarkable statement from Hawaiian Electric. And it's been the case… until now.
Yes, Hawaiian Electric, after the wildfires, officially suspended its dividend. My guess is such a record—uninterrupted dividends since 1901—won't ever be repeated by a public company.
Alas, here we are.
The reason for the dividend cut is obvious: HE needs to build cash to repair the massive amount of damage because of the wildfires. In addition, it needs to build up a war chest of cash to fight the forthcoming legal battles. Maui County has already filed a lawsuit against Hawaiian Electric. More will follow.
For Hawaiian Electric to become an interesting stock, there needs to be a path to it resuming a dividend.
Recall, this isn't just a utility company. It's also a bank.
Can the bank pitch in and help?
American Savings Bank
American Savings Bank (ASB) is a pretty solid bank. Its return on equity for 2022 was around 14%—not bad. The return on equity at the utility is around 8%, and the combined company gets to a 10% return on equity primarily through the results of the bank.
Unfortunately, the bank just isn't large enough to cover the dividends.
In 2023, the original plan for capital deployment was $160 million paid out as dividends, and another $40 million spent at the holding company on various expenses.
The sources of this spend (again for 2023) were expected to be $150 million from the utility and $50 million from the bank.
By suspending the dividend, Hawaiian Electric has freed up $160 million to fix the infrastructure in Maui, as well as covering the inevitable legal bills.
I'm no expert, but shouldn't that be enough? That is, shouldn't one year of profits from the utility and the bank be sufficient to cover all the one-time expenses?
That's essentially the bet you're making here with Hawaiian Electric.
What I'm Doing
With Hawaiian Electric, having a bank and a utility under one company just doesn't make much sense. Hawaii is a unique place with a unique set of circumstances, so I understand why it may be put together.
But for me, I prefer to own pure-play companies.
In High Conviction Investor, we own a utility very similar to Hawaiian Electric—without the issues, of course.
This utility is planning on separating its two unrelated companies in a spinoff later this year. The utility will be standalone, and the company it's spinning off will be standalone.
It's quite cheap here and feels like an easier bet than Hawaiian Electric.
That said, Hawaiian Electric remains on my radar as an interesting idea. However, it just doesn't feel like a one-foot hurdle here until we have an idea of how big the charges are going to be.
Thanks for reading,

—Thompson Clark
Editor, Smart Money Monday
Tags
Suggested Reading...