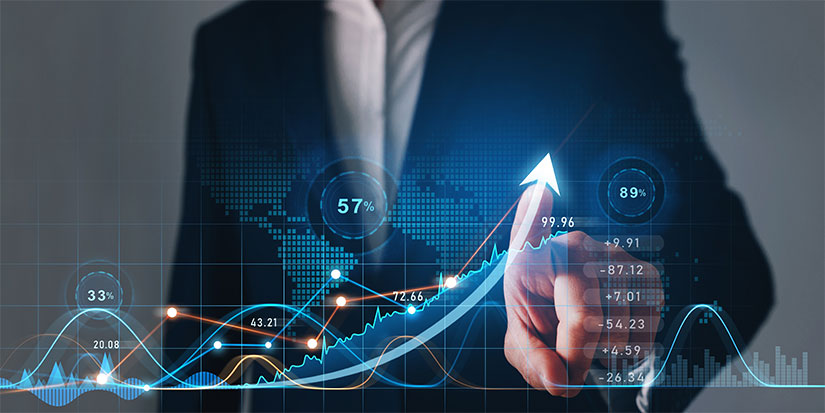 Outperform the Market by 6% or More Every Year
---
There are no shortcuts in investing.
Well, except for maybe one…
This "shortcut" is a simple strategy, but it can easily boost your returns by 6% or more every year. That might not sound like much. But when a $100K portfolio beats the market by 6% for a decade straight, it translates into $154,000 more in your pocket. And you don't have to do much to get it.
Simply invest in companies where insiders have a lot of skin in the game.
Companies such as Nvidia (NVDA), B. Riley Financial (RILY), and Tesla (TSLA) have handed monster gains to shareholders. They've soared 592%, 307% (including dividends), and 1,000%, respectively, in the last five years alone.
And they all have one thing in common: strong insider ownership. CEO Jensen Huang now owns 3.6% of Nvidia. Co-founder Bryant Riley recently picked up an additional 1% of stock in B. Riley, with insiders now owning over 30% of the company. And then there's Elon Musk, who owns 13% of Tesla.
This is no coincidence—stocks with strong insider ownership tend to do better than most. In fact, one study found that when insiders purchased shares of their own companies, those stocks outperformed the market by more than 6% annually.
Tracking insiders is an easy way to find great investment ideas.
That means tracking their buying activity and the size of their holdings. The more skin insiders have in the game, the more committed they are to bolstering their company's long-term profits.
It makes sense when you think about it. After all, no one washes a rental car. But when you own something, whether it's a car, house, or billion-dollar company, you take better care of it.
That's not always the case with hired guns who run public companies. It's not that they don't care. But they focus on short-term issues, like: "What does next quarter look like?"
Meanwhile, an insider with a big stake will focus on the long term. He'll ask himself, "How can I grow the value of my investment for myself, my family, and my investors?" Those are the guys with whom we like to invest.
Heavy insider investment is one of the many reasons why I like small-cap stocks, which are starting to work.
It's common for insiders—and founders in particular—to own large slices of these companies.
Albert Nahmad, the CEO and chairman of Watsco (WSO), is a great example. Watsco is the largest HVAC distributor in the US. After Nahmad took a controlling interest in the company in 1973, he grew annual revenue from $5 million to over $7 billion in 2022.
Along the way, shares of Watsco shot from $6 to $346. And Nahmad's stake is now worth $1.5 billion.
Following insiders with big stakes is a reliable path to profits.
I've shared some of these opportunities with you here in Smart Money Monday. Opportunities like steelmaker Cleveland-Cliffs (CLF), where CEO Lourenco Goncalves owns approximately 1% of the company. Goncalves is a big reason why I like Cleveland-Cliffs. Under his leadership, it's acquired a monopoly-like hold on US iron ore and flat-rolled steel production.
Really, he's a legend in the making in the steel industry. And this proposed
latest mega-deal
creates a true US champion in steel manufacturing.
Strong insider ownership is also a big reason why I'm tracking Alta Equipment Group (ALTG).
Alta Equipment Group (ALTG) is a large owner and acquiror of heavy equipment dealerships. Its dealerships sell and service lift trucks, conveyers, bulldozers, and other specialty equipment used by businesses.
Alta went public through a special purpose acquisition company (SPAC) in early 2020. It wasn't part of the class of speculative SPACs we saw go public during COVID mania.
Alta is, and has been, profitable on a pre-tax basis since it went public. And it still has a long runway for growth through acquisitions and organic growth at its dealerships.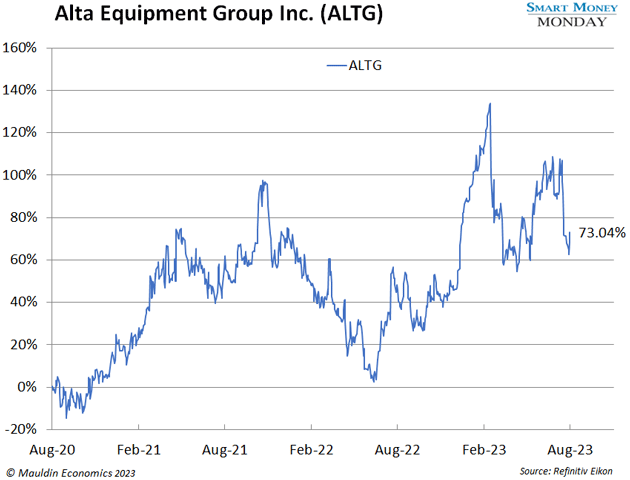 Insiders own a lot of stock at Alta. CEO Ryan Greenawalt owns nearly 6 million shares, or 18% of the company. These shares are currently worth over $85 million. He's strongly aligned with other shareholders to create value.
Now, I normally avoid SPACs like the plague. But with Alta, I'm willing to look beyond the way it went public. Alta is a real business selling real things and making real money. And insiders own a material amount of stock.
I'm still doing some additional due diligence on the company—so I recommend adding it to your watch list for now. I'll let you know when it's time to pull the trigger.
Thanks for reading,

—Thompson Clark
Editor, Smart Money Monday
Tags
Suggested Reading...