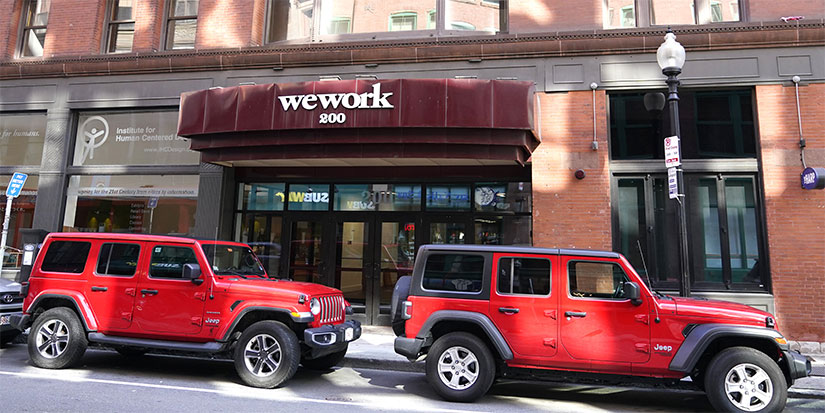 Is WeWork a Bargain… or Just a Mess?
---
"Coffee? Seltzer? Kombucha?"
So began my visit to the infamous co-working space WeWork last week.
The WeWork concept is simple. Instead of working from home or a corporate office, you get your own flexible work area—either a seat at a community table or a private office.
After working out of my home office for many years, I decided to give WeWork a try. The company has a beautiful space in a brand-new high-rise here in Raleigh. The light-filled office has plenty of cool wall art and hip furniture, and lots of people working and socializing.
Apparently, there's even free beer on Fridays. That won't surprise anyone familiar with WeWork's story…
WeWork is synonymous with venture capital excess.
Founder Adam Neumann—who is no longer with the company—raised an ungodly amount of money on a concept that wasn't all that revolutionary: co-working. Japanese conglomerate SoftBank (SFTBY) took the bait and gave Neumann $4.4 billion in 2017. The bet didn't pay off, and SoftBank ended up taking a large write-down on its investment.
But WeWork (WE) is still alive and kicking. The company went public last November at $10 a share. It's sunk nearly 50% since and is now trading at $5.25 per share. That's not terribly surprising, considering the whole market has taken a beating.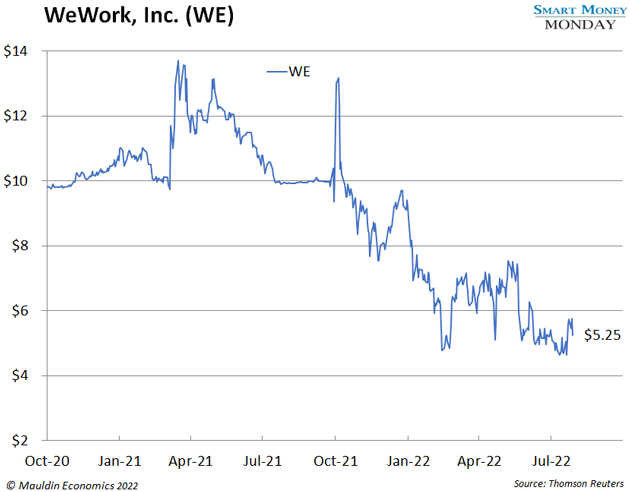 Nevertheless, as I walked around WeWork, my investor antennae started to perk up.
After all, it was a great office space with a nice gym and plenty of buzzy activity. The space was almost fully booked. And as the legendary fund manager Peter Lynch would say, it's good to invest in what you know.
Plus, anytime I see a distressed small-cap stock, I feel compelled to look under the hood to see if it's worth buying. So, I did…
Unlike a traditional office lessor, WeWork doesn't own the real estate it rents out. Instead, it leases office space for long periods, tosses in some cool (but cheap) furniture, then rents out the spaces to businesses and individuals under flexible, short-term leases.
In short, WeWork pays long, fixed-term leases and brings in uncertain, short-term cash flow. If that sounds risky, it's because it is.
Inflation is spiking to new 40-year highs, and the dollar's purchasing power is being devastated. The good news? This one overlooked area of your portfolio could help you outpace inflation and safeguard your money.
WeWork's business model has a few bright spots…
First, it has a small software business. Its WeWork Workplace platform helps landlords and other operators manage flexible office space. It's early days for this project, but it's interesting.
Second, WeWork has leverage over its landlords when leases come up for renewal. COVID has permanently shifted everyone's office space needs. There is more supply than demand. So, when leases come up for renewal, WeWork can push for lower rates. Those savings, if they can pull it off, drop right to the bottom line.
Third, with Neumann out, WeWork now has an A+ CEO running the show: Sandeep Mathrani. Mr. Mathrani revived the bankrupt General Growth Properties after the global financial crisis. So, he knows how to turn a company around. He also has extensive real estate experience. If anyone can make WeWork work, it's Mathrani.
None of this makes up for WeWork's scary balance sheet.
WeWork hasn't turned a profit since it went public. In fact, the company is set to generate negative $400 to $475 million in EBITDA for 2022. That's ugly.
WeWork is sitting on $625 million in cash. But it has a ton of debt, including $3.2 billion in junior and senior notes. $350 million of its junior debt comes due in November 2023. And over $2 billion will come due in 2025. Plus, all those long-term leases add to the debt pile.
With a messy, debt-filled balance sheet, WeWork is a hard pass.
Remember, liking a product is one thing. It's one of the reasons I started tracking On Holding (ONON), which makes the popular On Cloud shoes. My wife and I both love the shoes, but I wouldn't buy the stock at current prices.
The same goes for WeWork. I haven't signed a lease yet, though I'm considering it. But there is no way I'd buy the stock. Successful investing always comes back to valuation—it's hard to call something a bargain if the financials are a mess.
Thanks for reading,

—Thompson Clark
Editor, Smart Money Monday
Tags
Suggested Reading...