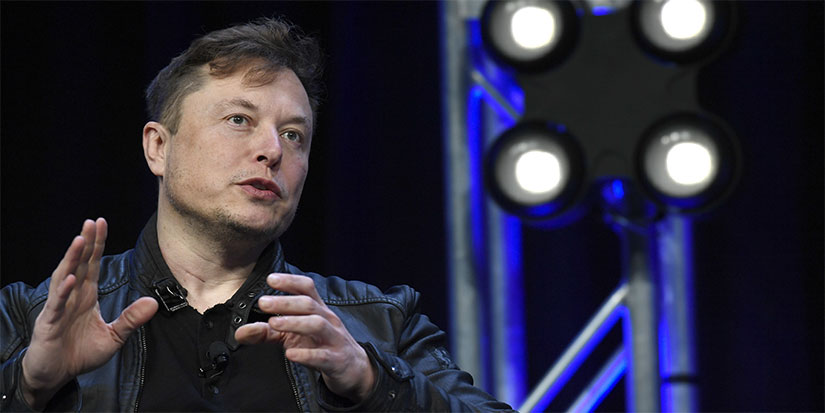 Why I'm Buying Twitter Before Musk Has To
---
Elon Musk has a Twitter (TWTR) problem.
Musk offered to buy the company in April for $44 billion. After some brouhaha at Twitter, the company accepted Musk's offer.
Then things went south. Musk, who was already Twitter's largest shareholder, started to complain about the company. He claimed Twitter misled him about its number of active users. He complained the platform was full of bots (fake accounts). And so on.
In short, he was setting the stage to wrangle his way out of the deal. Then, in early July, he made formal attempts to do just that.
The folks at Twitter were not pleased. On July 12, Twitter sued Musk in Delaware to try to compel him to complete their original deal.
[Buffett's $51 Billion Buying Spree] After years of sitting on the sidelines, Warren Buffett is buying up billions in stocks. That's all thanks to a rare market "imbalance" returning for the first time since 2009.
Click here now for the full story.
(From Our Partners.)
This is a giant mess for Musk and Twitter—and an arbitrage opportunity for us.
For reasons I'll explain in a moment, I think the court will force Musk to complete the deal. That gives us a chance to turn a quick profit. See, Musk agreed to buy Twitter for $54.20 per share. That represented a 38% premium over the price before Musk first got involved in late March. But the stock is currently trading for less than $44 per share.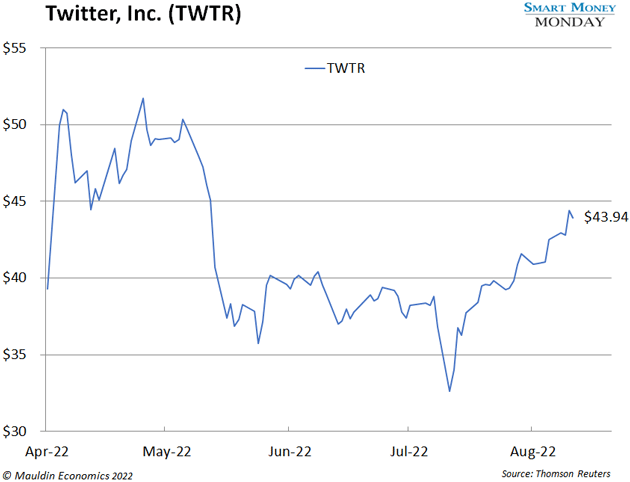 If you buy shares today, and the Musk-Twitter deal does, in fact, close, you will earn a quick 23% return.
This strategy is called merger arbitrage—we've talked about it before. Essentially, it's a calculated bet on whether a transaction will close.
In this case, I see a $7 billion reason to think the deal will close…
As I mentioned, Twitter is suing Musk in Delaware. That's where these kinds of disputes normally play out, since many companies (including Twitter) incorporate in Delaware.
The judge has scheduled a five-day trial to begin on October 17. I won't pretend to be a legal expert, but I can read the room, and the judge already seems to be leaning toward Team Twitter. Musk wanted the trial delayed until next year. She shut that down, saying "continued delays threaten imminent harm" to Twitter and "the longer the delay, the greater the risk."
She also noted that Musk's lawyers "underestimate the ability of this court... to quickly process complex litigation."
In any case, it's important to note that Twitter isn't suing Musk for monetary damages. It's asking the court to force him to follow through on the deal, which was supposed to close by the end of October.
Musk is already acting as though this trial won't end well for him…
On top of being the richest person in the world, a prolific breeder, and a general nuisance to Twitter, Musk is also the CEO of Space X and electric car company Tesla, Inc. (TSLA). And last week, Musk sold nearly $7 billion worth of Tesla shares.
Why would he do that?
Musk has an army of top-notch lawyers—literally the best money can buy. I suspect they've delivered the bad news to him: He is probably going to have to buy Twitter. And he's going to have to pony up some cash to do it.
There are plenty of legal arguments why the court would side with Twitter. Those are all important. But for me, Musk selling $7 billion in Tesla stock is an unequivocal sign of what his lawyers are telling him.
Musk more or less copped to this on Twitter: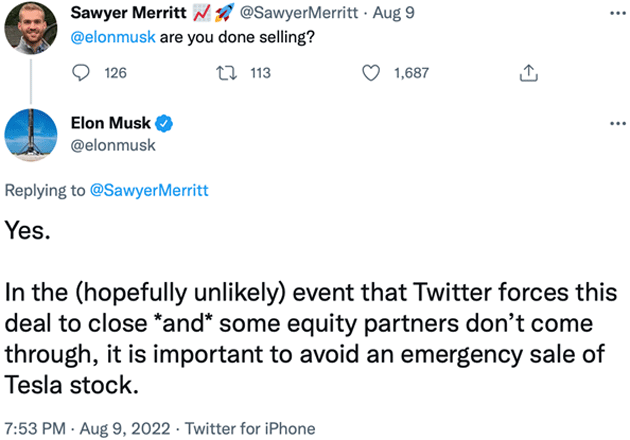 Source: Twitter
As an investor, that's enough for me to make a merger arbitrage bet. And that is just what I'm going to do—buy shares of Twitter after my readers have had a chance to buy first.
We should know for sure how this will play out by mid- to late October. But I suspect we'll earn a nice 20%+ return in just two months.
Thanks for reading,

—Thompson Clark
Editor, Smart Money Monday
Tags
Suggested Reading...