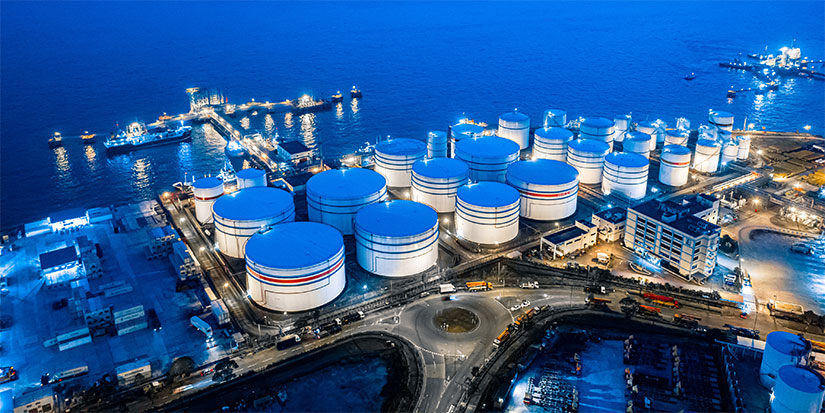 Buffett's Next Big Buy Might Be Hiding in Plain Sight
---
Looks like Warren Buffett is just as bullish on oil as I am.
Earlier this month, the legendary investor's holding company, Berkshire Hathaway, received approval from the Federal Energy Regulatory Commission to increase its stake in Occidental Petroleum (OXY) from 20% to 50%. Shares of Occidental popped 9% on the news.
I've seen this movie before—I think Buffett is gearing up to buy Occidental outright. This reconfirms his long-term bullish stance on oil. And, as you'll see in a moment, it creates a speculative merger arbitrage opportunity (a strategy we've covered before) for investors who buy Occidental now.
Regular readers know my thoughts on oil…
Oil and gas companies are not investing in new exploration and drilling. As one executive put it: "The government's anti-oil, anti-gas, and anti-pipeline stance has caused us to not pursue expansive projects." Less drilling means less oil. But the International Energy Agency doesn't expect global oil demand to peak until 2030.
As I've written before, less oil while demand remains high can only push the price in one direction: Up.
Buffett sees what I see. That's why he's pouring money into Occidental. He first got involved with the company in 2019. At the time, Occidental was trying to buy a competitor, Anadarko Petroleum, for $39 billion. Occidental needed cash to fund the deal—fast. So, Berkshire pitched in a $10 billion preferred stock investment in Occidental.
Occidental went through a bumpy period after that. Shares dipped below $10 in late 2020. But the company and stock bounced back. In fact…
Occidental has been the best-performing stock in the S&P 500 so far this year.
It's soared 158% since January.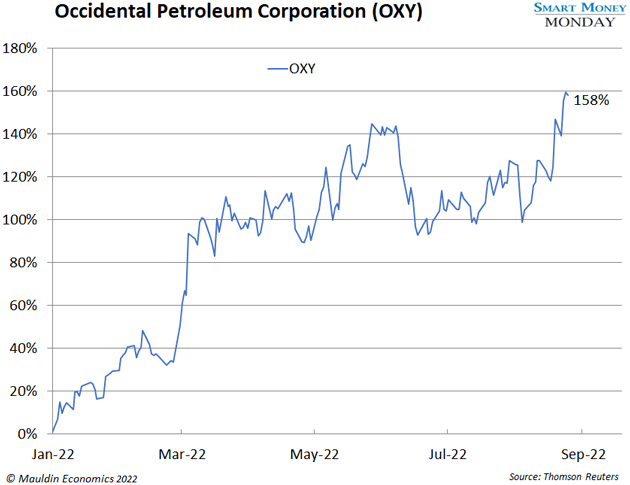 Like other oil companies, Occidental has benefited from higher oil prices and a post-COVID recovery in oil demand. It's also aggressively paid down debt. It has a much cleaner balance sheet than it did a few years ago.
Again, Berkshire already owns a 20% stake in Occidental worth over $12 billion. It's one of Berkshire's largest common stock investments. And Buffett seems eager to make it larger.
This is how I see Buffett acquiring Occidental…
Berkshire would need at least $47 billion to buy Occidental outright. If you factor in a 30% premium like I've seen on similar deals, the total would top $60 billion. That is a big number, even for Berkshire Hathaway. But it has the cash.
At the end of Q2, Berkshire was sitting on $100 billion in cash and short-term Treasuries. It's said before that it would never let cash holdings dip below $30 billion. That takes its available cash down to $70 billion. Then there's the $11.6 billion it has earmarked to acquire insurance company Alleghany (Y) in Q4.
That leaves Berkshire roughly $58 billion to potentially buy Occidental at a healthy premium.
We've seen Buffett pull off similar deals before.
The Burlington Northern Santa Fe Railroad comes to mind. In 2006 Buffett bought 16 million shares of BNSF, or a little over 4% of the company. For him, that was a starter position. By 2009 he owned 76 million shares, or over 20%.
Later that year, Buffett offered to buy the rest of BNSF for $100 per share, which represented a 31% premium at the time. The total price tag came to $26.5 billion.
Berkshire shareholders approved the acquisition. And today, BNSF is one of Berkshire's largest and most important subsidiaries.
Now Buffett appears to be running the same play on Occidental Petroleum.
I'm speculating here. But if I'm right, this could be a transformative deal for Berkshire Hathaway. Even at a 30% premium, Berkshire would get Occidental for less than 7X my forecast of 2022 free cash flow. That's cheap.
Under Berkshire's ownership, Occidental could rapidly pay down debt, clean up its capital structure, and start paying out substantial dividends to Berkshire. That's more cash for Buffett to allocate and more value for Berkshire shareholders.
Occidental looks like a solid oil play, regardless of what Buffett does next. Investors who buy shares now could be handsomely rewarded if Berkshire does, in fact, buy the company. But shares are still a good value at current prices, even if that doesn't happen.
Thanks for reading,

—Thompson Clark
Editor, Smart Money Monday
Suggested Reading...