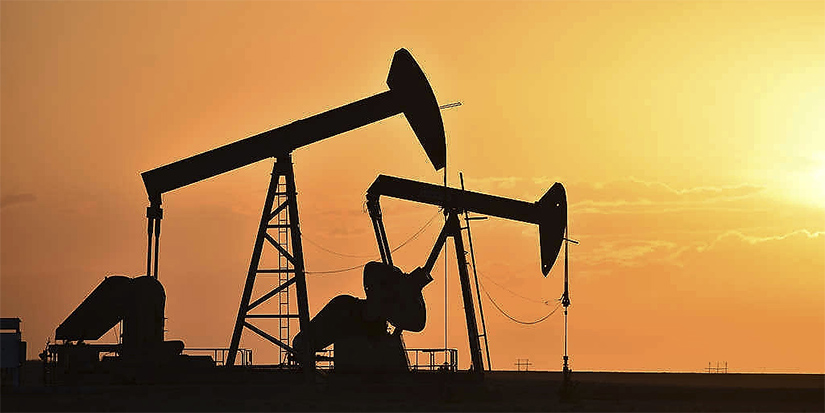 The Real "Inconvenient Truth" About Oil… and What It Means for Oil Stocks
---
Many people thought Biden would be great for green energy stocks.
In a way that makes sense—Democrats hate fossil fuels like oil and coal. And Biden pledged to spend $2 trillion on green energy during his campaign. So, once he was elected, green energy stocks were the obvious play, right?
Well, check out this chart. It shows the Invesco Solar ETF (TAN) versus the Energy Select Sector SPDR Fund (XLE) since January.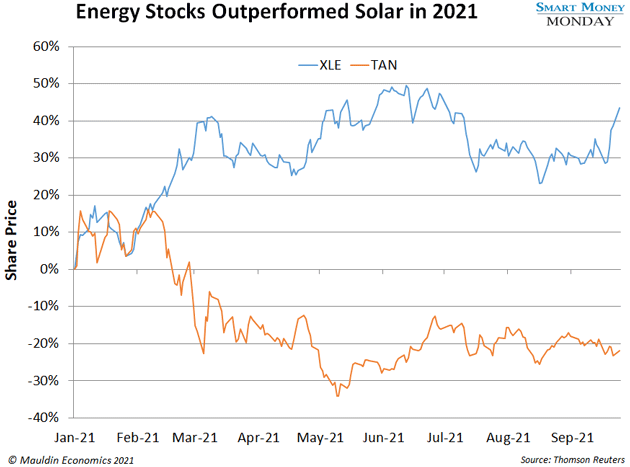 TAN, which holds solar and other green energy stocks, has dropped over 20% this year. Meanwhile, XLE, which holds traditional energy companies like Exxon Mobil (XOM) and Chevron (CVX), has climbed 44%.
Turns out, Biden has been great for oil & gas stocks. I mentioned to a colleague that this would happen shortly after the inauguration: "Joe Biden is the best thing that's happened to the energy sector in a long time."
I still think that's the case. And in this issue of Smart Money Monday, I'll show you why oil & gas stocks should continue to perform well during Biden's next three years in office. I'll also share some of my favorite ways to play this trend.
It all comes back to supply and demand…
Weeks after his inauguration, Biden "took action" on climate change, banning new oil and gas drilling on public lands and offshore waters. Less drilling means less oil. And less oil with the same level of demand can only push the price in one direction: Up.
That is what is happening with oil. The price has rallied from $48 to $70 per barrel this year.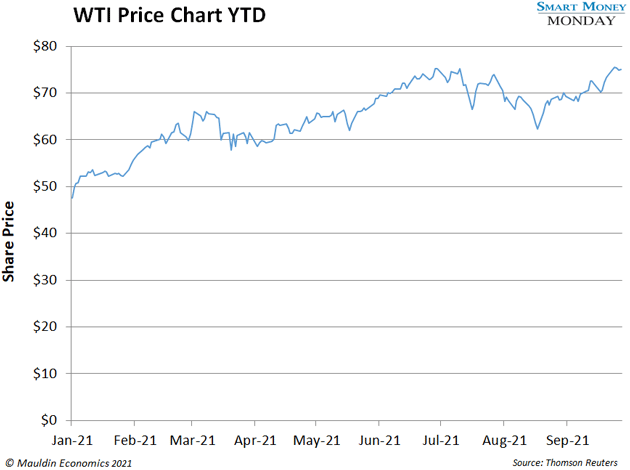 Gas prices have risen 40% over the same period. And when oil & gas prices go up, oil & gas stocks tend to go up with them.
I should point out that Biden isn't the only factor contributing to the supply crunch. In 2020, global oil and gas upstream investments had dropped 57% from their 2014 peak.
That said, Biden certainly isn't helping the situation. The courts blocked his drilling bans this summer. But I expect his administration to continue pushing its anti-fossil-fuel agenda. This would only make it more difficult for companies to drill new wells and further limit supply.
Meanwhile, the real "inconvenient truth" is… Demand for oil isn't going anywhere.
Today, 83% of the world's energy supply still comes from oil, gas, and coal. That number has barely budged in over a decade.
The left pays a lot of lip service to green energy. Biden wants to spend $2 billion on green energy projects next year alone. Yet we still use the same amount of fossil fuels, more or less.
Think about it—most of us still drive gas-powered cars, fly on airplanes (when COVID doesn't get in the way), and do other gas-guzzling activities. None of that is changing anytime soon. In fact, the International Energy Agency doesn't expect global oil demand to peak until 2030.
Sure, oil demand may fluctuate a few points here and there. But don't expect Biden's green energy crusade to temper it in any substantial way. Combine high demand with an ongoing supply crunch, and oil stocks should continue to perform well under Biden.
That does not mean you should run out and buy an energy ETF…
Regular readers know I encourage investors to be much pickier than that.
One great option is Chesapeake Energy (CHK), an oil & gas producer based in Oklahoma. Chesapeake used to be the second-largest natural gas producer in the country. But debt nearly crushed it, and it entered bankruptcy in 2020.
However, the company came out of bankruptcy earlier this year. And it has eliminated nearly all of its debt. Chesapeake is in a much better position today, and I have a very small position in it.
I also like the majors—Chevron (CVX), Exxon Mobil (XOM), and BP plc (BP). All three have dividend yields north of 4%. And the payouts look sustainable.
With the pressures on supply, less money chasing new wells, and the inconvenient truth about fossil fuel consumption, energy stocks look very attractive right now.

—Thompson Clark
Editor, Smart Money Monday
Tags
Suggested Reading...