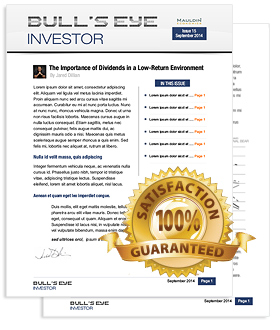 Yes! Sign me up for Bull's Eye Investor
Each month you'll receive at least one prime stock recommendation from Grant Williams and the Mauldin team of analysts – one with an unusually good balance of safety versus reward.
Along with each recommendation, you'll receive deep research about both the sector and the stock, spelling out the reasons to buy the stock. You'll have a specific entry price to buy and a suggested target price to sell.
In each issue, you'll also get…
Charts That Make You Go Hmmm… Three or four charts of special interest to investors, and a valuable window for independent investors who want to explore new possibilities.
Under the Radar A few of the most interesting stories we think investors might want to look into further.
Portfolio updates A monthly recap of the Bull's Eye Investor portfolio, including important news and any changes in buy or sell recommendations.
Try Bull's Eye Investor completely risk-free. If you're not satisfied with Bull's Eye Investor after 90 days, simply cancel your subscription for a 100%, no-questions-asked refund.
PLUS, with Mauldin Economics' Auto-Renew Service, your subscription will automatically renew at the retail price of $199 / year and it won't run out until you say stop! Don't worry, we'll always notify you before renewing your subscription, and you can cancel at any time.