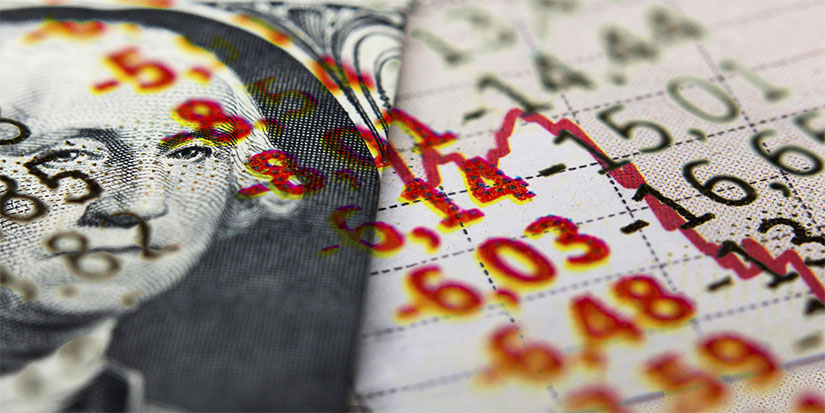 "Have We Reached the Bottom Yet?"
---
Mania. It's hard to recognize when you're in it.
But that's what the Covid-era buying frenzy was. A mania. You might even call it the second coming of the dot-com bubble. Investors bid up profitless tech companies to nonsensical valuations. IPO volumes went through the roof. And JPEG files branded as "non-fungible tokens" sold for millions of dollars.
This all culminated in a 108% rise in the stock market over 22 months. Now, after peaking at the start of the year, the market has dropped 13.3%.
And people keep asking me, "Have we reached the bottom yet?"
The first dot-com bubble provides a useful roadmap for answering that question.
As you might recall, the Nasdaq rose 320% from April 1997 to its peak in March 2000. Then it started tumbling. Over the next 18 months, the Nasdaq fell 72%, finally bottoming in September 2001.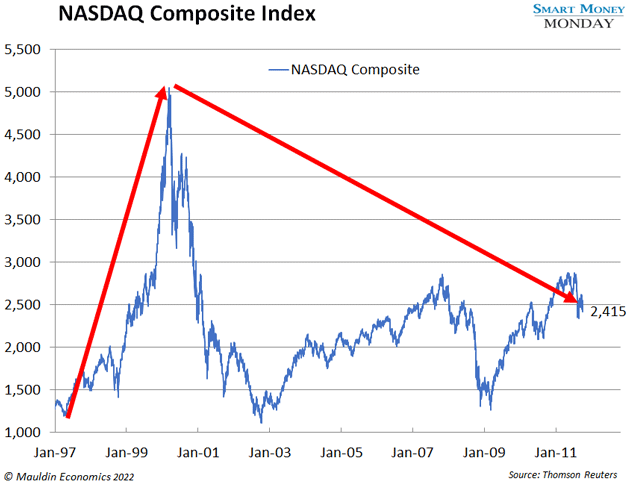 This go-round, the Nasdaq peaked in December 2021. And it's dropped 22% since. For this to be a 1:1 parallel, the Nasdaq would have to fall another 50% and take another year to bottom.
But the Nasdaq isn't the best indicator for this bubble and bust.
During the first dot-com bubble, the Nasdaq's top 10 were all tech and telecommunications companies, like Microsoft (MSFT), Cisco Systems, Inc. (CSCO), and QUALCOMM Incorporated (QCOM). It also included a young, dreamy-eyed Yahoo!, Sun Microsystems (later gobbled up by Oracle), and WorldCom (which imploded in scandal).
Tech still dominates the Nasdaq's top 10. But most of these companies are mature now, like Microsoft, Apple Inc (AAPL), and Amazon (AMZN). It also includes consumer staples giant PepsiCo Inc (PEP) and retail behemoth Costco Wholesale Corp (COST). Pepsi and Costco aren't going anywhere. And at around 25–35 times forward earnings, they're not trading at absurd valuations.
"Mauldin Economics' #1 Letter for 2022:" Learn how to secure steady 8%–13% dividends in your portfolio today.
There's a better gauge of how much froth is left in the market…
The ARK Innovation ETF (ARKK).
ARKK is a basket of hyper-growth, hyper-speculative stocks managed by long-time fund manager Cathie Wood. The fund reached an all-time high of $156 per share in February 2021. Now it's trading for $50, or about 67% below its peak.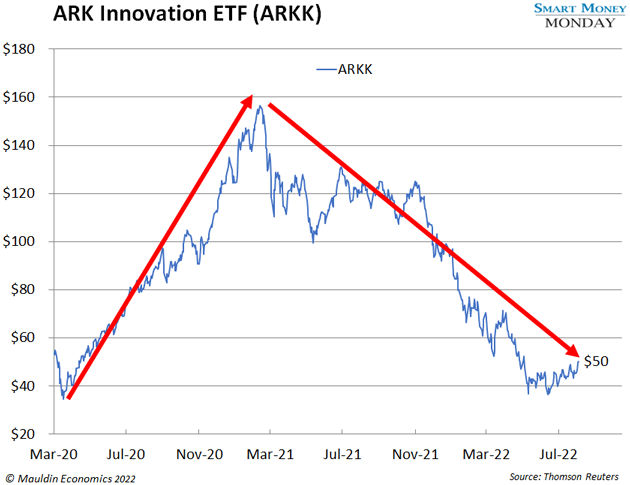 The key here is that ARKK holds companies with a lot in common to the Nasdaq's top 10 during the dot-com era. Many, if not all of these companies, trade at incredibly steep valuations, just like the Nasdaq in 1999.
Tesla (TSLA), which I've written about before, is ARKK's top position. It's trading for over 100 times earnings per share. And that's after a 25% fall from its November 2021 high. This valuation still makes no sense.
Cisco (CSCO) was in a similar position during the dot-com bubble. It peaked at over $70 per share in March 2000. At that point, it was trading for over 150 times its 1999 earnings per share.
Or look at another present-day ARKK name, Roku (ROKU). This TV streaming company is ARKK's number two position. At its peak of over $470 last July, Roku traded for well over 20 times sales and
400 times
earnings per share.
The dot-com parallel here is QUALCOMM. Around its peak in 2000, it was trading for over 200 times earnings.
I could go on. Point is, valuations for the dot-com era Nasdaq looked just like the valuations for ARKK names at their peak. Even after the massive pullback, some of the ARKK names still look quite frothy. Tesla, again, is just one example.
I wouldn't own ARKK here. However, the fund is a useful indicator for predicting the bottom of this bear market. Given its historic parallels to the dot-com era Nasdaq and its big drop over the past 18 months, I'd say we're closer to the bottom than the top.
Thanks for reading,

—Thompson Clark
Editor, Smart Money Monday
Suggested Reading...