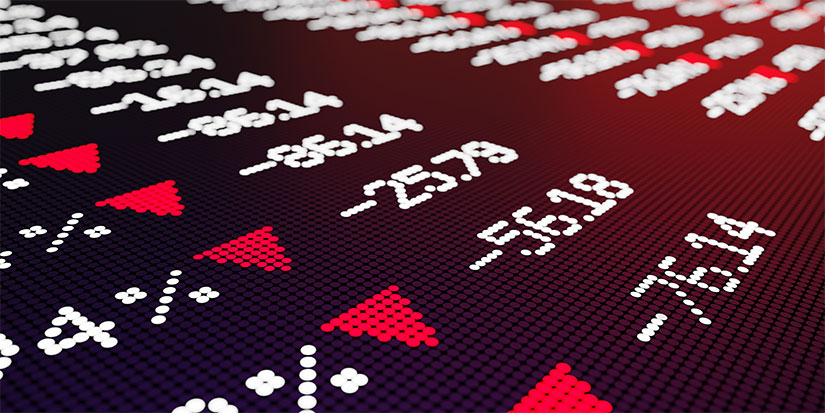 Why This Pullback Isn't Rattling Me
---
Small caps have hit a rough patch.
The Russell 2000, the main small-cap index, has dropped around 10% in the past month. But I'm not the least bit worried…
Regular readers know the Russell 2000 is where I hunt for extraordinary gains for my readers. Hands down, it's the best place to find stocks that deliver outsized returns… stocks I like to call "Wealth Accelerators." So why isn't this pullback rattling me?
First, we invest in individual stocks, not the whole index.
With the rise of passive investing, a lot of people get small-cap exposure through a small-cap index fund. The problem with that is, you're spreading your bet across 2,000 companies.
Sure, an index fund gets you teeny tiny pieces of the quality, high-growth small caps we like. But it also gets you loads of garbage stocks, like NewAge Beverage (NBEV), which is trading around $1… right where it was 5 years ago.
When you buy an index fund, you get the average return of all these companies. And when the index tanks, it takes you down with it.
That's not what we do here at
Smart Money Monday
. I spend the bulk of my time analyzing
individual
small-cap stocks for my readers.
So instead of buying the index, you get a chance to buy undervalued, high-growth small caps, with pristine balance sheets and strong insider ownership. Stocks like Franchise Group (FRG)… which has jumped 13% in the last month while the Russell 2000 has sunk lower.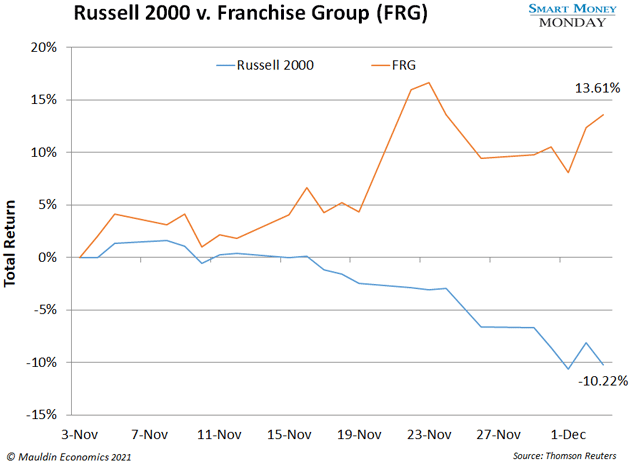 There's another reason I'm not worried…
A pullback in the Russell 2000 could be an opportunity to buy Wealth Accelerators at cheaper prices.
The reality is a correction can pull good stocks down with the bad.
For instance, when the Russell 2000 dropped 23.5% in March 2020, Rent-A-Center, Inc. (RCII) plummeted 34%. But that was actually a great opportunity to buy. Because Rent-A-Center bounced back a month later. And it's rocketed 262% since, while the Russell 2000 has climbed 108%.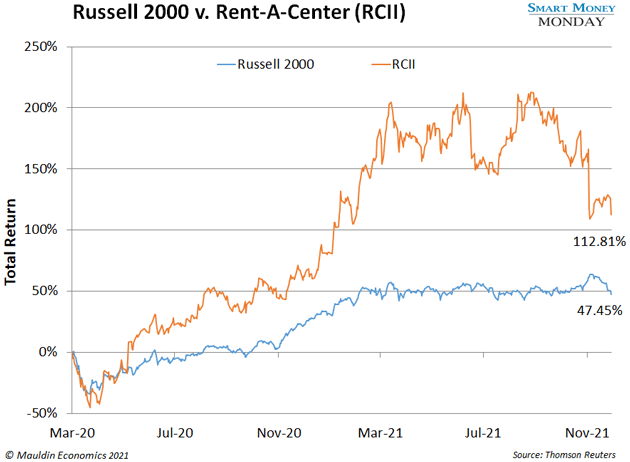 The key to finding Wealth Accelerators is to dig into individual companies, and only buy solid, high-growth stocks when they're cheap…
Buying cheap stocks is central to my investing strategy.
If I like a company, but it's not cheap enough, I simply watch and wait. Sometimes for years.
Take "NoCode" stocks, for example. A few months back, I mentioned that I've been tracking several companies in the NoCode space—companies that make software that lets people with no coding experience… build software.
NoCode has already produced some big winners.
Think
Shopify (SHOP)
, which makes software that lets someone with zero tech experience start their own ecommerce store. Shopify has skyrocketed 5,000% since it went public in 2015.
Well, I've been tracking a similar company called BigCommerce (BIGC). Its ecommerce platform is second only to Shopify's. But it's a much smaller stock, with a $5 billion market cap, compared to Shopify's $184 billion.
BigCommerce could close the gap and become another big winner. The problem is, even though the stock has plunged 32% since July, it's trading at 14X sales. And that's still too expensive. So, I'm not ready to recommend it yet.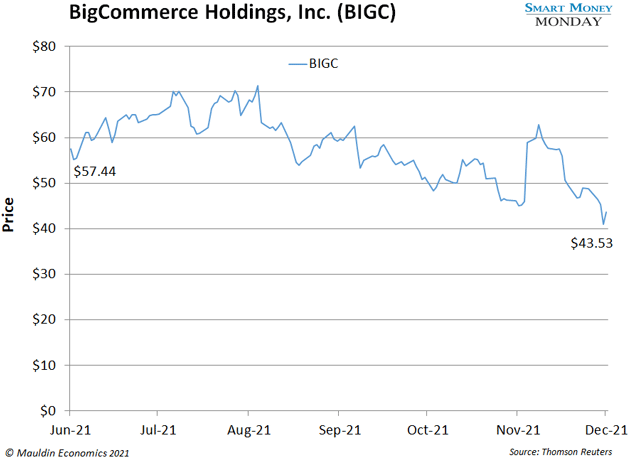 Talk to me when it's trading around $20. Then I might be interested.
Until then, it's just one of the 1,600 stocks in my personal database.
I have fat folders on all of them, packed with call transcripts, annual reports, and my personal notes from meetings I've had with some of their CEOs.
The point of all this research is to uncover market-beating opportunities. I share some of them with you in Smart Money Monday. But I'm saving my most lucrative opportunities, the Wealth Accelerators with 10X potential, for my new premium investment service.
We're opening the doors to that service later this week, so watch for an email from Mauldin Economics publisher Ed D'Agostino with more details. In the meantime, please take a few minutes to watch this video of my recent call with Ed, where we discuss how to find hidden value in the markets.
Click here to watch the video now.

—Thompson Clark
Editor,
Smart Money Monday
Suggested Reading...