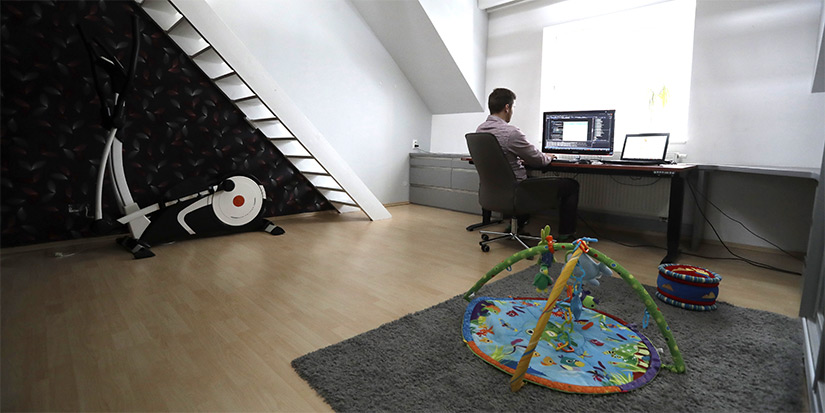 Get Comfortable with These Stay-at-Home Stocks
Robert Ross
|
|
January 20, 2021
---
As a lifelong Cleveland Browns fan, I am thrilled that they are going to the playoffs for the first time since 2002.
This month's victory was a surprise one. And not because it was 17 years in the making.
A COVID-19 outbreak at their training facility threatened to delay the Browns game against the Pittsburgh Steelers that led to their ultimate return to the postseason.
The Browns didn't miss a moment of practice time. Rather than hit the field, players and coaches huddled over Zoom (ZM).
Reviewing plays over video conferencing software was not an ideal way to prepare for the franchise's biggest game in nearly two decades. But the Cleveland Browns—like many businesses over the last 12 months—worked with what they had.
And it worked. Despite not being able to practice in person prior to the game, they pulled off a major upset to secure their first playoff win in 17 years.
Even if the Browns don't make it to the Super Bowl on February 7, their MVP moves will go down in history as a sign of these unusual times.
The Remote Work Revolution Is Here to Stay
Remote work isn't ideal for pro footballers, whose jobs require extreme physical contact. Nor is it as much fun for fans to "sit" in the virtual stands.
But for many other industries, workers will be keeping their virtual skin in the game for the foreseeable future.
A Gartner survey showed 82% of managers plan to offer flexible work-from-home policies after the pandemic ends.


Source: Gartner
Less office space means lower overhead for business owners. That's in addition to paying their remote workers less. And that's not just new hires.
Some companies are cutting current staffers' salaries an average of 15% if they choose to permanently work from home.
The real beneficiaries are the employees who can now work from anywhere.
A Gallup poll found a majority of American adults would prefer to continue working from home "as much as possible" after the pandemic. No commutes, higher productivity, and a cleaner environment are a satisfying exchange for office parties and potentially better pay.
Technology stocks were immediate beneficiaries from the stay-at-home trend. Demand spiked for cloud computing services and all kinds of hardware.
The video conferencing, cloud software, and hardware-upgrade trades have had a great run. And the longer we stay home—even into perpetuity—the more money those companies will make.
If you'd prefer an under-the-radar way to profit, I've got three ideas for you.
Working from (Someone Else's) Home
Since they can work from anywhere with an internet connection, many millennials—those 26 to 40 years old—are fleeing expensive cities like New York City, San Francisco, and Chicago.
That fact has created a K-shaped recovery for the real estate industry. Sales are up and inventory is low in places like Florida, while some other segments of the real estate market get crushed.
Just take a look at the Empire State Real Estate Trust (ESTR), which owns a bunch of Big Apple office and retail properties: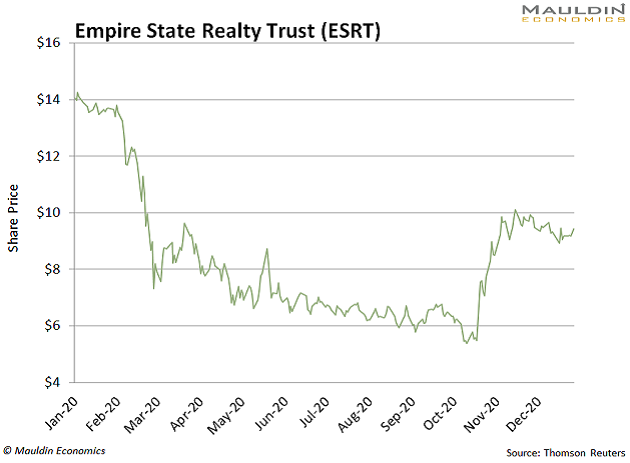 The fund is down 33% in the last 12 months… with no signs of bouncing back. That's because all those employees who were paying sky-high city rents are leaving for greener pastures.
But not everyone is buying a bigger house in the suburbs. Instead, some workers are renting short-term furnished housing.
To wit, San Francisco-based furnished apartment renter Sonder says stays of longer than 14 days now account for 60% of the company's business. That's up from less than 25% pre-pandemic.
While Sonder is still private, the largest company in the furnished apartment space, Airbnb Inc. (ABNB), recently went public: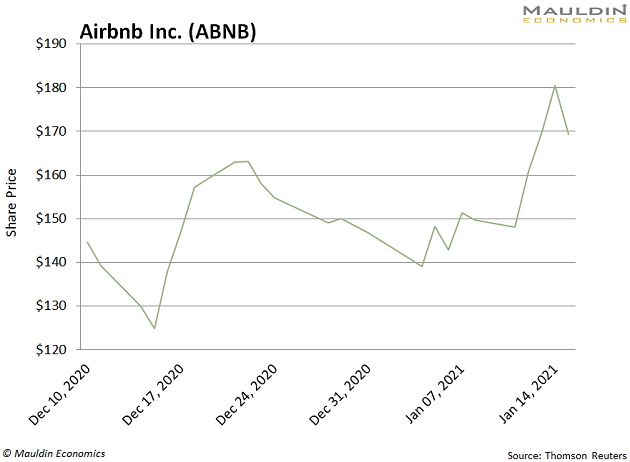 The company's platform hosts 5.7 million active listings and booked nearly 250 million guests in 2019. As the remote work boom continues, I expect Airbnb to continue to profit.
But some newly minted work-from-homers are going a more traditional route.
If You Build It, Profits Will Come
And for those who are buying, many would prefer not to take on the challenges—and expenses—that come with a previously loved home.
While housing prices typically fall during recessions, the opposite happened in 2020.


Source: Federal Reserve Bank of St. Louis
That fact has sent housing stocks through the roof. For instance, the SPDR S&P Homebuilders ETF (XHB) is up 86% since March.
And this trend is being driven by millennial home buying…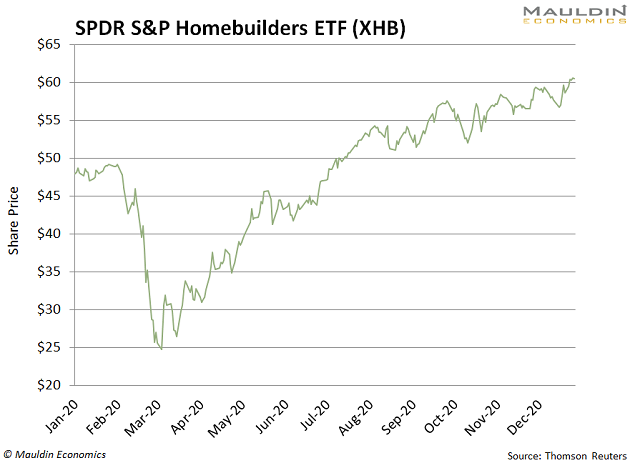 For years, this generation has struggled with homeownership. High student loan debt, soaring housing prices, and a weak jobs market have restricted home buying.
That's especially true since many millennials lived in big cities (where most high-paying jobs are located). And buying a home near a big city is near impossible.
Now that millennials can keep their jobs but work remotely, they are moving their large salaries to less competitive housing markets.
And the boom is just beginning… which is great news for these stocks.
3 Housing Stocks to Ride the New Housing Boom
Regular readers know that my specialty is dividend-paying stocks. And just like every stock I talk about in The Weekly Profit, I run each pick through my proprietary Dividend Sustainability Index (DSI).
The financial model helps me separate the "safe" from the "unsafe" dividend payers. After 2020 saw the most dividend cuts since the global financial crisis, it's more important than ever to know your dividend is safe.
And any of these stay-at-home stocks would be worthy of a spot in your long-term portfolio…
Whirlpool (WHR) is at the top of my home "buying" list.
The company is one of the largest home appliance companies in the world, making everything from washing machines to freezers.
But even better is the company's dividend yield.
WHR pays a rock-solid 2.4% yield on a low payout ratio.
When you add in solid free cash flow and low debt, WHR earned a 96/100 on the DSI.
Home Depot (HD) serves a dual purpose as a real estate and technology play.
The company is the world's largest home improvement retailer. While it has a solid physical footprint with 2,300 warehouses, HD is also the fifth-largest ecommerce company in the US.
The company has increased its dividend payout every year since 2009.
And since my DSI gives HD's 2.1% dividend yield a 100/100 score, there's little doubt management will keep raising the payouts over the coming years.
Leggett & Platt (LEG) should remain in style for a good long while.
While the company is known for its engineered components and furniture, I know it as a Dividend Aristocrat. That means it has increased its dividend for more than 25 years in a row.
I don't expect that trend to end anytime soon. The company's strong free cash flow and dividend history earned it a 90/100 on the DSI. That means that LEG's 3.6% dividend yield is suitable for any income investor's portfolio.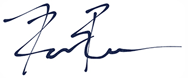 Robert Ross