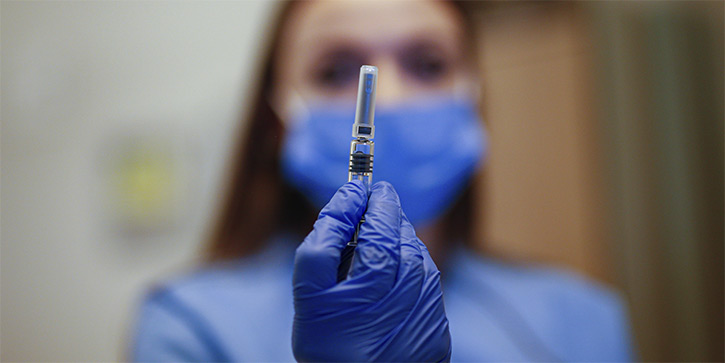 You Have Questions; We Have Answers
---
Voting ends in seven days. So turn in your ballot, turn off the breaking news alerts, and tune in to this roundup of thoughtful feedback from your fellow Reality Check constituents.
I think you'll agree that, just like in the big races, much more unites us than separates us. Especially when we're talking about under-the-radar opportunities that can have a big impact on our lives and bottom lines.
That includes biting back the travel bug… remote working perks that pay off… and ways you can win at the sport of picking winners.
Oh, the Places You Will (Finally) Go
With new COVID-19 cases hitting an all-time high in the US yesterday and two major vaccine trials paused, your feedback about digital health passports was as evenly split as a swing-state poll.
In one corner are those who do not want CommonPass—or anyone else—to have access to their private health data.
As Joe A. writes:
"I'm against any policy that legitimizes / systematizes the denial of rights to those who don't get a vaccine or register their health status with a central authority (be it the state or private company)."
And even that camp is split between those willing to try it versus those who don't want to sail toward the tip of what could be an iceberg.
Steve T. says:
"If the data was limited, such as only COVID-19 test results, this would be OK."
On the other side of the plexiglass partition is Judy T., who writes:
"Yes, I would trust it. I have nothing to hide about my health. At 82, I have not enough years left to complete my bucket list of places to go and to see. Let me protect myself, and let the young people get back to their lives."
That reminded me of Stevie Nicks' CBS Sunday Morning interview. At age 72, she's eager to get back on the concert circuit, because working helps her stay young.
To Stevie's point, we want to get on with the business of working. And to Judy's point, we also want people to get on with the business of living.
***
H.P. offered some great insights on how to do that with a higher degree of safety than we currently have…
"Tests are only good for a particular past point in time. They are not good for real time. Much like the investment disclaimer—past results are not indicative of future performance.
"I would suggest that what is really needed to encourage travel, is a uniform health standard/grading system for the industry with published scores for each airline/ship/hotel etc. I believe that would go a lot further toward getting people to venture out.
"I would be much more inclined to book a room or eat at an establishment that routinely scores a 95 rather than at a place that scores a 30! Of course, you'll still have the same past point in time issue with the industry. But eventually, consistent scores will help to reestablish trust."
Thanks, Joe, Steve, Judy, and H.P. H.P.'s comments remind me of a Bloomberg Radio interview between wealth manager Barry Ritholtz and Jon Taffer, whose "Bar Rescue" TV show helped inject life—and sanitary practices, in some cases—into struggling restaurants long before the pandemic.
Back in May, Taffer predicted that restaurants' best customers would be the last to return. He cautioned that it could turn into a "Kitchen Nightmare" if they drove past and saw unmasked people congregating… because they will keep their discretionary dollars at home until they feel it's safe to go out.
Reality Check regulars might want to check out Taffer's Tavern, a new Atlanta eatery whose robotic kitchen more closely resembles an operating room than a restaurant. He plans to roll out this concept on a broader scale.
Speaking of our changing workplaces, you sent some great comments about those, too…
***
The Rise of the Remote Workforce
Mike wrote in during his 27th week of telework in the metro DC area to say he will likely change jobs to stay in this mode:
"Initially, there were some issues with the overwhelming change to the data systems and software. Once that cleared, productivity went up. People did much better without having to commute, park, and so on.
"Absent access to select classified systems, I'm loving it. What does not show is the decreased stress from not commuting. Given that virtually all of our communication has been by e-mail or occasionally Skype, there has been a marked decrease in misunderstandings and rework."
Thanks for your note, Mike. I lived in the DC area and remember many three-hour commutes… to drive 11 miles. I'm glad to hear that remote work is working for you. And that's a great point about the communication paper trail. We can prevent a lot of confusion now that most of our conversations—along with the data we need to do our jobs from just about anywhere—are at our fingertips.
Database search software is actually a fascinating part of the big data story, and we use those functions every day for things just like this.
***
For Mike, it sounds like telework solved some challenges. But for others, it has created more… and companies paying less to remote workers isn't going to solve them.
Dylan writes:
"There are additional costs in terms of home office space and supplies that people moving to work from home will have to bear; the office costs that an employer would otherwise cover. These should be reflected in the compensation for employees. Working from home is not a perk if you don't have an extra room for your office. And if you have kids, enough room for their school as well."
Indeed. A friend of mine is working from home for the foreseeable future. She gets an extra $100 a month for such expenses… so it covers her internet bill. Her only colleague right now is a cat. So, fortunately, he's fine working from her lap.
***
Speaking of costs going up… Joseph laid out a triple-pronged trend he thinks we will keep seeing:
"Cities will continue to suffer from the 3 Cs:
Cost. People will take advantage of being able to live in a lower-cost area. They can come out ahead even with a salary cut when you consider lower property costs, taxes, and the commuting items already listed.
Corona. People will look for less shared spaces like high-rise lobbies and elevators, common grounds, playgrounds, etc. Just going to a large suburban shopping center seems safer than a cramped downtown store. People will want to drive rather than use transit. People want to go to a park or beach that has space to spread out.
Crime. Hard to prove whether suburbs are really safer, but that is the current perception. The violent incidents and talk of cutting back on police protection will hurt the cities in the long run."
Thanks to Mike, Dylan, and Joseph for their keen insights. Indeed, when you can replace your commuting time with activities you love, you realize that how you live is just as important as where you live… maybe even more so.
And the more we're indoors, the more sports betting gains in popularity…
***
Fantasy Sports Meets Reality Check
Even though every game has a winner, when it comes to sports betting, some of our readers prefer not to play. But when it comes to investing in sports-betting technology, some are willing to see if a small wager can pay off big.
Peter wrote in to say:
"Enlightening article… was wondering if IGT is a player in this game?"
Hi, Peter. It looks like International Game Technology (IGT) offers "a sports book in a box" to its clients, claiming this is the fastest way to add sports betting to a property.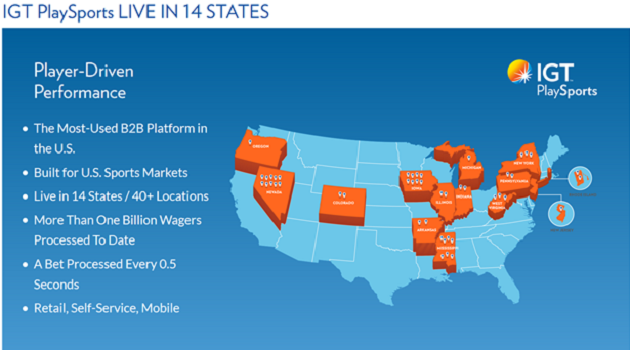 Source: IGT
That includes cruise ships. IGT has a longstanding relationship with the now-docked Carnival Cruise Lines (CCL). But there are plenty of other inland spots—riverboat casinos and otherwise—that are open for business… in states and cities that are open to the tax revenue they can collect on legal sports betting.
***
James asks:
"You make no mention of theScore. Why is that? It is an interesting new area, but certainly look into some of the other companies involved."
Hi, James. Yes, there are many companies exploding into this new industry beyond DraftKings (DKNG) and IGT. I share the ones that catch my attention, but it's always great to hear what companies in the trend have caught your attention.
Score Media and Gaming (TSCRF)—theScore—is a Toronto company that was founded in 2012 that owns and operated digital sports media and sports betting products. Its first app launched in 2007 and has become one of the most popular multi-sport news apps.
In 2019, the company broke into the mobile sportsbook field after New Jersey finally made sports betting legal. Through its strategic agreement with Penn National Gaming (PENN), theScore now has the rights to obtain online and mobile sports wagering in 11 additional states.
So theScore was a media company that turned into a sports media company and then ventured into the sports betting realm.
There is something to be said about a company that's been around for that long…

Source: StockCharts
But I'm concerned that its share price hasn't gone anywhere.
Yes, we see some increase since the deployment of its sports betting in the US, but these shares haven't been able to hold out over $1.
I'm not saying that this is a bad way to play the trend. I just think that you're going to have to wait a bit longer to see a reward.
Or you can play it this way…
***
Craig wrote in to point out BETZ ETF.
"(I) bought it the first week it started trading… on a great run ever since. Likely to take it on the chin a little as the NFL and college football seasons are seriously in jeopardy, but the iGaming should help cushion that drop. If it happens, the drop could be a good entry point for people who want to enter."
Thanks for this idea, Craig. BETZ is the Roundhill Sports Betting and iGaming ETF and is the first for the industry.
BETZ includes in-person and online sports books, companies that operate online gambling platforms, and companies that provide the technology to support those companies.
Looks like William Hill (WIMHY), the world's largest betting brand, is the top holding. DraftKings is its fourth-largest holding.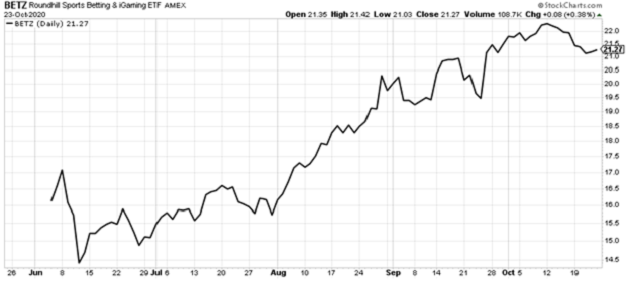 Source: StockCharts
This ETF has only been trading since June and has seen gains of 31% since then. Not surprising since this is a hot industry right now. If you're an ETF lover, this looks like a great way to get that exposure.
Lots of great stuff here. Thanks for making this conversation happen with your feedback!
And as always, write in if you want to keep the conversation going about any of these topics. Or want to suggest a trend that you think I should feature in an upcoming Reality Check.
I love mail—you can send it here: realitycheck@mauldineconomics.com.