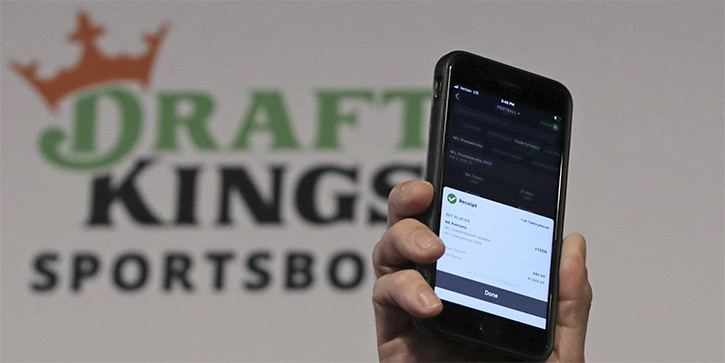 How a 1940s Board Game Could Mean Big Portfolio Gains
---
The coronavirus benched the $150 billion sports-betting industry for part of this year. But there's still time to make Major League profits… thanks to a 1940s board game.
This isn't something you'll find on an episode of Antiques Roadshow. And you don't have to drive from yard sale to estate auction trying to get your hands on an original mint version of the game.
It's a lot simpler than that…
Much Bigger Than Baseball
Ethan Allen (no relation to the furniture chain) was a baseball player in the 1920s and '30s. He came up with the idea for All-Star Baseball. The board game, not the event that debuted at the World's Fair in 1933.)
This tabletop game allowed fans to choose a team lineup from a collection of players. Each player's performance was determined by probabilities that were derived from the player's actual past performances.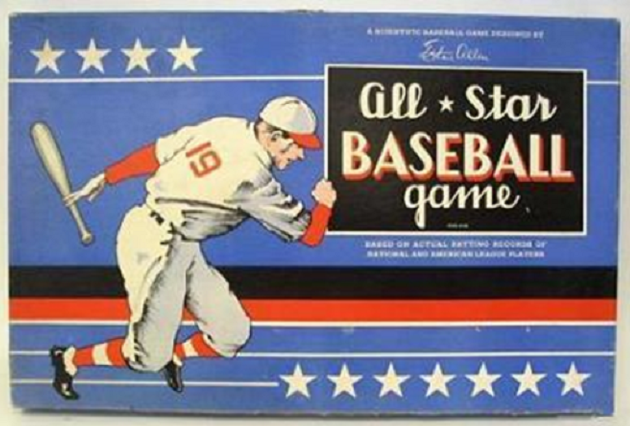 Credit: DreamHosters
Cadaco started manufacturing the game in the 1940s, which was updated until the mid-'90s when the rise of video games made board games near-obsolete.
This game would become the foundation of what fantasy baseball has become today.
Reality Becomes Fantasy
In 1961, a mathematics student took Allen's idea and ran with it. He devised a more complex simulation game called Strat-O-Matic Baseball.
The game eventually evolved into "The Baseball Seminar," which included a series of participants who paid an entry fee to "draft" a team of baseball players. The winner was then determined at the end of an actual Major League Baseball season based on the players' final standings.
In 1998, the official organization the Fantasy Sports Trade Association was born.
If you've ever participated in fantasy sports, you'll know there was an immense amount of paperwork involved in calculating player and team statistics. The amount of calculation and paperwork made fantasy sports a perfect candidate to be taken over by computers… and eventually turned into a mobile app.
By 2011, fantasy sports had turned into a $5 billion-per-year industry.
Fantasy Sports Scores Some Very Real Wins
Former Vistaprint employees Jason Robins, Matthew Kalish, and Paul Liberman saw this trend accelerating and, in 2012, they launched DraftKings (DKNG) to coincide with Major League Baseball's opening day.
By April of the following year, MLB itself invested in DraftKings.
DraftKings is now the official daily fantasy game of the National Hockey League and Major League Baseball, as well as many NFL, NBA, and soccer teams individually.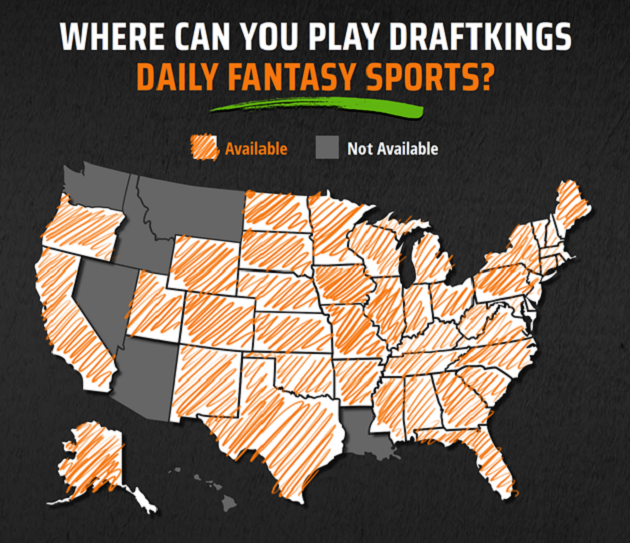 Credit: DraftKings
The company pays out millions of dollars in fantasy sports winnings and can be played in most states. In fact, for 2019, DraftKings reported $213 million in revenue with 60% of the market share for daily fantasy sports.
It's a huge and growing industry with about 60 million players in the US and Canada alone. And it's only getting bigger.
There's Still a Vig…
Up until 2018, you couldn't legally bet on sports in the US unless you walked into a Las Vegas casino. This billion-dollar industry mostly happened through a network of bookies and oddsmakers. (Note that DraftKings is not available in Nevada.)
The industry of sports betting is not a new one. It's been around at least since the Olympics.
The Romans most likely bet on the gladiator games. And despite efforts over the years to limit access, as more sports were developed… more people wanted to bet on the games.
We've seen it over and over again throughout history. If there's a demand, someone will create a supply—whether it's legal or not.
… But No One Will Come to Break Your Kneecaps
In 2018, the Supreme Court overturned the Professional and Amateur Sports Protection Act (PASPA). This act, which prohibited sports gambling, was deemed unconstitutional on the basis that it infringed on states' rights.
As soon as it was overturned, New Jersey was ready.
DraftKings launched Sportsbook in New Jersey just months after becoming the first legal mobile sports-betting operator in the state. And many states weren't far behind.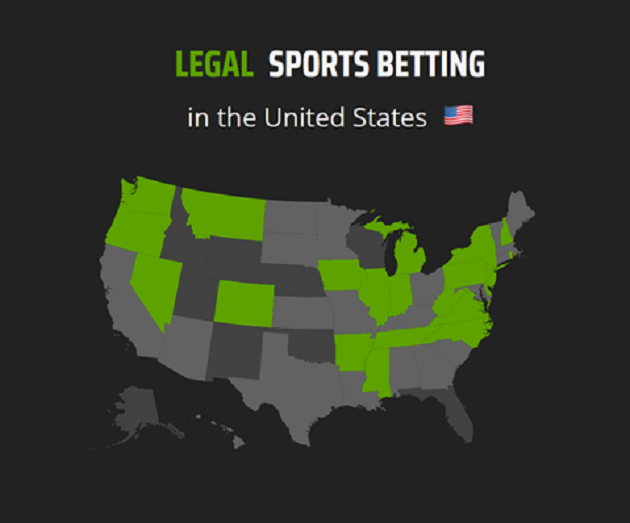 Credit: DraftKings
Legalization of sports betting is on the table in every state except Idaho, Utah, and Wisconsin.
States Raise the Stakes
Legal online sports betting translates to tax revenues. In New Jersey, mobile sports betting brought in $36 million in taxes on some $4.5 billion in revenue in 2019.
DraftKings was a big part of that, with almost $80 million in revenue just in the Garden State last year. Now, this powerhouse is betting on something bigger than sports: online casinos.
Just how big? The company is now targeting $2.9 billion to $4.7 billion in total annual revenues… in other words, as much as all the sports-betting firms brought in across New Jersey last year.
The Ultimate All-Star "Duel"
DraftKings has reported strong revenues for the first half of the year, despite the limited sports calendar.
Since then, it's added sports betting in Colorado and iGaming in Pennsylvania and West Virginia. And it's working to enter Virginia, Tennessee, and Michigan now that these three states have passed legislation.
Investors are taking note of DraftKings' ability to get into a state almost immediately after the legislation is passed.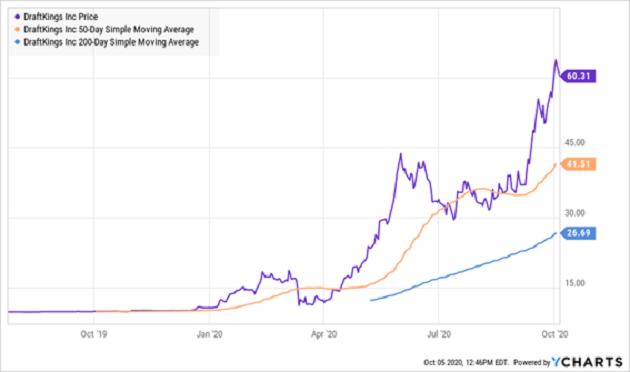 Source: YCharts
Shares have been on a tear in 2020, rising an incredible 462.3%. And although it has the market lead, privately held FanDuel is usually right behind it—in a true All-Star matchup that would make Ethan Allen proud.
DraftKings has definitely established itself as one of the giants in this new industry. But the industry is so new that we can't be sure how it will turn out.
It looks like there is plenty of ripe money to be picked; it will just depend how quickly states jump on the bandwagon of legalization.
Tell us: Are you placing your bets on online sports-betting technology, or are you looking more forward to the day when ballpark stands aren't filled with cardboard fans?