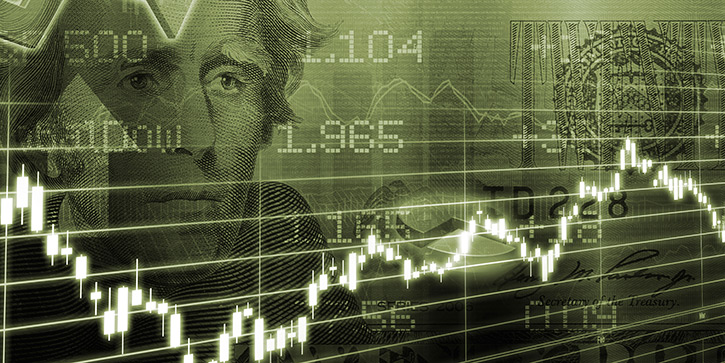 An Easy Way to Invest in Privately Held Companies
---
A big part of what we do at Reality Check is follow trends. We look at what's going on with politics, the economy, and the people around us.
Trends are important, whether any of us agree, on a personal level, with the rationale behind them.
For example, a decade ago, I was the managing editor of a shorting service. At the time, some people wrote in to say it felt wrong to bet that a stock might fall. Then the mortgage bubble burst, along with the idea that hope could keep stocks afloat.
Others saw that when all signs point to something big coming and you get positioned just in time, the more money you can make.
Right now, certain consumer trends are gaining momentum faster than ever. But you might not see an obvious—or simple—way to play them.
Today, I'll show you where to look.
A Timely Vehicle for Investing Early
Sometimes, a trend that we want to play doesn't have any viable public investments. You saw that recently with DuckDuckGo and RoadBotics.
Sure, if you have enough money, you can invest in anything. Plus, nowadays there are websites that allow you to trade pre-IPO shares if you can prove you're an accredited investor.
There are some opportunities to get a little more creative. I'm talking about ways to access privately held companies through the public market.
One example is by using a Real Estate Investment Trust, or REIT. These are essentially vehicles for investors to pool their money together to invest in real estate assets.
Here's a Cool Way to Invest in Hot-Button Sectors
Say you wanted to take advantage of the explosion of brick-and-mortar cannabis dispensaries that have popped up over the past eight years.
Innovative Industrial Properties (IIPR) became the first listed cannabis REIT in 2016. That was marijuana legalization's biggest year… one-fifth of the country lived in a state that had made it legal in some way.
No matter where you or I personally stand on this topic, it was clear that some states were moving forward. All the companies that would come and go over the next crucial years would need physical space to grow, process, and sell product.
And shareholders of IIPR could have made a lot of money.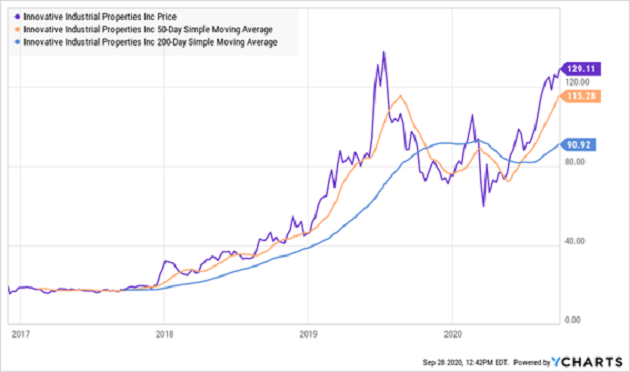 Source: YCharts
There's also the bonus that REITs are required to pay out 90% of their taxable income to unitholders. IIPR's last dividend announcement, payable in October, was for $1.17 per share. It's paid out $7.81 per share since then as well.
REITs aren't the only way to open a secret door to private companies…
This Is Perhaps the Easiest Way to Access Hidden Investments
Business development companies, or BDCs, offer the same access for those "in the know."
BDCs were created in 1980 when Congress passed an amendment to the "Investment Company Act of 1940." This created a new category of companies that would provide firms with debt and equity capital. And they would give investors an opportunity to invest in private, small and mid-sized US companies.
One BDC on my radar is Compass Diversified Holdings (CODI). I rediscovered it recently when I was looking for a way to play the recent spikes in firearm sales.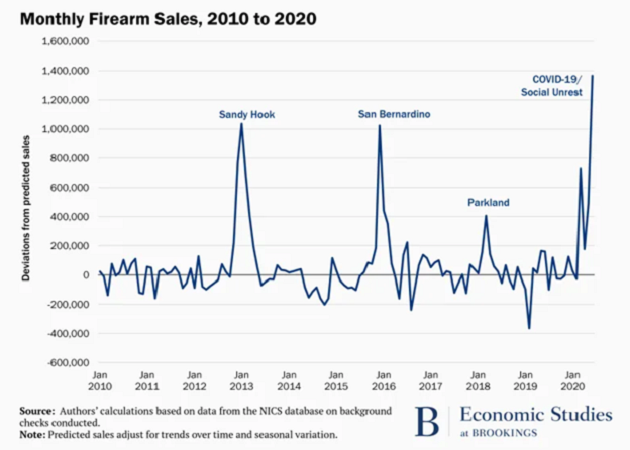 Source: Brookings Institute
This chart is based on background check data and not necessarily firearms sold. But it does show some definite spikes over the past 10 years… the greatest being in 2020.
According to a July Wall Street Journal article, big pops in gun sales were often a result of gun aficionados and Second Amendment supporters stocking up.
But this time around, dealers estimate that 40% of sales are going to first-time buyers.
I'm not here to argue for or against guns. I'm here to point out that I saw this trend and wanted to invest in something a little different… gun safes.
CODI: The Ultimate "Safe" Investment
These new gun owners are going to need to start thinking about where they might store their firearms and ammo. It has to be away from the hands of the grandchildren or anyone with sticky fingers.
And really, the need for safes comes from more than just guns…
Some people decided that this is the year to stock up on shiny metals… some people decided to stock up on cash.
What I found was that gun safe companies are all private, including Liberty Safe, which holds the largest market share in the safe & vault manufacturing industry.
Connecticut-based Compass, however, purchased 96% of that company in 2010.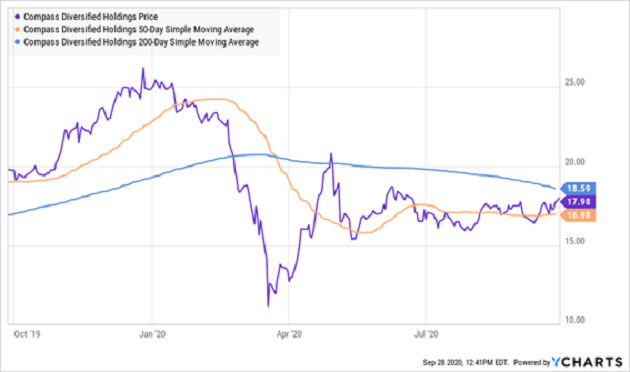 Source: YCharts
Since then, Compass been working with management to expand manufacturing capabilities and pursue organic growth initiatives.
Even if you don't own one of its Liberty safes, you might have another of its products in your home.
If you've ever used a chafing dish, for example, chances are the fuel that you used to keep your food warm came from The Sterno Group—one of Compass's holdings.
CODI also holds other companies like baby carrier maker Ergobaby… tactical gear seller 5.11… and gun and ammo maker Velocity Outdoor.
Another Big BDC Benefit
BDCs are also required to pay out most of their taxable income to unitholders. CODI currently pays out 36 cents every quarter.
At a current price of around $17.28, that's an 8.1% yield.
In our zero-interest rate world, this is a great income-generating play to add to your portfolio. One that should see a surge in profits due to the trends of 2020.
Tell me: What other ideas would be a "safe" bet here in the home stretch of 2020?