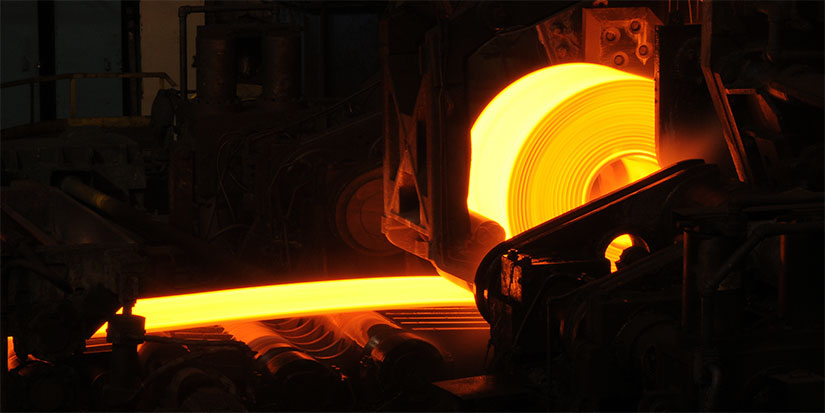 A Better Way to Invest in EVs than Tesla…
---
Every time I cruise around Raleigh, it's like Tesla drivers have multiplied.
Seriously, they're everywhere!
Tesla sold just under 500,000 cars in 2020. Here we are two years later, and the company has already sold approximately 565,000 cars in the first half of 2022 alone.
The shift toward electric vehicles (EVs) can no longer be ignored. It's a megatrend staring us in the face, with EVs forecast to jump from 7.6% market share today to 51% by 2030: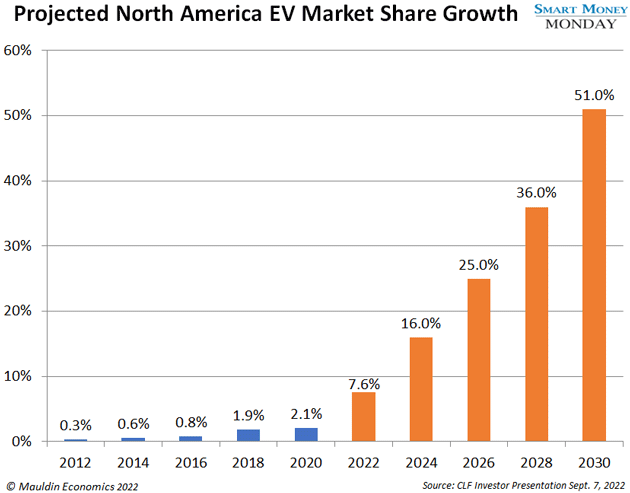 Finding a great megatrend to invest in is a good starting point.
But more important is the price you pay to get exposure to the trend. You need to buy the right stocks at the right valuation.
As you may have guessed, for the bulk of investors and traders, the go-to EV play has been Tesla (TSLA). It's now the fifth-largest company in the US... and its stock has handed investors 932% gains since 2020. But even with this year's big sell-off, I'm not a fan of buying Tesla here.
It's wildly overvalued. Simple as that.
However, there's a way to tap into the EV future without paying a nosebleed, nonsensical valuation.
And that way is through Cleveland-Cliffs (CLF), one of the largest steel companies in the world.
Let me explain…
Producing EVs requires loads of specialized metals like steel.
But instead of general "off the shelf" steel, the industry needs a more specialized type for EV construction—and for safer and more efficient power distribution across the electrical grid.
Enter grain-oriented electrical steel (GOES) and non-oriented electrical steel (NOES). Both are highly specialized formulations of steel and, according to IHS Markit, possess "superior magnetic properties" that make them ideal for power transformers and electric motors.
GOES and NOES are invaluable for the future of electric vehicles, their supporting charging stations, and upgraded power grid infrastructure.
And if you want to bet on the EV future, doesn't it make sense to invest in
the
supplier of automotive-grade steel in the US?
I have identified a small group of stocks that are still generating outsized returns, even during a recession.
After all, Cleveland-Cliffs is an electrical steel monopoly.
Over the past few years, renegade CEO Lourenco Goncalves has transformed the company through smart acquisitions such as AK Steel and ArcelorMittal.
He's bought the right assets at the right prices. And he's aggressively paid down debt. Because of these moves, Cleveland-Cliffs is built to last and is generating a ton of free cash flow.
On top of that—and this point is often overlooked—the company has a monopoly hold on electrical steel production.
Taken straight from its SEC filings:
"We are the only producers of both GOES and NOES in the US."
And guess what? Getting to the forecasted 51% market share in EVs will require a lot of these specialty steels.
Along with being the sole supplier of electrical steel in the US…
Cleveland-Cliffs is the largest supplier of steel to the automotive industry—and poised to benefit from the auto industry's rebound.
The auto sector has been hit hard. This is due to a massive chip shortage, a critical component of cars.
Pre-COVID, the auto industry produced around 17 million cars per year. In 2020 and 2021, that number fell to 13 million.
That said, analysts expect a substantial rebound in 2023 and beyond, back to around 15 to 16 million.
This is where Cleveland-Cliffs stands to benefit, especially since the market is not currently valuing its massive growth outlook.
The company is currently trading at a rock-bottom 3.3 times 2022 earnings per share. And looking out to next year, analysts expect Cleveland-Cliffs will generate $2.57 in earnings per share, putting the forward multiple at just 5 times.
5 times
earnings
. Not revenue. This is after-tax
real
earnings.
At 5 times next year's earnings, the market is saying a critical supplier of a major segment of the US economy will practically disappear.
That couldn't be further from the truth.
Cleveland-Cliffs (CLF) is a buy here. It's cheap on its own merits. And it's especially cheap when you factor in its strong position in supplying a key input for our electrified future.
Thanks for reading,

—Thompson Clark
Editor, Smart Money Monday
Tags
Suggested Reading...