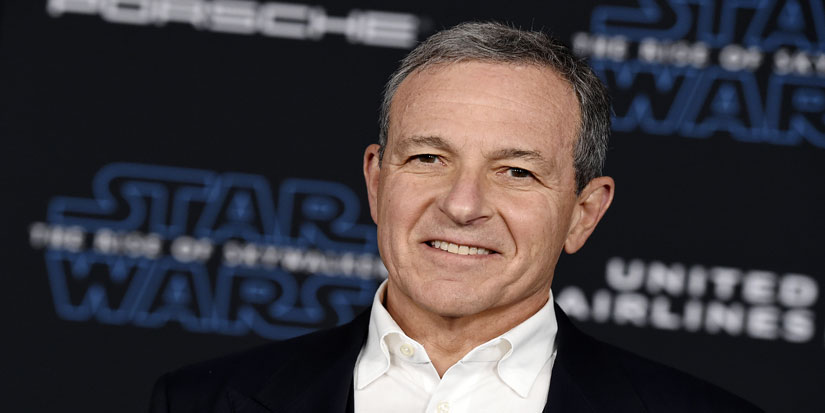 Iger's Back—Is Disney a Buy?
---
Surprise! Bob Iger is back as CEO of The Walt Disney Company (DIS).
Two weeks before COVID lockdowns in March 2020, Iger suddenly announced his retirement. It was a shocker, as he had been CEO of Disney since 2005—a 15-year run. And yet, right as Disney was about to face a strenuous period, he was out.
Poof… just like that.
Now he's back after Disney's board decided Iger's handpicked successor, 25-year Disney veteran Bob Chapek, wasn't the right guy for the job.
Iger's return as Disney's CEO is reminiscent of Howard Schultz's splashy announcement that he'd be returning as CEO of Starbucks (SBUX) for a third stint.
In short, CEO or major management changes are events I like to watch. It can be a profitable strategy to act on them.
The most recent profitable case was Chipotle Mexican Grill (CMG) after it brought in Brian Niccol from Taco Bell in 2018. Niccol was a winner at Taco Bell, and since becoming CEO of Chipotle, the company has risen 408%.
So, the questions naturally emerge…
What about Bob Iger and Disney? Is this management change reason enough for us to buy the stock?
Unlike Anything Else Offered by Mauldin Economics: You're invited to take advantage of first-class research from the most renowned economists, asset managers, and geopolitical experts of our time.
3 Issues with Disney
Buying a stock due to a CEO change is a reason… but more often than not, it shouldn't be the reason.
Starbucks was an interesting opportunity because of its management change and valuation. It's a high-quality business that traded for a modest 20 times (depressed) earnings when I first wrote about it.
In addition, Schultz stepped in and bought $15 million of SBUX stock in the open market.
Insiders putting their own cash up is always a good signal. But in Disney's case, Iger's return isn't enough to pique my interest as an investor.
Issue #1: Disney lacks insider alignment.
As far as I can tell, Bob Iger has
never
come out of pocket to personally buy Disney shares. Yes, he owns well over 1 million shares of stock—worth about $100 million at today's stock price—but he hasn't put his own cash on the line to invest in the company.
This isn't to say he doesn't deserve the stock options and grants he's likely received. Disney went from $25 or so in 2005 when Bob Iger stepped in to $100 when he retired in 2020. That's a 10% compounded annual growth rate before factoring in dividends.
But Iger hasn't been a buyer, and I want to see real cash put up before considering DIS stock.
Issue #2: Disney's balance sheet is out of whack.
For many years, Disney carried very little debt. In 2013, it had $14 billion in debt. But based on its most recent quarterly earnings, Disney now carries $52 billion in debt—a nearly 4-fold increase.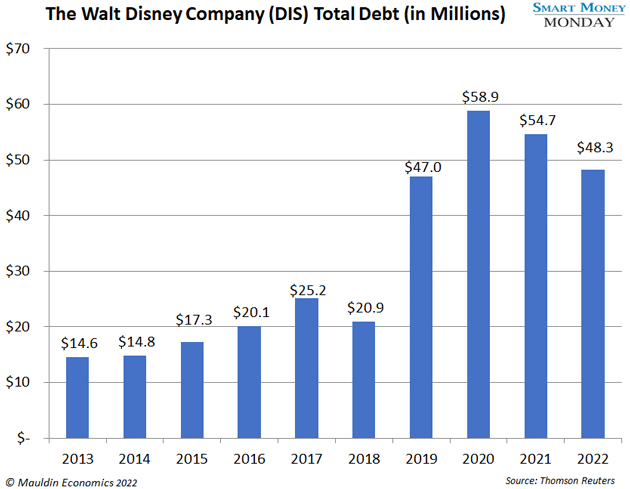 The main reason for this surge in debt is Disney's $71.3 billion acquisition of 21st Century Fox in 2019.
Was this the right move? Debatable.
In relation to its earnings, or EBITDA, Disney has become less financially sound. Net debt-to-EBITDA was under 1 times from 2013 through 2017. It spiked to over 5 times during the height of COVID and now sits around 3 times on a trailing 12-month basis.
A higher number means more leverage… and more risk.
Disney is a blue-chip, and generally considered low-risk. It really shouldn't be carrying this much leverage.
Issue #3: Disney's aggressive direct-to-consumer streaming strategy hasn't panned out so far.
For fiscal year 2022, which ended on October 1, Disney announced a whopping $4 billion loss in its streaming division.
Again, this is a blue-chip stock—not a speculative tech stock. Perhaps making this huge bet on streaming is the right bet. However, it's certainly not showing up in the numbers.
Wall Street analysts expect the company to continue to lose money in streaming for 2023. That's not good.
What to Do Now
Disney stock is not particularly cheap at current numbers. So, if you want to make a play on it, you're likely looking at a longer-term bet (five-plus years) by buying Disney here.
In the short term, there are better buys out there, like this sneaky-good company that's more profitable than Microsoft and this world-class FANG stock.
But with Disney, in my view, it's a pass.
Thanks for reading,

—Thompson Clark
Editor, Smart Money Monday
Tags
Suggested Reading...